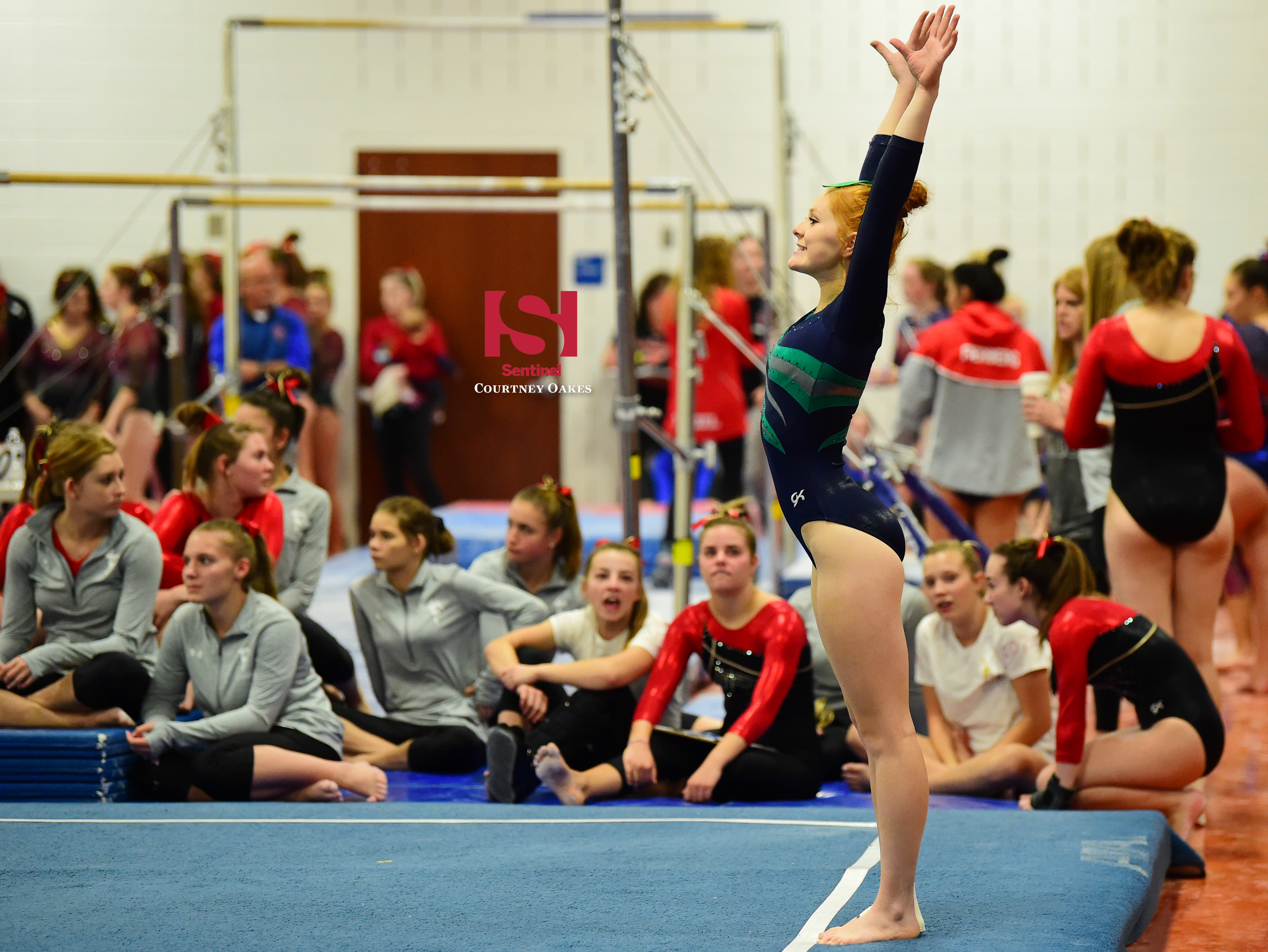 AURORA | With just a few weeks left before the Class 5A state meet, the Overland co-op gymnastics team is heating up.
Just a few days after winning the Cherry Creek Invitational, the Trailblazers raised the ante with their performance Wednesday as they cruised to the Centennial/Continental League championship with a season-high score of 186.15 points.
Coach Lisa Sparrow's Overland team had the top performer in the all-around competition in junior Samantha DeMoss (Eaglecrest), plus the league champion in three of the four events in DeMoss (balance beam and uneven bars) and sophomore Mabry Robinson (Smoky Hill) in the floor exercise.
DeMoss continued her string of finishing on top of the all-around competition this season as she finished with a total of 37.750 to finish in front of senior Delenn Steffes (Overland), who scored 37.300, with Robinson in third at 35.350.
Overland was especially dominant on the beam, where it swept the top five spots with Steffes, Bailey Rodriguez (Eaglecrest), Elena Reiffin (Cherokee Trail) and Robinson finishing behind DeMoss, who won with a score of 9.750.
Elizabeth finished a distant second with a score of 171.425, followed by Ponderosa (170.375) in third place.
Next up, the Trailblazers will play host one of three 5A/4A regional tournaments Oct. 27.
Courtney Oakes is Sentinel Sports Editor. Reach him at 303-750-7555 or [email protected] Twitter: @aurorasports. FB: Sentinel Prep Sports
2018 CENTENNIAL/CONTINENTAL LEAGUE GYMNASTICS MEET
Oct. 17 at Overland High School
Team scores: 1. OVERLAND 186.150 points; 2. Elizabeth 171.425; 3. Ponderosa 170.375; 4. Palmer Ridge 166.800; 5. Cherry Creek 166.000; 6. Rampart 165.175; 7. Heritage 161.100; 8. Rock Canyon 154.325
All-around (places 1-6 1st team-league, 7-10 2nd team all-league): 1. SAMANTHA DEMOSS (OVERLAND), 37.750 points; 2. DELENN STEFFES (OVERLAND), 37.300; 3. MABRY ROBINSON (OVERLAND), 35.350; 4. Kelsi Sandoval (Palmer Ridge), 35.125; 5. Isabelle Fierberg (Cherry Creek), 34.575; 6. Gabby Peltier (Rampart), 34.350; 7. Megan Montoya (Elizabeth), 34.100; 8. Ashley Lindsey (Elizabeth), 33:925; 9. Emily Schaefer (Elizabeth), 33.875; 10. Rae Kagarise (Rampart), 33.500. Honorable mention: Brittany Grantham (Rampart), 33.150; Kelly Malm (Cherry Creek), 31.850; Aspen Fredericks (Heritage), 31.275