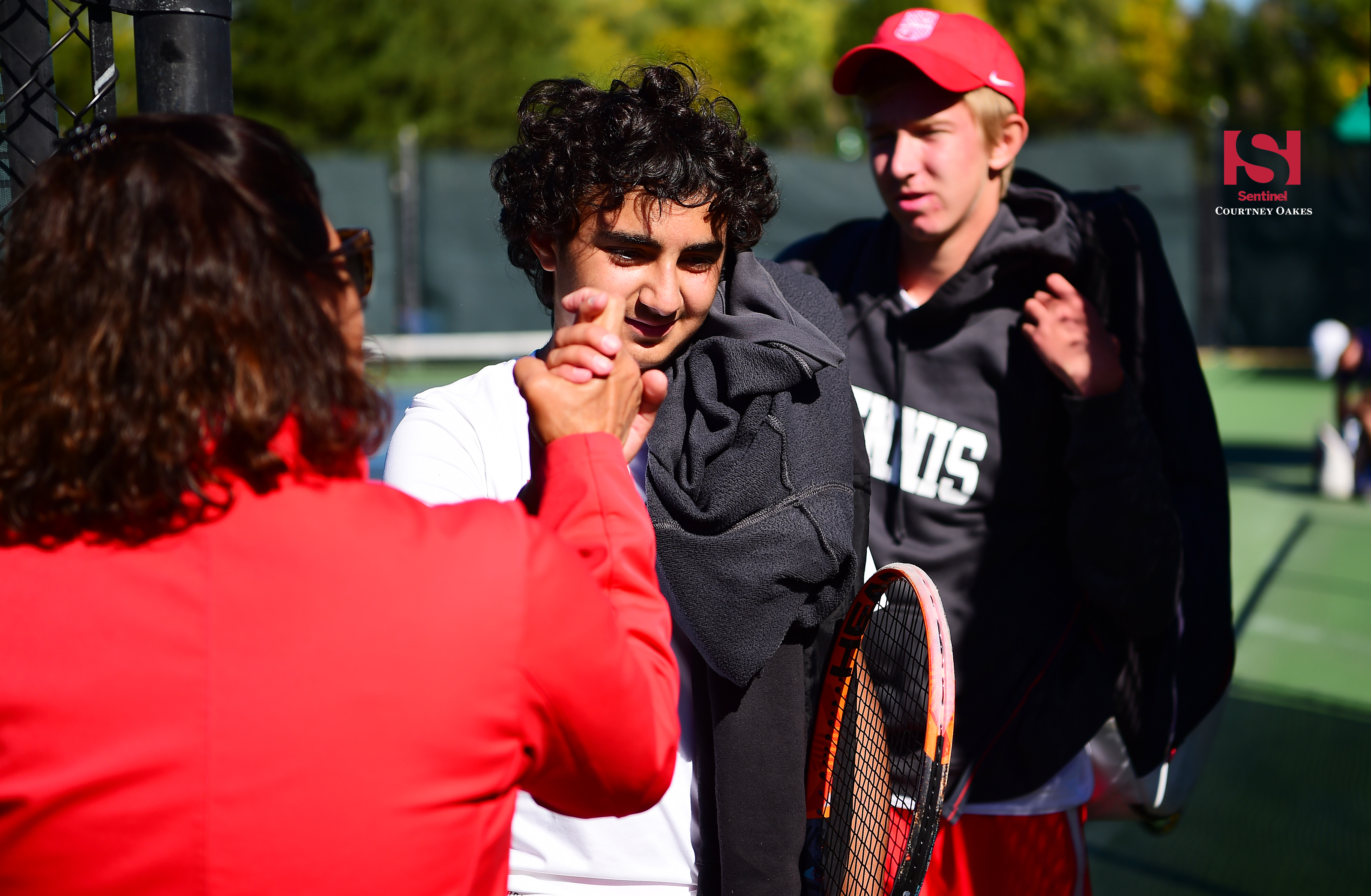 DENVER | For all the success of the Regis Jesuit boys tennis team in recent years, it had been a little while since the Raiders had swept their way through a regional state qualifying tournament.
Regis Jesuit did just that this season Region 3 play Wednesday and Thursday at Colorado Athletic Monaco, where it collected all seven championships, cruised to the team title with 84 points and set itself in prime position going into next week's Class 5A state tournament.
Coach Laura Jones' Raiders led Boulder by just five points going into the final day, but beat the Panthers head-to-head in six of seven finals and should reap the benefits as all three singles players and four doubles teams will go into state with No. 1 seeds.
It was the first time Regis Jesuit swept a regional since 2015 and it marked the fourth straight season the whole team is state-bound.
Regis Jesuit's most veteran state performers made the quickest work of their regional opponents, as senior Evan Nuss and junior Emilio Gonzalez-Cruz at No. 1 doubles and senior No. 2 singles player Kosta Garger lost a combined two games in their wins.
Nuss and Gonzalez-Cruz earned the chance to win a third straight 5A state title after they took the No. 2 doubles crown in each of the past two seasons. Garger is back at state after he lost in the No. 2 singles state final last season.
Sophomore No. 1 singles player Morgan Schilling and sophomore Phillip Albright — half of the Raiders' No. 2 doubles team along with Grigor Karakelyan — earned their second career trips to the state tournament, while freshman No. 3 singles player Conor Kaczmarcyzk, Karakelyan, the No. 3 doubles team of Matthew Rau and Thomas Williams and the No. 4 duo of Nathan Tolva and Jack Carbone will appear at state for the first time.
Courtney Oakes is Sentinel Sports Editor. Reach him at 303-750-7555 or [email protected] Twitter: @aurorasports. FB: Sentinel Prep Sports
2018 CLASS 5A REGION 3 BOYS TENNIS

Oct. 3-4 at Colorado Athletic Club-Monaco
Team scores: 1. REGIS JESUIT 84 points; 2. Boulder 55, 3. Legend 29; 4. Bear Creek 19; 5. Rampart 8; 6. Denver South 7
Championship matches (winner advances to 5A state tournament)
No. 1 singles — 
MORGAN SCHILLING (REGIS JESUIT) def. Ryan McCoy (Boulder), 6-4, 6-2; No. 2 singles — 
KOSTA GARGER (REGIS JESUIT) def. Alex McCoy (Boulder), 6-0, 6-0; No. 3 singles — 
CONOR KACZMARCYZK (REGIS JESUIT) def. Nick Jordan (Boulder); No. 1 doubles — 
EVAN NUSS/EMILIO GONZALEZ-CRUZ (REGIS JESUIT) def. Charlie Esson/Wyatt Stack (Boulder), 6-1, 6-1; No. 2 doubles — 
GRIGOR KARAKELYAN/PHILLIP ALBRIGHT (REGIS JESUIT) def. Calwin Caldwell/Louis Jaeckle (Boulder); No. 3 doubles — 
MATTHEW RAU/THOMAS WILLIAMS (REGIS JESUIT) def. Jack Allshouse/Theo Campbell (Denver South), 6-0, 6-1; No. 4 doubles — NATHAN TOLVA/JACK CARBONE (REGIS JESUIT) def. Ty Chandler/Alex Sutherland (Boulder), 6-3, 6-0