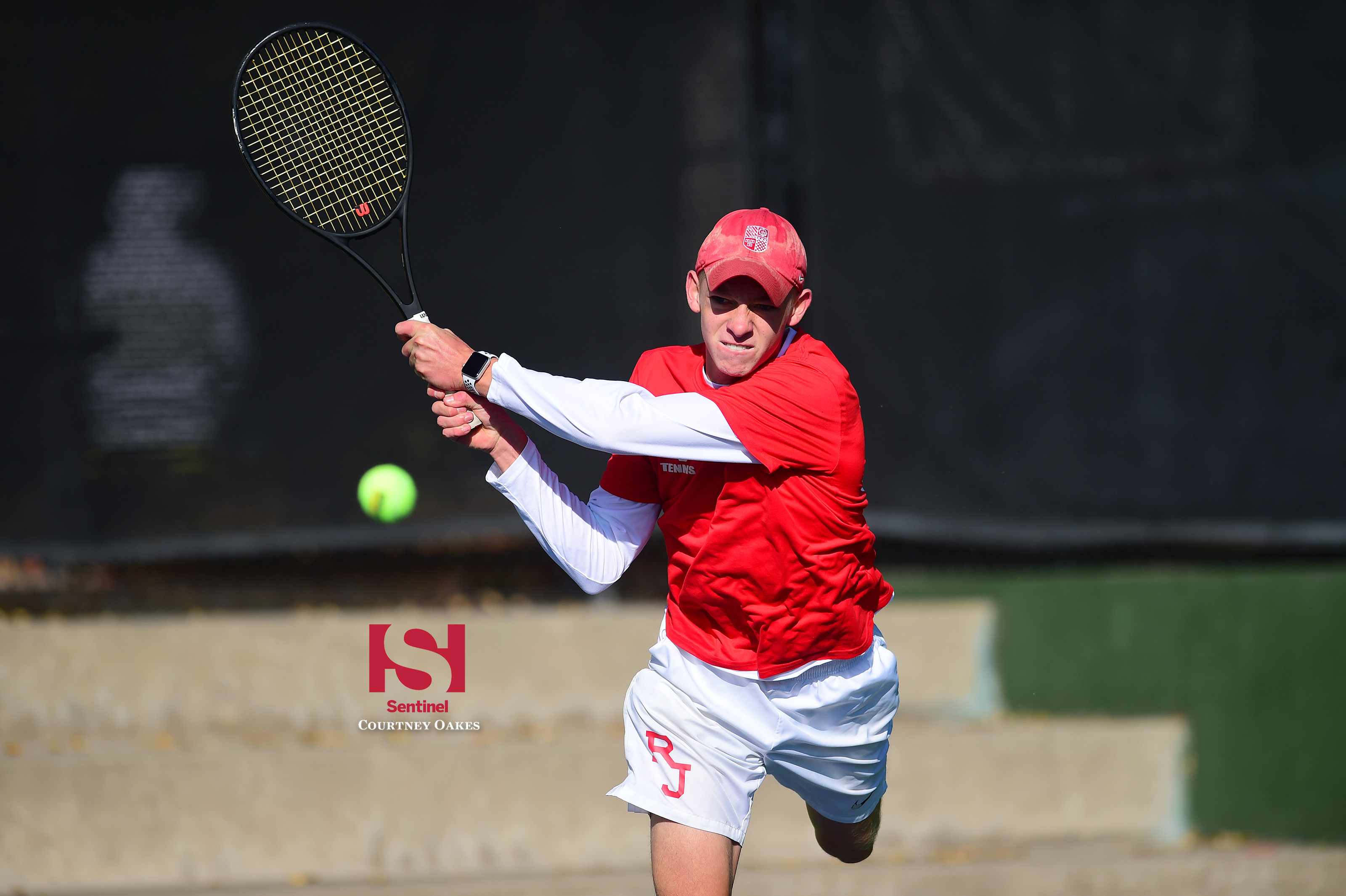 DENVER | Laura Jones doesn't want to think about the math.
With a nine-point lead over Cherry Creek going into Saturday's final round of the Class 5A boys state tennis tournament, the Regis Jesuit coach (and math teacher, by the way) isn't planning on figuring the standings in her head at the completion of every match.
That would be a lot of math to do with the Raiders playing in five of the seven state championship matches and one of the third-place matches scheduled to begin at 9 a.m. at the Gates Tennis Center. Rather Jones just wants her team — a mix of state veterans and first-timers — to finish off an outstanding season the right way.
"You can only control what you can control," said Jones, whose team is in position to win its first 5A state championship since 2010.
Regis Jesuit owns 65 points thus far, the product of a 5-1 record in Friday morning semifinal matches that saw all three singles players — No. 1 Morgan Schilling, No. 2 Kosta Garger and No. 3 Conor Kaczmarcyzk — the No. 1 doubles team of Emilio Gonzalez-Cruz and Evan Nuss and the No. 4 doubles team of Nathan Tolva and Jack Carbone all come out on top.
The No. 2 doubles team of Grigor Karakelayn and Phillip Albright lost their semifinal, but rebounded to win in the playbacks and earn a chance to play for third place.
Schilling's victory proved to be the largest, as he defeated George Cavo of Cherry Creek in straight sets in the only head-to-head matchup of the two title-contending teams in the semifinals.
The Bruins qualified for only two finals (No. 3 singles and No. 2 doubles), but will play for third place in each of the other five positions.
Courtney Oakes is Sentinel Sports Editor. Reach him at 303-750-7555 or [email protected] Twitter: @aurorasports. FB: Sentinel Prep Sports
2018 CLASS 5A BOYS STATE TENNIS TOURNAMENT
Team scores (through semifinals): 1. REGIS JESUIT 65 points; 2. Cherry Creek 56; 3. Fairview 29; 4. Denver East 25; 5. Arapahoe 23; 6. Broomfield 21; 7. Chatfield 14; T8. Fossil Ridge 13; T8. Grand Junction 13; 10. Valor Christian 9; 11. Monarch 7; 12. Boulder 5; 13. Mountain Vista 4; 14. Heritage 3; 15. Highlands Ranch 2; T16. Poudre 1; T16. Rocky Mountain 1; T16. Lakewood 1; T16. Rock Canyon 1
CHAMPIONSHIP MATCHES
No. 1 singles — MORGAN SCHILLING, SOPH. (REGIS JESUIT) vs. Christian Holmes, sr. (Chatfield); No. 2 singles — Austin Kattenhorn, jr. (Broomfield) vs. KOSTA GARGER, SR. (REGIS JESUIT); No. 3 singles — CONOR KACZMARCZYK, FR. (REGIS JESUIT) vs. Drew Hill, sr. (Cherry Creek); No. 1 doubles — EMILIO GONZALEZ-CRUZ/EVAN NUSS (REGIS JESUIT) vs. Beck Chrisbens/Brody Pinto (Fairview); No. 2 doubles — Will Franks/George Weaver (Denver East) vs. Andrew Marocchi/Matt Batmunkh (Cherry Creek); No. 3 doubles — Ryan Grayson/Adam Heilbronner (Fairview) vs. Jack Abbey/Barry Dechtman (Denver East); No. 4 doubles — Brady Elliott/John Shelby (Fossil Ridge) vs. NATHAN TOLVA/JACK CARBONE (REGIS JESUIT)
THIRD-PLACE MATCHES
No. 1 singles — George Cavo, soph. (Cherry Creek) vs. Tyler Landen, sr. (Arapahoe); No. 2 singles — Nick Svichar, jr. (Cherry Creek) vs. Cal Hegstrom, sr. (Grand Junction); No. 3 singles — Ryan Wood, jr. (Arapahoe) vs. Nick Solimene, jr. (Valor Christian); No. 1 doubles — Jack Vanderberg/Charlie Vanderberg (Broomfield) vs. Devin Brownstein/Will Hoist (Cherry Creek); No. 2 doubles — GRIGOR KARAKELYAN/PHILLIP ALBRIGHT (REGIS JESUIT) vs. Hall Humphrey/Reid Shaffer (Fairview); No. 3 doubles — Ryan Flora/Braden Mayer (Cherry Creek) vs. Kyle Kirkby/Cameron Morrey (Fossil Ridge); No. 4 doubles — Cedric Loehr/Brock Bryant (Cherry Creek) vs. Quentin Wolfe/Mason Heimel (Denver East)
SEMIFINAL RESULTS
No. 1 singles — MORGAN SCHILLING (REGIS JESUIT) def. George Cavo (Cherry Creek), 6-4, 6-2; Christian Holmes (Chatfield) def. Tyler Landen (Arapahoe), 6-2, 6-3; No. 2 singles — Austin Kattenhorn (Broomfield) def. Nick Svichar (Cherry Creek), 3-6, 6-3, 7-6; KOSTA GARGER (REGIS JESUIT) def. Cal Hegstrom (Grandv Junction), 6-3, 6-4; No. 3 singles — CONOR KACZMARCYZK (REGIS JESUIT) def. Ryan Wood (Arapahoe), 6-2, 6-3; Drew Hill (Cherry Creek) def. Trevor Fone (Mountain Vista), 6-3, 7-6; No. 1 doubles — EMILIO GONZALEZ-CRUZ/EVAN NUSS (REGIS JESUIT) def. Jack Vanderberg/Charlie Vanderberg (Broomfield), 6-3, 6-4; Beck Chrisbens/Brody Pinto (Fairview) def. Devin Brownstein/Will Hoist (Cherry Creek), 6-3, 6-4; No. 2 doubles — Will Franks/George Weaver (Denver East) def. GRIGOR KARAKELYAN/PHILLIP ALBRIGHT (REGIS JESUIT), 6-4, 1-6, 6-2;Hall Humphrey/Reid Shaffer (Fairview) def. Andrew Marocchi/Matt Batmunkh (Cherry Creek), 6-3, 6-1; No. 3 doubles — Ryan Grayson/Adam Heilbronner (Fairview) def. Ryan Flora/Braden Mayer (Cherry Creek), 6-3, 6-3; Jack Abbey/Barry Dechtman (Denver East) def. Kyle Kirkby/Cameron Morrey (Fossil Ridge), 6-4, 6-0; No. 4 doubles — Brady Elliott/John Shelby (Fossil Ridge) def. Cedric Loehr/Brock Bryant (Cherry Creek), 7-6, 6-2; NATHAN TOLVA/JACK CARBONE (REGIS JESUIT) def. Quentin Wolfe/Mason Heimel (Denver East), 7-6, 4-6, 6-3