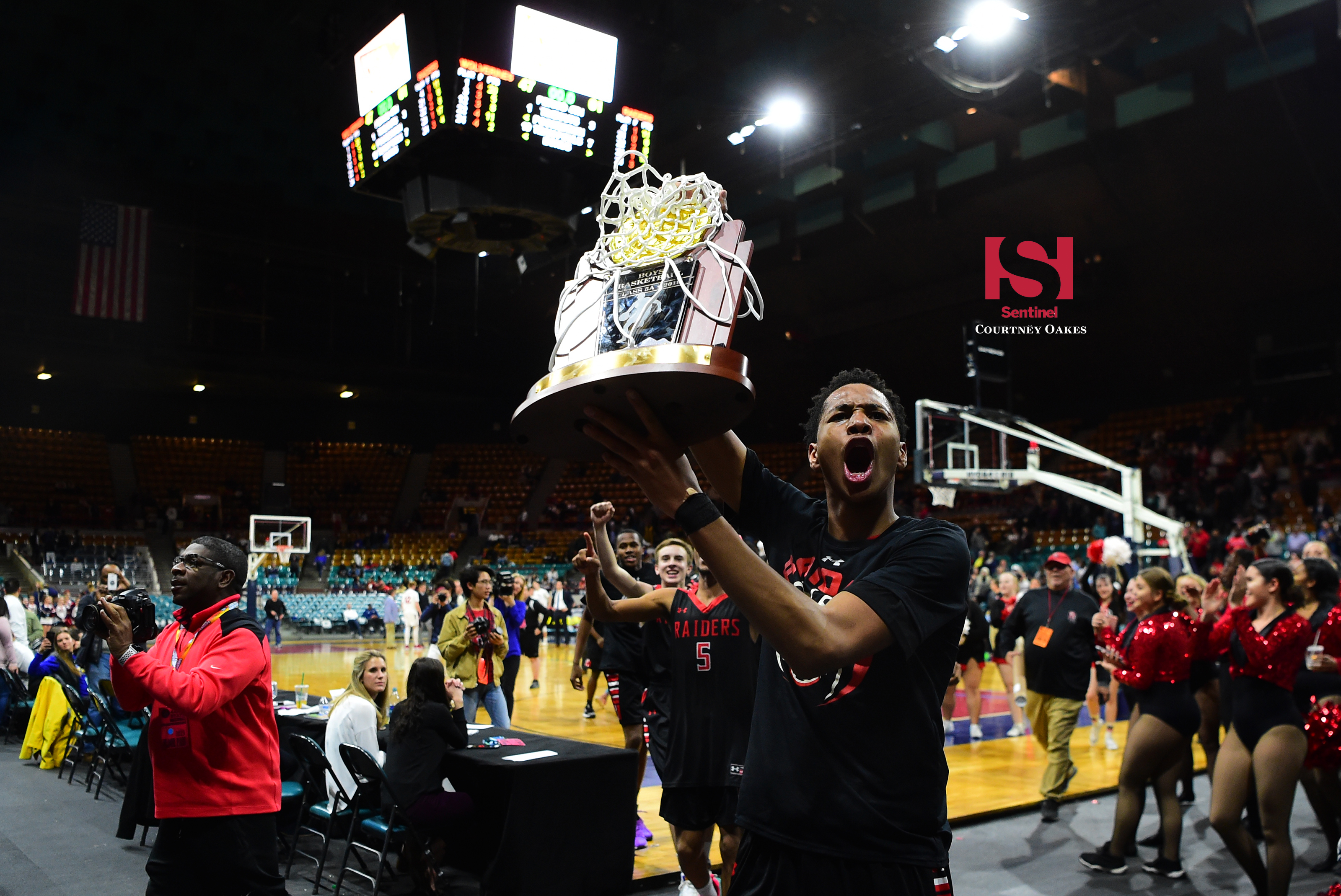 DENVER | For a program that hadn't even been to a state championship game in 26 years — or won one for 34 — the moment never got too big for the Rangeview boys basketball team Saturday night.
With a composed effort from start to finish at the raucous Denver Coliseum, the Raiders downed top-seeded Chaparral 61-47 in the Class 5A state championship game to win the program's first state basketball title since the 1984-85 season.
As it has throughout the entire playoffs, coach Shawn Palmer's Rangeview team got contributions up and down the starting lineup on the bench, built an early lead over the dangerous Wolverines and made their free throw throws and took care of the ball down the stretch for the program's biggest win in more than three decades.
"It's a real emotional moment; ever since the beginning of the season, we've been pushing for this moment right here," said beaming junior Obi Agbim, who contributed 11 points off the bench to the victory.
"All the speeches, all the practices — even when you don't feel like practicing — got us here, so it's emotional."
The third-seeded Raiders — which got the program to the state championship game for the first time since 1993 (when it lost to George Washington and Colorado schoolboy legend Chauncey Billups) when they knocked off second-seeded Mountain Vista in the semifinals — were determined not to let the opportunity slip away.
Palmer and his detail-oriented coaching staff pore over film of Rangeview's opponents and the preparation that creates combined with the internal chemistry of players that have played together since they were little produced confidence going up against any opponent.
"Our chemistry is great, we're too connected," junior Christian Speller said. "Every time we come down the court, we're one step ahead of the defense and we all know what each other is going to do. We couldn't ask for more to be able to work together as a team and go out with a win on the big stage."
That connection helped Rangeview weather a rough start in the opening minutes of the final, in which it had been whistled for four early fouls and trailed high-powered Chaparral 3-0.
The Raiders steadied themselves as usual with the help of a bench that proved vital throughout the playoffs. First, it was junior Isaiah Hayes — who scored nine points in the fourth quarter of a Great 8 win over Grandview — with back-to-back baskets to put Rangeview ahead 9-7 in the opening quarter.
Then it was senior Kamren Stroter's turn, as he scored two baskets as well and more importantly drew three offensive foul calls on the defensive end. That play helped the Raiders stay strong despite losing senior post player Quincey Jewett — the EMAC Player of the Year who had 22 rebounds in the previous game — to his third foul early in the second quarter.
Agbim made his third 3-pointer of the half to send Rangeview into the break with a seven-point advantage, with 17 of the Raiders' 22 points coming from bench players.
"In the first half, I took those three really big charges and it got us on the break and it really mattered," Stroter said. "I was in foul trouble, but I still had to play hard."
Rangeview held Chaparral sharpshooter Kobe Sanders to just two points in the opening half, with Palmer giving senior Jodaun Dotson the primary defensive assignment.
Sanders eventually got going in the second half, including a rash of three 3-pointers in the fourth quarter to cut what had been a 14-point edge for the Raiders down to three.
"I just told JD 'You are playing good defense, just stay with it, make him take tough ones,' and he did a great job," Palmer said. "He banked that one in and Jodaun was getting frustrated and I told him 'Just stay with it, you're OK,' and he really closed out the game well."
Indeed Sanders didn't hit another shot the rest of the game, while Rangeview put it away with an outstanding crunch time showing at the free throw line. The Raiders missed double-digit free throws the night before in the semifinals against Mountain Vista, but could hardly miss this time.
"I shot 100 free throws last night and 100 more this morning, so I was preparing for it," said junior Christopher Speller, who went 15-for-19 from the free throw line on his way to a team-high 17 points.
"I knew it was going to happen, so it felt great."
The unwavering performance allowed Rangeview's large crowd to whip itself into a frenzy as the Raiders dribbled out the final seconds.
After they've laid their hands on the championship trophy, Jewett raised it in the air in triumph and Rangeview players brought it over to its student section to share the triumph.
"This means everything, for our school it is big," Stroter said. "We came into the season and everybody thought we were underdogs and weren't going to make it all the way. But the community wanted us to take it all and we knew we had the support to take this dub and win the state championship."
Rangeview's victory extended Aurora's reign of dominance in 5A boys basketball to five seasons, as it followed victories by Grandview (2018), Eaglecrest (2017) and Overland (2016 and 2015).
But this championship meant more to a long-suffering program.
"34 years is a long time, so we've been due for a championship for a long time now," Christian Speller said.
Added Dotson: "It's my senior year and I wanted to go out with a bang. This is going out with the bang."
Courtney Oakes is Sentinel Sports Editor. Reach him at 303-750-7555 or [email protected] Twitter: @aurorasports. FB: Sentinel Prep Sports
(3) RANGEVIEW 61, (1) CHAPARRAL 47
Score by quarters:
Rangeview  13  9  12  27 — 61
Chaparral     7  8    9  23 — 47
RANGEVIEW (61)
Cade Palmer 0 0-0 0, Jodaun Dotson 2 3-4 8, Christopher Speller 1 15-19 17, Quincey Jewett 2 0-2 4, Christian Speller 2 2-2 7, Obi Agbim 3 2-2 11, Isaiah Hayes 3 0-0 6, Kamren Stroter 3 2-3 8, Jayden Foster 0 0-0 0. Totals 15 26-36 61.
CHAPARRAL (47)
Kobe Sanders 5 6-7 20, Tizell Lewis 0 1-2 1, Dalton Waldron 3 2-4 8, Tanner Giles 5 1-1 11, Bryce Matthews 1 0-2 2, Joseph Dalton 2 1-4 5, Drew Baller 0 0-0 0, Keaton Crockett 0 0-0 0. Totals 16 10-16 47.
3-point field goals — Rangeview (5): Obi Agbim 3, Jodaun Dotson, Christian Speller; Chaparral (5): Kobe Sanders 4, Joseph Dalton. Total fouls — Rangeview 17, Chaparral 25. Fouled out — Rangeview: Speller, Kamren Stroter; Chaparral: Tizell Lewis. Technical fouls — None.