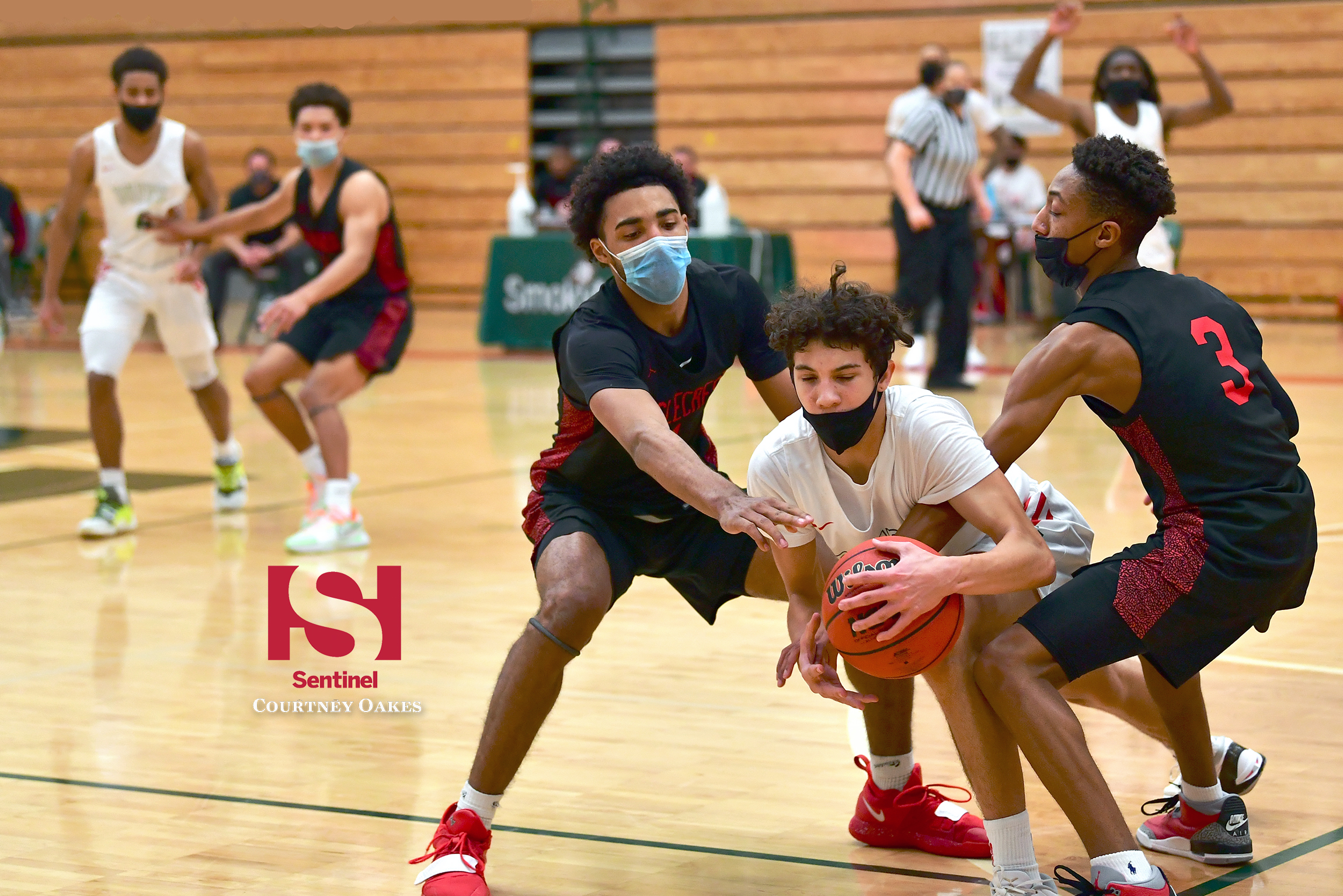 AURORA | The Eaglecrest and Smoky Hill boys basketball team had their first contest of the season canceled due to quarantine, but Friday's Centennial League matchup packed plenty.
Seemingly every meeting between the two rivals of late creates a game to remember and this one certainly qualified, as the Buffaloes had seemingly locked away the game twice in regulation, only to see the Raptors come storming back.
Eaglecrest went on a 9-1 run in the final 30 seconds to force overtime and outscored Smoky Hill 11-7 in the extra period for an improbable 80-76 victory that left coach Jarris Krapcha and his team happy and shaking their heads at the same time when it was over.
"I'm going to have to go watch the film because it was a blur," said Krapcha, whose team is now 4-3 overall and 4-1 in the Centennial League. "We got it down to two and then they got it back to eight and I thought 'this game is basically over,' but next thing you know, missed free throw, 3-ball, inadvertent whistle, you don't know what's going on. I'm just proud that our kids never quit and kept battling."
Senior Ty Robinson scored a game-high 31 points — including 13 in the Raptors' 28-point fourth quarter — and sealed the victory with two free throws in the closing seconds of overtime.
Junior Mostapha Elmoutaouakkil added 13 points for Eaglecrest and three players contributed 11 apiece, including junior Jayden Washington, who had six of those points in overtime, and sophomore Peyton Taylor, who had nine of his points in the fourth quarter and the extra session. Senior Adrian Price rounded out the trio with 11.
Coach Anthony Hardin's Smoky Hill team got 22 points from senior Jordan Whitaker and 21 from junior Brayden Maldanado and the pair had back-to-back transition layups that gave the Buffaloes (4-4, 3-4) a seemingly comfortable 68-60 lead with 30 seconds left.
But too much time remained on the clock and turnovers and missed free throws — including seven in the final period and three more in overtime — allowed Smoky Hill's 14-point lead in the final quarter to disappear and eventually proved too much to overcome.
The wild final minute of regulation included what appeared to be six players on the floor for Eaglecrest during a free throw attempt by Whitaker, but the Raptors were not penalized (as the Smoky Hill bench called for a technical foul for that substitution infraction) after a huddle of officials. Robinson soon hit another 3-pointer to cut the deficit to two.
As chaos reigned — and the limited number of fans in the stands became increasingly more vocal — two free throws by Eaglecrest senior Brayden Legette with five seconds remaining tied the score at 69-69. The Raptors actually got two chances for game-winning shots after a traveling call on Smoky Hill.
With 0.5 seconds left, Robinson caught an inbounds lob from Elmoutaouakkil and got a shot up toward the rim, but it fell short. Eaglecrest felt the momentum rested with it going into the extra period.
"I think our kids were pretty confident going into overtime because we basically had pulled off a miracle just to tie the game," Krapcha said. "So I felt pretty good going into overtime and once we got that first bucket, it takes a little pressure off. That's the first time we had the lead all night."
That first lead came on a basket by Washington — who hadn't scored since the third quarter — but Whitaker gave Smoky Hill a two-point lead with a 3-pointer that was countered by Taylor's layup for a 73-73 tie. It was knotted again at 76 after Jonathan Potts' acrobatic layup plus and-one free throw for the Buffaloes.
Washington's confident drive in the lane put Eaglecrest ahead for good as Potts' 3-point attempt seconds later went awry and Robinson made two free throws in the closing seconds to seal the victory, which ended with a heated exchange between the teams at midcourt.
"I was just like 'I have to make this shot, that was it, I can't miss' and I was glad they went in," Washington said of his late heroics.
Courtney Oakes is Sentinel Colorado Sports Editor. Reach him at [email protected] Twitter: @aurorasports. IG: Sentinel Prep Sports
EAGLECREST 80, SMOKY HILL 76 (OT)
Score by quarters:
Eaglecrest    6  18  17  28  11 — 80
Smoky Hill  18  15  16  20    7 — 76
EAGLECREST (80)
Ty Robinson 9 7-8 31, Peyton Taylor 4 3-4 11, Jayden Washington 5 0-0 11, Adrian Price 3 5-12 11, Mostapha Elmoutaouakkil 6 0-1 13, Brayden Legette 0 3-4 3, Braden Miller 1 0-0 2. Totals 28 18-29 80.
SMOKY HILL (76)
Brayden Maldonado 8 4-6 21, Jonathan Potts 3 5-5 11, Jordan Whitaker 8 3-5 22, Terrell Smith 3 3-10 10, Anthony Harris Jr. 3 0-0 6, Ricky Mitchell 2 0-0 4, Jayson Lewis 1 0-2 2, Amir Copeland 0 0-0 0. Totals 28 15-28 76.
3-point field goals — Eaglecrest (6): Ty Robinson 4, Mostapha Elmoutaouakkil, Jayden Washington; Smoky Hill (5): Jordan Whitaker 3, Brayden Maldonado, Terrell Smith. Total fouls — Eaglecrest 17, Smoky Hill 21. Fouled out — Smoky Hill: Maldonado, Smith. Technical fouls — None.