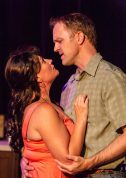 A musical version of "The Bridges of Madison County" seems like an idea that would be more at home in a Saturday Night Live skit than on a marquee of an actual theater. While refashioning old movies into new musicals (see "Waitress," "Billy Elliot," and "Honeymoon in Vegas") seems to be the new way for Broadway to cash in on nostalgia and name-brand recognition, making a musical out of "The Bridges of Madison County" just seems like a bridge too far.
But the end result of the book-to-movie-to-musical journey of Bridges has produced a subtle play that is both uplifting and heartbreaking, and doesn't give the audience any easy answers as to what is worth sacrificing for love. And the regional premiere currently running at Vintage Theatre uses that great source material and takes it to another level. The show is both inspirational and tragic and among the best shows the theater has put this season.
The story centers around Francesca, an Italian immigrant in 1960s Iowa, married to a former U.S. servicemen and raising two kids in what can only be described as a humdrum existence. While she loves her children and the home she's created in a land completely unlike the one she left after World War II, her existence isn't one full of romance. It is instead full of routine and a comforting numbness that is thrown into chaos when she meets Robert, a National Geographic photographer trying to find one of the famous bridges in Madison County to photograph.
What starts as Francesca directing Robert to the bridge he has searched for, leads to the pair finding that they had been searching their entire lives for one another. Over four days, the two carry on a love affair that is more soulful that torrid, until Francesca's family finally comes back to town and she's faced with a decision that will change the course of everyone's life.
The large cast is full of talent that makes surprising appearances in tiny vignettes as the story of Francesca and Robert unfold. The nosey neighbor, Marge, played by Abby Apple Boes, randomly belts out a saucy number while enticing her husband to put the paper down and turn off the lights. Robert's ex-wife Marian, making a brief appearace played by the talented Bethany Luhrs, and tells the sad tale of their ill fitting relationship in a song that comes out of nowhere.
With all that going on, Megan Van De Hey is still the core of the show as Francesca, and it's hard to imagine another actress being able to top this performance. Her Francesca is at times the nervous young girl of her youth in the face of a love she's never felt, at others the older woman who knows that this love affair will only lead to a broken heart. Throughout all of it, Van De Hey gives an authentic performance that is only bolstered by her powerful singing voice. Her vocal talent alone is enough to make this show a success.
Andy Sievers as Robert is faced with a  difficult challenge — not to be overshadowed by Van De Hey's performance. Sievers instead brings a subduedness to Robert, an interloper who has never felt at home until he found himself in Francesca's arms. He is the perfect opposite for Van De Hey and as the two fall in love, Sievers slowly opened up his character and starts to exhibit an enthusiasm and joy one can tell his character hasn't felt in years.
4.5 out of 5 stars
"The Bridges of Madison County"
7:30 p.m. Fri. and Sat., 2:30 p.m. Sun. Playing now through Aug. 5 at the Vintage Theatre at 1468 Dayton St., Aurora
For tickets, visit www.vintagetheatre.com or call 303-856-7830.