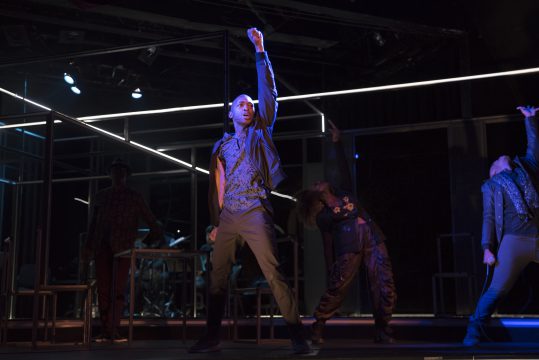 For all its success as a production since it debuted in 2006, "Passing Strange" is still a relatively unknown commodity in the mainstream. Even with the musical receiving multiple Tony nominations in 2008, including winning Best Book, and the show's final performance on Broadway filmed by director Spike Lee for a cinema release, it isn't a household name, even among theater fans.
In a theater world of adaptations and retreads, a unique production like "Passing Strange" can get lost in the shuffle. But seeing it on stage at the Aurora Fox Theater, it's hard to imagine a better show to end the theater's season. "Passing Strange" is the definition of appointment theater. This is the show you have to make a point to see.
"Passing Strange" is a semi-autobiographical tale of a young black musician leaving the confines of his comfortable life in a Los Angeles suburb to head through Europe in the mid '80s in search of "the real." His journey takes him through the bohemian paradise of Amsterdam and the political cauldron that was West Berlin in the midst of the Cold War.
The production team behind the Fox's "Hedwig and the Angry Inch" has created another dazzling show with "Passing Strange." The show has a lot of moving parts, with actors taking on multiple roles and settings shifting freely. Yet the action on stage never feels forced or chaotic. Instead it always feels natural, something that isn't an easy thing to do in a play that thoroughly removes any semblance of the fourth wall.
Told through the eyes of the Narrator, played by Broadway veteran Trent Armand Kendall in his first Denver performance, the show portrays the angst and yearning for identity of many youths stuck in the comfort of middle class life. But while "Passing Strange" tells a universal tale, it is also thoroughly a story from an African American perspective. It is both a joy that Aurora has a chance to see a play cast entirely from amazing African American performers, and depressing that it is such a rare occurrence that it has to be highlighted.
Joseph Lamar, as the unnamed protagonist, returns to the Fox after his lauded performance in 2017's "Porgy and Bess." An impressive vocal talent, Lamar's acting strikes the perfect balance between a wide-eyed ingenue and a bravado-filled young man pretending to belong. As he continues on his quest for "the real," Lamar's character forcefully tries to shed his youthful naivety and replace it with what he thinks it means to be authentic.
Lamar's performance would be for naught if it weren't for the skills of the ensemble cast that play the plethora of characters that populate the world of "Passing Strange." The show succeeds in large part because of how easily actors like Randy Chalmers and Katherine Paynter are able to transition from one character to the other, imbibing each one with a unique performance.
For all the successful elements on stage, this is Kendall's show at the end of the day. He is on stage in every scene, hovering in the background, taking center stage to address the audience, casually flipping through a book while lovers fight it out in front of him. It is impossible to not have your eyes drawn to him even if he's just in the background dancing to the music.
What makes Kendall's performance even more remarkable is that for opening weekend, he did all of that while dealing with a severe case of laryngitis. His powerful voice reduced to a scratchy shadow of itself, Kendall somehow didn't miss a beat or a note while singing through what had to be unbelievable pain. It was the theater equivalent of Michael Jordan's flu game or Kerri Strug pole vaulting for Olympic gold on a bum ankle.
With a full week to recover, it's easy to imagine how great the finally few weeks of "Passing Strange" will be with Kendall's voice at full capacity.
4.5 out of 5 stars
"Passing Strange" at the Aurora Fox Theater. Playing now through May 13. For more information and tickets, visit aurorafoxartscenter.org/afac/ or call 303-739-1970.