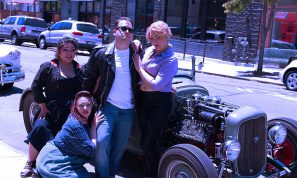 Who doesn't love a hero who cries?
Equinox Theatre's production of "Cry-Baby," the musical based on the movie from master of camp John Waters, is full of enough great moments, performances and dancing that it's hard not to walk away from the show having a great time (The license plate dance is worth the price of admission). But even with so much to love, it is apparent that the show could have been so much more if different casting choices had been made.
The show centers around the budding relationship between "Crybaby Walker", an orphaned teen from the wrong side of the tracks, and Allison, a goody two shoes orphan from the country club set. When the two fall in love and decide to buck any sense of class restrictions, music, dancing, arson and false imprisonment follow.
The show benefits from an ensemble cast that makes the entire thing an fun experience. Robin Zavala as the psychotic Lenora is a show highlight. There isn't a moment Zavala when she's on stage she doesn't own it. When the spotlight shines on Preston Adams as Dupree, Beck Smith as Mona "Hatchetface" or Anna Sturtz as Wanda, their talent shines back. In a stage packed with 21 performers, so much of the cast distinguished themselves with their comedic chops and vocal prowess.
Despite heartfelt performances, it is in the leads where the show hits a snag.   
Chris Anderson as Crybaby Walker is at his best when he is balancing the swagger of the protagonist with an earnest sincerity. His comedic chops allow him to nail the humor in the show without breaking a sweat.
But it is in the singing that Anderson's performance doesn't hit the level of his castmates. He doesn't have the range and power to pull off some of the songs the show gives to Crybaby. And when it comes time for hard notes to be hit, it is unfortunately clear Anderson's range just can't meet the demands of the role.
Holly Dalton as Allison has the range to pull off the music, and she plays the good girl with an over-the-top glee at breaking all the rules by falling in love with Crybaby. Some of the show's best laughs come from Dalton's fish out of water schtick. 
Where Dalton occasionally falters is in playing into the shtick too much. It feels like she didn't give the space in her performance to let her character deepen. She's either the lovestruck teen or the heartbroken teen. The show is camp, and so subtlety should not be expected. But Dalton could have done more to bring Allison to life.
"Cry-Baby: The Musical" by Equinox Theatre.
Playing now through Aug. 18. 7:30 p.m. Fri. and Sat. Tickets $20/25
The Bug Theatre at 3654 Navajo St. Denver