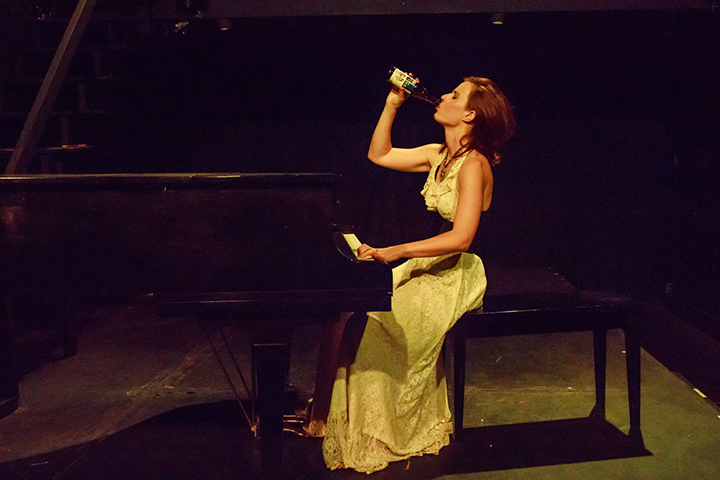 AURORA | Dance routines in masks. Socially-distanced choreography training. Small audiences and big live-streams.
As metro isolationists weather the last days of the regional stay-at-home order, local arts boosters are mulling over how best to sate stir-crazy residents eager for in-person music, art and theater without transforming libraries and playhouses into petri dishes.
The Tri-County Health Department — the regional health authority making decisions for Aurora's Arapahoe and Adams counties — is relaxing restrictions on personal travel and business activity beginning May 9. And although non-critical businesses can start to operate, social distancing, masks and calculations of business occupancy aren't going anywhere. Tri-County's new plans encourage remaining six feet apart in public and donning personal protective equipment when leaving one's quarantine den.
It's a lingering challenge for indoors institutions normally cultivating public life: Theaters, cinemas, libraries, music venues and public gyms.
As of May 5, City officials have not set reopening dates for city-run libraries and rec centers that have sat shuttered for weeks.  Aurora Mayor Mike Coffman said in a statement the city would facilitate a "phased reopening" of public life.
Nor have East Colfax staples like the People's Building, a hybrid gallery, theater and music venue, depending on the day, or the Aurora Fox Arts Center figured out the future after being suddenly closed almost two months ago. The Aurora Fox playhouse closed March 13, hours before a production was set to debut.
"Its so hard to call actors and say, 'Don't come to the theater,'" said Helen Murray, the Fox's executive director.
For now, neither can Aurorans. Murray is crossing her fingers the theater will reopen in the fall.
In the meantime, staff are tackling much-needed renovations, installing more soap dispensers in the bathrooms and launching new, virtual-based projects. On Saturday May 9, the Fox will live-stream an original theater production from Denver-based renaissance woman Laura Jo Trexler, "Play On: A musical romp with Shakespeare's women." That production will stream live at 7 p.m. on the Fox's website, https://www.aurorafoxartscenter.org/play-on. It's a one-woman show, done as a live show, not a Zoom feature, that will show the region what's possible if crossed fingers don't produce open venues for some time to come.
Live streaming could be a new feature of People's Building productions, said Aaron Vega, the space's curator, although plans are still in flux.
Instead of packing onto the hardwood floors to hear local bands, patrons might find themselves head-banging with ample room in a size-restricted crowd, while everyone else catches the performance online.
But the Vintage Theatre, the smaller of East Colfax's theater institutions, could be open come July for a delayed production of "Shakespeare in Love," said executive director Craig Bond.
He said visitors will likely find themselves in comparatively sparse audience sections: Bond plans on slashing audience capacity to a 50-person limit, compared to the usual 145-person, sold-out show.
And before the spotlights go on, staff will have to personally organize a seating section to keep families together but six feet away from other clans. Discerning members of the audience then will notice, during a masked ball scene, actors' mouths are covered as well, to protect against virus transmission, Bond said.
"I think that will help the audience feel safer, because it is a big cast of 22 people," Bond said.
Social-distancing seating will also be a challenge for area movie theaters, which can pack in hundreds of Aurorans with popcorn in hand.
Caitlin Piper, a spokeswoman for Cinemark theaters, said the Century Aurora and XD theater at 14300 E Alameda Ave., is shooting for a July 17 reopening, screening Christopher Nolan's film "Tenet."
But Piper could not say exactly how movie-goers would avoid each other in the cinema, bathrooms and candy queues.
"It is important to note that the theatrical exhibition's return to 'normalcy' may span multiple months, driven by staggered theatre openings due to government limits, reduced operating hours, lingering social distancing and a ramp up of consumer comfort with public gatherings," she said.
Hardly least among all these ideas are the economics of opening venues for relatively paltry few when even packed houses make for challenging margins in a host of entertainment industries. Add to that, the complexities of keeping performers six-feet from each other, and six feet from the public, and the public six-feet apart, and you've got a lot of planning, arts officials say.
Piper and others emphasized compliance with government recommendations as the key to reopening.
That's a ubiquitous feeling among Aurora cultural figures. In the trade-off between early openings and public health risks, expect arts programmers to choose the latter.
Even so, Murray, the Fox's executive director, said she's yearning to hear the roar of a crowd in a jam-packed venue.
She said the arts remind us, "It's not just about living. It's how you live."