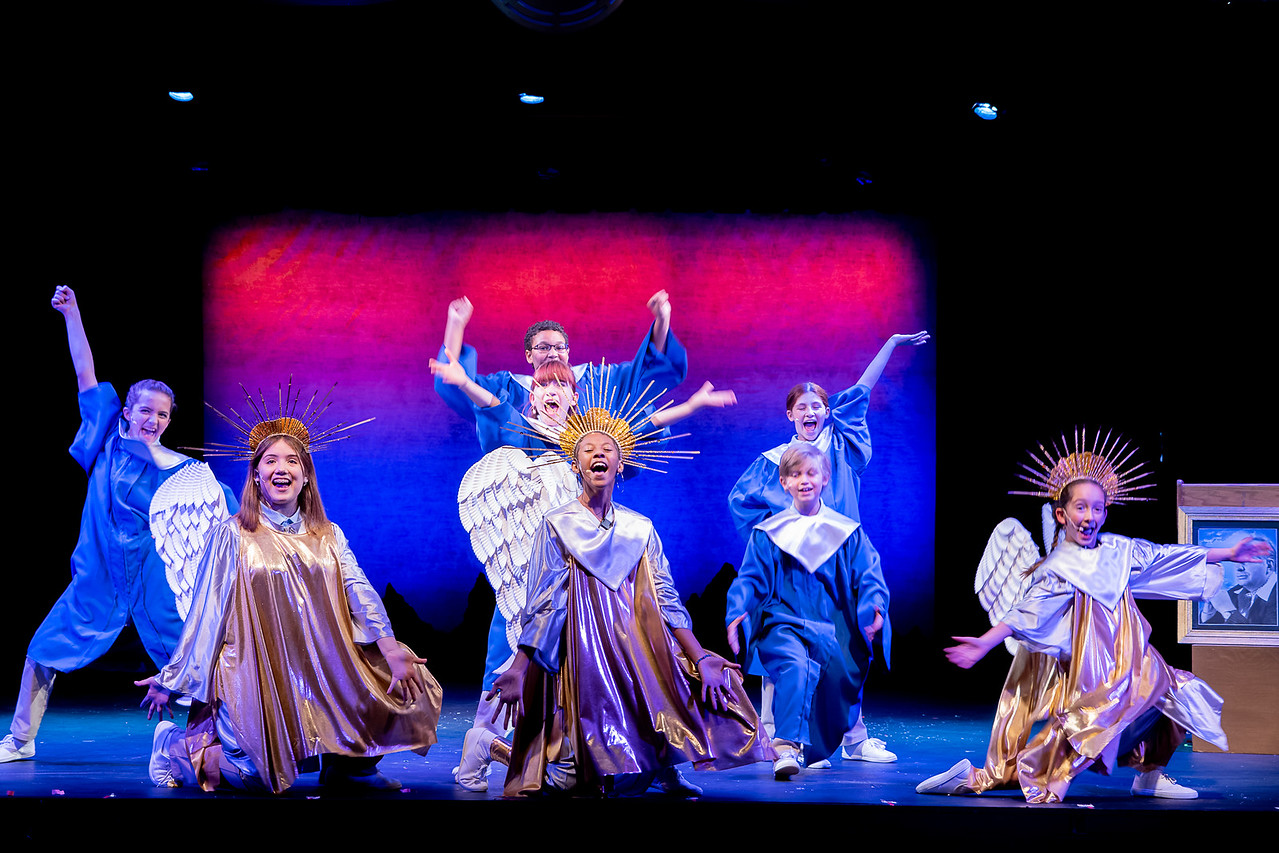 December is the time when theaters, school auditoriums and every other venue with a stage gets overtaken by classic Christmastime performances. Cries of "God bless us, every one!" and the hypnotic tunes of the Dance of the Sugar Plum Fairy spill out of venues across the metro area as people revisit theatrical favorites to get into the Christmas spirit.
If all that repetitive Christmas cheer is making you feel like Scrooge, the Aurora Fox Arts Center has just the thing for you. The theater on Colfax is offering, "A Very Merry Unauthorized Children's Scientology Pageant," a quirky musical that pokes fun at both children's Christmas plays (a la "A Charlie Brown Christmas") and the wild and wacky story of the Church of Scientology.
The pageant is styled as a play-within-a-play, following a group of children (played by real child actors) as they scramble to put together a holiday pageant while arguing about who gets the best roles. But instead of fighting over who gets to be one of the three wise men and who has to don a donkey costume, the group is preparing to tell the story of how L. Ron Hubbard founded Scientology.
From there, the kids launch into a 10-song performance that follows our redheaded hero as he travels the world, joins the Navy and creates a new religion. Key parts of Scientology, such as how "auditing" works and what thetans are (not exactly the ghosts of Christmas past, but something similar) are lyrically described. 
Along the way a few of the Church's most familiar faces drop in, including Tom Cruise and Elisabeth Moss, unsettlingly costumed in her "Handmaid's Tale" garb. The performance ends with a showdown between Hubbard and the IRS, which sought to withdraw its tax-exempt status (true story). 
All of this could combine to create a confusing mess, especially for those who walked in with little prior knowledge of Scientology (for a less humorous and more fact-based account of L. Ron Hubbard's life and the history of Scientology, we recommend Lawrence Wright's book Going Clear). It's saved from that fate by having a high production value and strong acting. 
Despite their unconventional subject matter, the songs that form the backbone of the production are fun and solid, and are believable as something you could sing along to while sipping a mug of hot cocoa, albeit spiked. While the props are designed to look like something that could be pulled out of a church basement, the stage is pulled together by well-timed lighting and sound effects and some impressive set pieces. 
The cast soars as a ragtag bunch of child actors while actually being an anything-but-ragtag bunch of child actors. The performers struck the right balance between sincerity and irreverence, and are much more fun to watch than a group of older actors pretending to be young. Nathaniel Waite-Lutz, who plays L. Ron himself, got a lot of laughs for his performance of an eccentric charismatic leader and had reeled in his several solos.
Devout Scientologists are unlikely to appreciate the performance unless they have a thick skin, but while it casts a skeptical eye over the religion, it doesn't come off as mean-spirited. In the director's notes, Steven J. Burge describes telling an atheist friend the Christmas story, and her responding with incredulity that he actually believed it.
"The point is that many of us believe in something bigger and grander than ourselves," Burge writes. "And many of us believe that we are the Earthly vessels through which that bigger, grander Entity can have its full impact for the greater good in this Universe and beyond…whatever we may believe that Entity to be — God, Self. Or L. Ron Hubbard."
By defamiliarizing the Christmas story that gets told by rote year over year, the play serves as a reminder that we all believe in something that others may regard as ridiculous. It also highlights the universal human desire to believe in something greater than ourselves, whether Jesus, Xenu or simply our collective power to make the world a better place (often, that last one feels like the hardest to have faith in). 
While performed by child actors, the play is geared toward adult audiences, though mature tweens and teens are likely to enjoy it as well. The play has a runtime of one hour, and is performed without an intermission. Performances run through Dec. 19, and adult tickets range in price from $28-$40, with discounts for children and seniors.
IF YOU GO: Tickets can be purchased online at www.aurorafoxartscenter.org. Masks are required to be worn by all patrons while in the building except when actively eating or drinking.