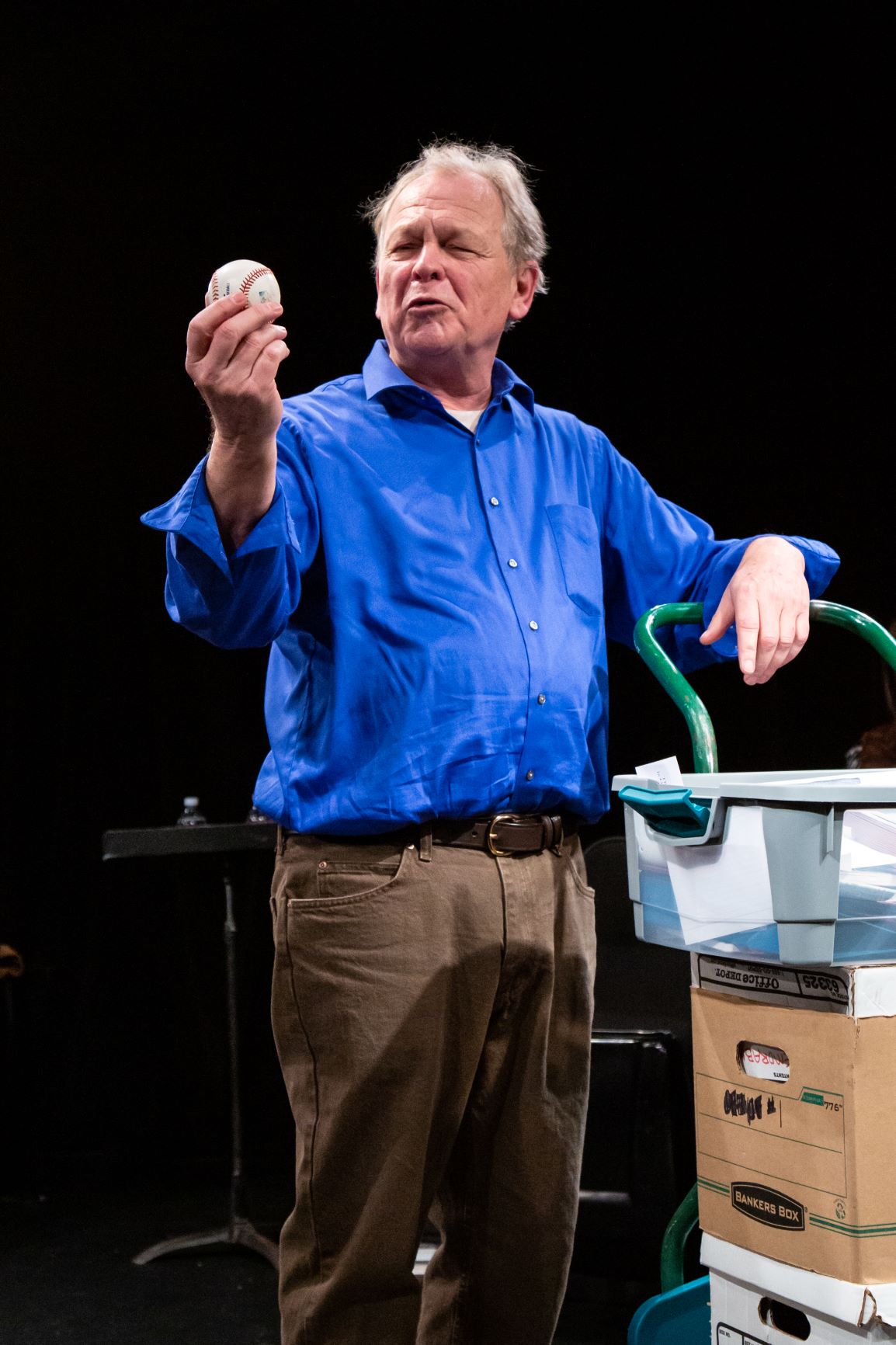 AURORA | At first blush, "ice cream," "hairdressers who listen to what you want," and "the prospect of dressing up like a Mexican wrestler" don't have much in common. 
But at Aurora's Vintage Theatre this month and next, those little pearls and 999,997 others are being threaded into a compelling and highly unusual night of theater.
The regional premier of "Every Brilliant Thing" featuring Colorado theater wunderkind John Ashton is the off-kilter tragicomedy this town and so many others like it need right now.
Penned by British playwright Duncan MacMillan and Irish funnyman Jonny Donahue, "Brilliant Thing" thrusts our humanity and acting chops under the microscope. The result is a surprisingly potent one-acter.
The some 75-minute-long production features an often-times woebegone Ashton casually walking the audience through his life's doleful tale. It puts a morbid tilt on "Forrest Gump" insofar as it sketches a man's existence through troughs, triumphs and, eventually, solace. To get there, Ashton explains he systematically adds to "The List," a running tab of all of life's overlooked jollies, ranging from water fights, to the way Ray Charles sings the word "you."
There's really no set — just an impromptu round loosely assembled in the Vintage's bijou black box, The Bond Trimble Theatre. There are hardly any lighting cues — just sterile, white lamps illuminating Ashton's mild manner. And there are no co-stars — just the few dozen spectators crammed into the Dayton Street space.
But it somehow works. The show makes a convincing argument, bit by bit, line by line, that pulling your trousers on, one leg after the other, day after day, is worth it. It's all worth it. And that's a commendable credo. 
As Ashton talks through his mother's suicide attempts, his father's emotional distance and his bouts of romance, he calmly and sneakily lures Aurora theatergoers into his cool snare. His lackadaisical delivery and mopey strut help suggest, "hey, maybe this whole acting thing isn't the impossible art Mr. Olivier led us to believe." And that's important, as each and every audience member mutters at least a few in-scene lines, some even mustering short soliloquies. 
That's right. "Brilliant Thing" utilizes the notorious two words that make introverts sweat and wannabes squeal with glee: interactive theater.
Asking a random theatergoer to improvise an entire wedding speech on the spot is, at the very least, a tall order, and at most, a panic attack waiting to happen. During Friday night's performance, the ask elicited an "oh, great" head-shake from the lucky winner in row two. 
The show is guaranteed to land differently for varying personalities: Those who prefer to blend into darkened corners may not bite, while those who maintain current head shots "just in case an agent calls" will revel.
But Ashton successfully meets the various armchair actors where they are, duly serving as that conservatory theater professor you didn't know you appreciated quite so much — corduroy blazer and all.
Looking away from the schismatic ruse of audience interaction, "Brilliant Thing" scores because of its elegant yet indispensable slogan: Life's worth it. Even for those who may get a tad ticked with the audience-as-cast schtick, Ashton's crestfallen pleas for choosing life leap out of the morass with captivating clarity. The show's message pops with particular import this week as headlines and push notifications have outlined the Werther Effect tragically unfolding in real time.
So Wallflowers be warned. Starlets rejoice. But no matter where you fall on the Myers-Briggs scale, the production provides a worthy validation of life's infuriating, intoxicating tableau. 
3.5 out of 5 stars
Every Brilliant Thing
Performances at 7:30 p.m. on Fridays and Saturdays; 2:30 p.m. on Sundays through April 14. The Vintage Theatre, 1468 Dayton St. Call 303-856-7830 or visit vintagetheatre.org for ticket information. Adult tickets start at $26. Run time: 1 hour, 15 minutes with no intermission.