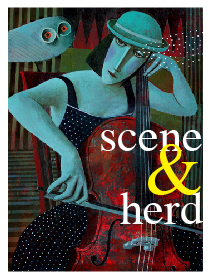 SCREEN
Reel Social Club Shorts Fest
Touted as "art … abbreviated," the Denver Film Society's Reel Social Club presents the third-annual Reel Social Club Shorts Festival. The club is the Denver Film Society's branded program for young professionals interested in not only social activities, but who have a love of cinema as well. The short film format allows greater freedom for fresh voices to experiment and take chances, which align perfectly with the RSC mission. Featured will be music videos, narratives, documentaries, animation and genre films.
An all-access pass includes admission to the passholder-only kickoff event at 7 p.m.  May 17 at the brand new Ramble Hotel. Includes all screenings, free cocktails from 5:30 p.m. to 7 p.m. on Friday, May 18 during opening night happy hour from and closing night happy hour from 6 p.m. to 7 p.m. on Saturday, May 19. 2510 E. Colfax Ave., Denver. For information, visit www.denverfilm.org.
'Grease' at Dry Dock Brewing
The titular 1970s movie "Grease" about boy meets girl set in the 1950s, will be featured at on the big screen at Dry Dock Brewing Co. on the south dock. It is a free showing. Guests are welcome to enjoy brews and an unlimited supply of free popcorn.
8 p.m.  May 18 at Dry Dock Brewing Co., 15120 E. Hampden Ave. For information, call 303-400-5606.
'Eight Hours Don't Make a Day' at Sie FilmCenter
West German filmmaker, actor, playwright and theatre director, the late Rainer Werner Fassbinder, was commissioned to pen a family drama in the 1970s. The result was "Eight Hours Don't Make a Day." The work was a West German television miniseries that was broadcast in five episodes between 1972 and 1973. The series will play at Denver's Sie Film Center. The story centers around main protagonist a toolmaker named Jochen. The series also focuses on the eccentric characters around him.
Opens May 25 in five installments or one binge watch at Sie FilmCenter, 2510 E. Colfax Ave. Price: $7 to $11.50. For information, call 720-381-0813.
MUSIC
Gasoline Lollipops at Bluebird
Gasoline Lollipops, an alt-country band from Colorado with a sound that mixes folk with punk, will play the Bluebird Theater this weekend. The band has shared the stage with such artists as Lucero, Dale Watson, Todd Snider, Slim Cessna's Auto Club and others.
Doors open at 8 p.m., the show will be held at 9 p.m. Friday, May 18 the Bluebird Theater, 3317 East Colfax Ave. Tickets are $10 to $13 in advance and $15 on day of show. Ages 16 and older.
The planets speak at Aurora Fox Arts Center
The Aurora Symphony Orchestra presents "The Planets and Arutiunian's Trumpet Concerto" for its 40th anniversary season finale. Norman Gamboa conducts the performance that is a journey through the solar system with Gustav Holst's "The Planets." Nathaniel Baca will perform Alexander Arutiunian's "Trumpet Concerto."
3 p.m. to 5 p.m. May 20, at the Aurora Foxm Arts Center, 9900 E. Colfax Ave. Tickets: adults $20, seniors and military $15, students, 18 and younger, free.
Five Points Jazz After Party
Jazz enthusiasts can enjoy Gumbo le Funque, a five-piece jazz-funk/soul outfit from Denver that will play at the Five Points Jazz After Party, at Goed Zuur, bar restaurant and cheese shop.
From 7:30 p.m. to 10:30 p.m.  May 19, Goed Zuur. 2801 Welton St, Denver. For information, call 720-749-2709.