AURORA | Tanya Cook's office looks like any other college professor's.
Except for, probably, the enormous "Xena: Warrior Princess" poster hanging on the wall next to her Ph. D diploma. Makes you look.
Cook, 43, is also turning heads for her research on nerd culture. A sociologist at the Community College of Aurora, she wears a few hats — and costumes — these days.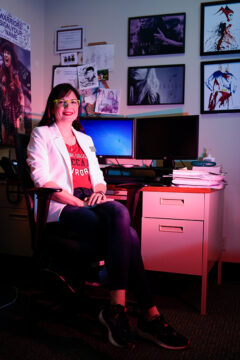 Inside and outside of the classroom, she's a deeply dedicated fan of various science fiction and fantasy shows, especially "Xena," the 1990s TV series about a sword-wielding warrior woman. When she's not teaching sociology courses, you'll find her at comic cons, the culture conventions for comic book and TV fans. There, Cook will sometimes don her very own Xena costume. 
She's definitely not alone. 
The phenomenon of dressing up as TV or pop culture characters, called "cosplaying," seems to be growing more popular by the year. Fandoms are thriving, too, as people use the internet to connect over their undying devotion to Star Wars, Game of Thrones and Harry Potter. 
But Cook's academic research suggests that obsessed superfans may be contributing to the greater good in ways previously unknown, drawing connections between religion, politics and these subcultures. 
She's just secured a $40,000 research grant to finish out a three-year academic study of pop culture acolytes dubbed "Always Keep (Nerd) Fighting." She plans to publish the study in a book written in plain English, not academic double-speak. 
The grant money has sprung from a national endowment groups, the Andrew W. Mellon Foundation, and the American Council of Learned Societies.  It's is something of a rarity for community college researchers to get funding of this caliber, she said.
"It kind of feels like winning an Oscar," she said. 
When it comes to fandoms, Cook is in the know. But for years, she's watched superfans of TV shows and popular books organize each other on the web for not only conventions and fun, but charitable causes and even political activism.
One group of fans — fawning over the TV series "Supernatural" — rallied for victims of Hurricanes Harvey, Irma, and Maria in 2017. They took to social media to monitor calls for help and alert rescue squads, helping save over 29,000 people, Cook said. They upped the ante, and even started helping reunite migrant and refugee families.
This leap from fandom to activism and political organizing fascinated Cook, so she started studying what motivates them. 
But she's found fan groups that have pivoted even to politics and grassroots organizing. 
One year, she boarded a plane with her daughter, bound for the Harry Potter Alliance's Granger Leadership Academy.
It's a political workshop inspired by Hermione Granger, the archetypal know-it-all witch in the hugely popular fantasy book series. In one book, Granger lobbies to liberate little house elves — servants for wizards — from their drudgery. It's an abolitionist campaign. 
Some heavy hitters marqueed this year's Granger workshop, notably, Mari Copeny, a  young Flint, Michigan activist who successfully pressured former President Barack Obama to visit and view the city's notoriously polluted drinking water. It was a fruitful experience for Cook's research.
Cook is still conducting interviews, and hasn't concluded anything, she says. 
But she says stories like Harry Potter and Star Wars are stories with messages for social change that inspire their readers. Both protagonists, Potter and Luke Skywalker, grapple with inner demons and defeat evil. Granger is a major nerd, but strikes to make the elves' lives better. 
Belonging to these fan groups may be even as important as belonging to a church or mosque, Cook thinks. 
She notes that fewer Americans identify as religious these days. It's possible that non-religious people are filling a void with other communities, such as fandoms. There's shared emotional energy and story-telling, she says, akin to church. People in both groups help each other out, and then turn to charity or activism to make the world a better place. 
In fact, Cook described herself as a "Jesus fan." 
Her research is a new path in academic studies, Cook said. With the $40,000 in hand, she'll be able to shed some time teaching and focus on wrapping up the book. That's a rare opportunity for community college instructors, a crop that typically spend more time in the classroom than interviewing and studying people in the field. 
"A lot of us are academics and we like to do that," Cook said of research. "It's just sort of our inner Hermione Granger, that wants to, like, keep studying and learning."