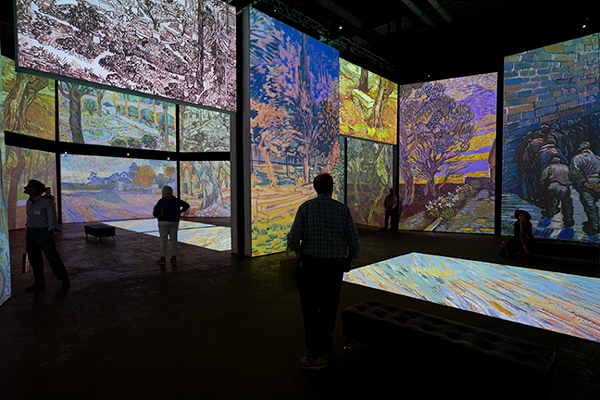 AURORA | Stepping into the mind of Vincent Van Gogh would be maddening. The 19th century artist most famous for Starry Night suffered nervous breakdowns, cut off his own ear in distress, spent a year in an asylum and then died by suicide in 1890.
It's perhaps the reason why a room of giant scale images of Van Gogh's most famous works is so mesmerizing.
Van Gogh Alive, on display at the Hangar inside Aurora's Stanley Marketplace now through Sept. 26, offers patrons a vision of the artist's work in an immersive exhibit that projects the artist's most popular works onto canvases throughout the pop-up gallery.
Creators of the exhibit say it's a way to "truly venture into his world."
Van Gogh became a painter at the age of 27. First a peasant painter, the Dutch artist eventually moved to Paris to develop his craft. After a few years under the influence of modern art and city life, Van Gogh became tired of his fast-paced surroundings and boarded a train. He landed in the south of France. The next year in Arles would be considered his most turbulent. The morning after Van Gogh's ear incident, he was admitted to the Saint-Paul-de-Mausole asylum in Saint-Rémy.
While in the mental hospital, Van Gogh continued to work. Starry Night was inspired by the view from his window. He completed nearly 150 other works in Saint-Rémy, some copies of prints and others impressive still lifes like "Irises."
Viewing Van Gogh's most influential works would take art patrons around the world, from New York's Museum of Modern Art to the J. Paul Getty Museum in Los Angeles to the Van Gogh Museum in Amsterdam.
Van Gogh Alive, presented by the Denver Center for Performing Arts, brings them all to one place. It's one of two traveling Van Gogh exhibits visiting metro Denver this year. The other, which opens September 30, is also an "immersive" experience, draping guests in vibrant colors and inviting them into the world of a creative genius.
Classical music and a specially-formulated scent diffused throughout Van Gogh Alive round out the multi-sensory experience. Cypress, cedar, nutmeg, lemon and vetiver are used to transport the visitor into the countryside setting of many of Van Gogh's paintings.
"Van Gogh Alive has really redefined the way many people around the world engage in art and culture and it has brought tremendous joy to audiences old and young," creator Bruce Peterson said of the exhibit in a news release. "Interestingly we were last here in Denver in 2019 with the very successful Leonardo da Vinci – 500 Years of Genius Exhibition held at the Denver Museum of Nature and Science. I hope Van Gogh Alive is every bit as enjoyable and successful for the city."
The Hangar at Stanley features a bar to accompany the exhibit, and a "selfie room" designed after the post-impressionists famous sunflower stills puts visitors in their own yellow field.
If You Go
July 9 through September 26
Tickets: Starting at $35
Children 4 and under free
www.denvercenter.org