AURORA | Anna Kaye can sometimes be found walking through the torched remains of forest fires.
The Lakewood-based visual artist has long been fascinated with what she calls the twin qualities of fires: violence and rejuvenation. For Kaye, the annual forest fire season brings a familiar cycle of destruction, desolation, and then the slow reintroduction of bellwether flora and fauna. 
But on last Thursday, Kaye could be found in Aurora. 
Several pieces of her work are now hanging in Downtown Aurora Visual Arts as part of "Our Planet," a new curation of environmentalist art from Kaye, Denver artist Natascha Seideneck and a bevy of local youth.
When walking into DAVA, it's immediately clear that this latest crop of art is a warning cry about the alarming acceleration of climate change and environmental destruction. 
Climate scientists say Colorado and the West has already seen temperature increases, less snowfall and droughts leading to more forest fires. Human activity is killing so many species, scientists say the Earth has entered into the sixth mass extinction event in its history. 
Aurora youth at the exhibit's Thursday, September 19 opening said environmental destruction is definitely on their mind. 
"It's definitely something that's going out of control, and it's up to our generation to fix it," said Leah Thompson, 16, of climate change. She's a junior staffer at DAVA, the youth-focused art museum and workshop that is a staple of north Aurora.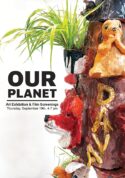 That alarm is immediately clear in the youth-made art: Plush representations of sea animals were filled with heaps of plastic trash. A tall, papier-mâché tree was represented as two halves: On one side, the tree is green and healthy in a protected environment; on the other, the tree is dead and gnarled, and forest sullen and empty. Youth artists also constructed a tall clay totem pole depicting various creatures. 
For the nature-themed curation, Thompson said DAVA staff took youth artists to the nearby Bluff Lake Nature Center for inspiration. It worked, she said: Kids saw a turkey and other animals that eventually became represented in the totem pole. 
And above the art hung plastic water bottles filled with blue and turquoise dyes, giving the impression of ocean waters inextricable from refuse. 
The exhibit is rounded out by Kaye's work. She brought several torched limbs from the enormous Hayman fire zone, a devastating burn that scarred a forested area northwest of Colorado Springs in 2002. There's also "Chiseled Swirl," a hyper-realistic graphite drawing of bark, and "Flare," an ominous charcoal drawing of tiny, fragile trees dwarfed by cataclysmic flames. 
Kaye originally hails from Detroit, Michigan, a city rife with crumbling and rusting industrial infrastructure. "It gave me a deeper sense of empathy, justice and the need to protect nature," she said of the city. 
But since relocating to Denver, she's been drawn to forest fires like moths to a flame. The fires are important for healthy forests, she says, but climate change is driving out-of-control fire seasons. 
While Kaye's black-and-white drawings are contemplative and muted, Natasha Seideneck's work was dazzling. The Metropolitan State University of Denver professor takes photographic negatives and encases them in resin ovals or squares. Her selection at DAVA includes shimmering images of an oil pumpjack and a strip mine.
"Our Planet" also includes short youth-made films made in collaboration with the Community College of Aurora. The entire exhibit will run until mid-November.