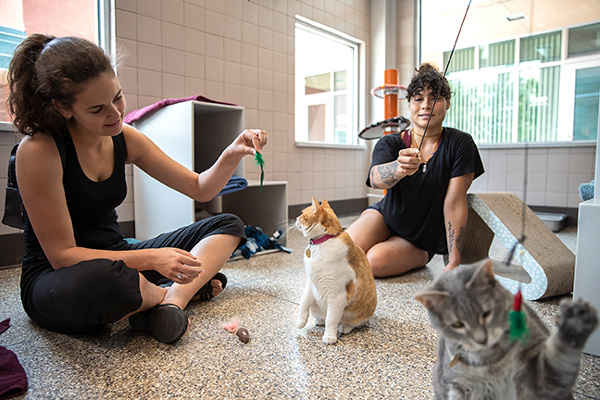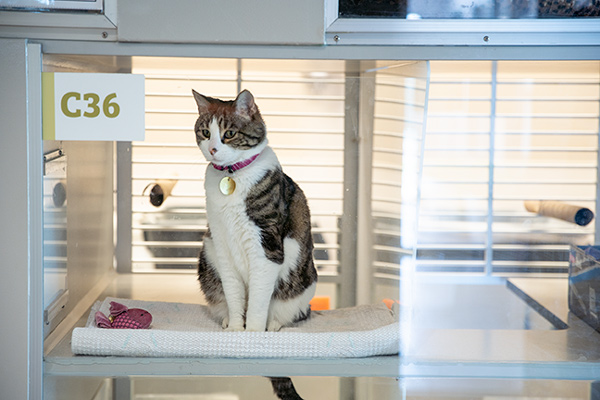 AURORA | It's time for everyone to take their little turn on the catwalk.
The Dumb Friends League is in the midst of an effort to get new homes for as many cats as possible, waiving all adoption fees for feline companions until July 7 for its CatFest week. And it will cap it all off with its first Catwalk event, which will turn the Quebec Street Shelter into a taproom full of music, beer tastings and a chance to lean more about the Dumb Friends League cat program.
"It's going to be a brand new event that's a fun way to celebrate cats and a week of successful cat adoptions," said Maia Brusseau, spokeswoman for the Dumb Friends League. "It can be as educational as you want it to be. And it can be a really fun event to have a couple of craft brews on a summer night."
Brusseau said that a ticket gets people a round of beer tastings donated from six of the breweries involved, including Copper Kettle Brewing and Comrade Brewing Company, that will be throughout the shelter. And for those who need to wet their whistle a little further, outside the shelter a full-on beer garden will be set up with more suds to buy, along with a food truck and music.
Inside the shelter, visitors will also be able to try some wine and pick up some cat food samples for the feline roommate waiting at home. And for those who want to see what it's like as a fancy feline, there will be a virtual reality booth that will allow people to see the world through the eyes of a cat, Brusseau said.
"It's really neat. You turn your head around and you see your tail wagging," Brusseau said. "We've gotten a kick out of it this week."
While no one will complain about having an excuse to drink some Colorado beers on a summer night, the fun is all for a good cause. The tickets go to help fund the shelter's service to animals feline, canine or anything in between that needs to find a new home.
Brusseau said during CatFest, the shelter hoped to adopt out more than 250 cats. Given the shelter is waiving fees, which range $120 for a kitten less than six months old and $50 for a cat five years or older, this is the perfect time to make a new addition to the household.
Dogs tend to get the most attention when it comes to adopting pets, especially in a dog- friendly place like the metro area. But cats need to be given their due as a perfect companion, said Caitlin Bennett, an adoption associate.
"I have a hairless cat now, but I didn't grow up with cats," Bennett said. "So my cat is very dog like. And I love her so much. She's self sufficient, but when I get home at night, she's right there when I walk in the door."
While dogs require a lot of attention, like going out for walks and feeding at certain times, cats are more independent and can be left alone longer. That could mean they're the perfect fit for busy professionals. And while the picture of cats is often as an aloof and distant pet, Brusseau said that isn't true for many cats. They can be taught tricks, and while some might prefer their distance, others are the definition of snugglers that want as much affection as their canine compatriots.
If someone is considering a cat as their new addition to the home, Bennett said they might have an ideal image of what that cat is going to look like. But an expert in the field of finding the right pet for the right person, Bennett said people shouldn't pay attention to the look of the cat but instead the personality.
"Keep an open heart," Bennett said. "Just make sure you look at all the options. There might be a cat that you overlooked that might be the perfect fit."
Catwalk fundraiser at the Dumb Friends League 
6-9 p.m. on July 7 at the Quebec Street Shelter, 2080 S. Quebec St., Denver
Tickets are $20 for the beer tasting and $10 for designated drivers. Anyone who adopts a cat during the week gets $5 off tickets for the event. For more info and tickets, click here.