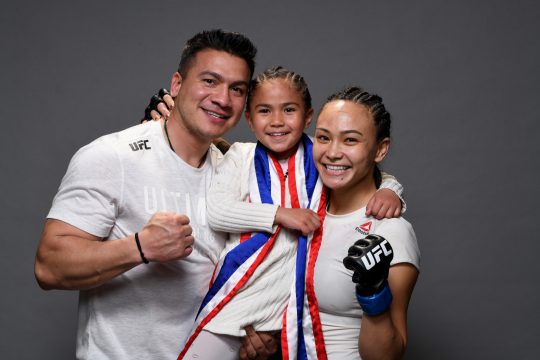 Michelle Waterson – one of the world's top female martial arts fighters – got her gumption in Aurora.
Waterson, 33, was born and raised in Aurora and graduated from Aurora Central High School. Now, she's a top warrior in the Ultimate Fighting Championship league of mixed martial arts fighters, and the subject of the recent ESPN documentary "Cage Mom."
The short documentary premiered in March and was recently posted on YouTube. It's an enthralling premise: The fact that Waterson overcame the challenges of having a daughter in the thick of her career, and then successfully landed in the top ten women's strawweight division in the UFC within years.
Beyond her fighting abilities in the brutal mixed martial arts league, Waterson's journey is extraordinary because her now 8-year-old daughter has seen every one of her UFC fights in-person since Waterson entered the league in 2015.
Waterson said it's rare for female fighters to have children in the first place.
Plus, she's not aware of many fighters who make a point to have their families – let alone children – in the audience when they enter the so-called cage to fight. It's not uncommon for fighters to be covered in each other's blood by the end of the battle, which is decided by knockouts, tap-outs or decisions if both fighters stay standing.
She noted that Georges St. Pierre, one of the UFC's most successful fighters, didn't want his family to be in the audience when he stepped into the cage.
But Waterson, her daughter Araya, and her husband Josh Gomez – a former boxer himself, have a deep bond. Waterson said it's important for her daughter to see the results of the long hours in the gym, hard work, grit and determination – win or lose.
Though Waterson has won her most recent fights, "Cage Mom" powerfully juxtaposes Waterson's responsibilities as a mother with the brutality in the cage.
In the opening sequence, Waterson is being choked out as the crowd roars. Blood pours out of her nose, and she says in a voice-over, "She doesn't like to see me get hurt." Later, she consoles Araya, grimacing through a massive, swollen black eye.
"If you shield your children from darkness, they won't understand the light," Waterson told The Sentinel.
In that way, her career and her familial responsibilities aren't mutually exclusive.
She had Araya when she was 25, she said, and got some pressure from friends or family who weren't sure that she should keep on fighting.
At that point, she had moved to Albuquerque to pursue a fighting career she began in Aurora.
Her father was in the military and was stationed at the Fitzsimmons Army Medical Center, she said. She went to Mountain View Elementary School, then North Middle School and Aurora Central High School in the Aurora Public Schools district.
She discovered a karate gym in the basement of a church that offered cheap classes. She and her brother were naturals, she said.
Then, around the age of 16, she went with her brother to Las Vegas to compete in a karate tournament. She looked around and noticed that many of the other kids appeared to come from gyms with more resources, or cities like Los Angeles where it was easier to network with coaches and fighters and earn sponsorships.
That lit a fire inside of her, and she embraced the challenges she faced growing up in Aurora.
"We realized then what Aurora had, and what it gave us was the hunger," she said. "It was almost like we were fighting against the stream to accomplish what some of these other kids in other cities were accomplishing. I took it as a badge of honor."
She carried that fire all the way through her career, weathering periods of instability and doubt.
"I'm really proud to have grown up in Aurora," she said. "Every successful person will tell you of the struggles that made them who they are."