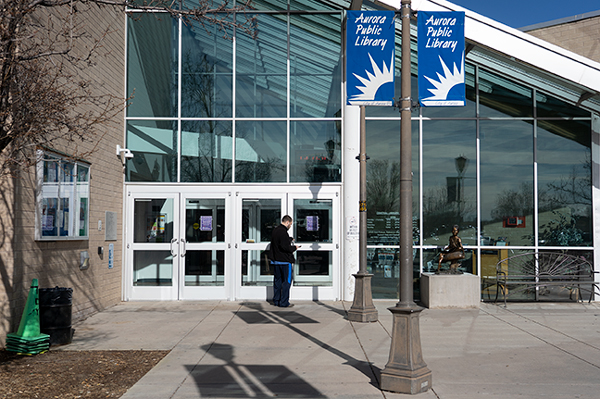 AURORA | With the pandemic canceling or putting a damper on so much of our traditional pastimes, many Aurorans turned to reading to stay entertained in 2020.
Midori Clark, director of library and cultural services for the Aurora Public Library, said that the library system had its highest ever amount of ebook checkouts this year. By the fall more than 1,000 people had applied for a virtual library card.
"I think a lot of people chose reading as their activity of choice during the pandemic," Clark said. "It's safe, it's free if you come to the library, and it offers a lot of flexibility and a lot of enjoyment."
What were Aurorans reading?
Where the Crawdads Sings, Delia Owen's 2018 blockbuster, was the most-checked out novel of the year, according to data compiled by the Aurora Library. Thrillers including John Grisham's The Guardians and Blue Moon, the 24th book in Lee Child's Jack Reacher series also topped the list, along with Jojo Moyes' The Giver of Stars and Celeste Ng's Little Fires Everywhere.
The presidential election and protests over racial injustice and police brutality were reflected in people's reading habits too, as books about race and politics were some of the most checked out nonfiction books of the year.
"I think current events going on nationally were also manifesting locally and people were very interested in learning more," Clark said.
The most checked out nonfiction book of the year was Becoming, former first lady Michelle Obama's 2018 memoir. How to be an Antiracist by Ibram X. Kendi, White Fragility by Robin DiAngelo, Between the World and Me by Ta-Nehesi Coates and The Warmth of Other Suns, Isabel Wilkerson's sweeping history of the Great Migration, were some of the most-read books of the year about racial issues.
Rage by Bob Woodward and Too Much and Never Enough: How my Family Created the World's Most Dangerous Man by Mary L. Trump flew off the shelves for their insights into President Trump and his administration.
Memoirs were very popular as well. Educated, Tara Westover's 2018 memoir about growing up in a survivalist Mormon family, was the second-most popular book of the year. Born a Crime, The Daily Show host Trevor Noah's memoir about his childhood in South Africa, and Untamed by Glennon Doyle were close behind.
Social issues were also a theme in what young people read this year, with The Hunger Games prequel The Ballad of Songbird and Snakes and Angie Thomas' The Hate U Give the two most checked-out young adult novels.
The Aurora Public Library is open in a limited capacity during the pandemic, and the Mission Viejo location is offering curbside pickup of books. Aurora residents can apply for a free virtual library card that they can use to check out ebooks and other online materials.
Most checked out fiction in 2020:
Where the Crawdads Sing by Delia Owens
Blue Moon by Lee Child
The Guardians by John Grisham
A Minute to Midnight by David Baldacci
The Silent Patient by Alex Michaelides
Walk the Wire by David Baldacci
The Giver of Stars by Jojo Meyers
Little Fires Everywhere by Celeste Ng
American Dirt by Jeanine Cummins
Nine Perfect Strangers by Liane Moriarty
Most checked out nonfiction in 2020:
Becoming by Michelle Obama
Educated: A Memoir by Tara Westover
Too Much and Never Enough: How my Family Created
the World's Most Dangerous Man by Mary L. Trump
The Splendid and the Vile: A Saga of Churchill, Family,
and Defiance During the Blitz by Erik Larson
White Fragility: Why It's So Hard for White People to Talk
About Racism by Robin DiAngelo
Untamed by Glennon Doyle
Born a Crime: Stories from a South African Childhood
by Trevor Noah
Talking to Strangers: What We Should Know About the
People We Don't Know by Malcolm Gladwell
Funny, You Don't Look Autistic: A Comedian's Guide to Life
on the Spectrum by Michael McCreary
Her Therapist, and Our Lives Revealed by Lori Gottlieb