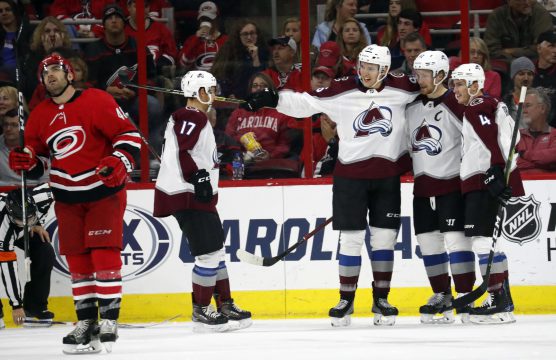 DENVER | The bottom line is this: Gabriel Landeskog , Nathan MacKinnon and Mikko Rantanen form the top line in the league.
Numbers-wise, at least. Perception-wise, their reputation is rapidly rising as well.
The Colorado Avalanche's top unit has a combined 55 points so far this season. That's the most points of any three teammates in the NHL, regardless of line. The next unit would be Boston's trio of Patrice Bergeron, David Pastrnak and Brad Marchand with 44 points.
"A fun line to watch ," Tampa Bay coach Jon Cooper recently said. "You pre-scout the games and you take your opposing coach hat off and just admire their line."
It all starts with MacKinnon, the All-Star center who's considered one of the speediest skaters in the league. He's so quick his fellow linemates worked diligently in the offseason in order to not only keep up with him but to stay ahead of everyone else in hockey. Landeskog resorted to pushing around a heavy sled in workouts to get more explosive on the ice. At 6-foot-1, 215 pounds, he's trying to find the right balance to be physical in the corners but still stay swift.
"Passing the eye test is half the battle," cracked the 25-year-old Landeskog, who has 10 goals and six assists. "I feel good, no doubt. I feel really good."
Rantanen credits his success to his offseason track sessions.
"I feel better on the ice. My first couple of steps, I feel faster," said Rantanen, who turned 22 on Monday and leads the league in points with five goals and 16 assists. "I think there are still things I can work on and maybe get better next year. But I definitely think I'm faster than last year."