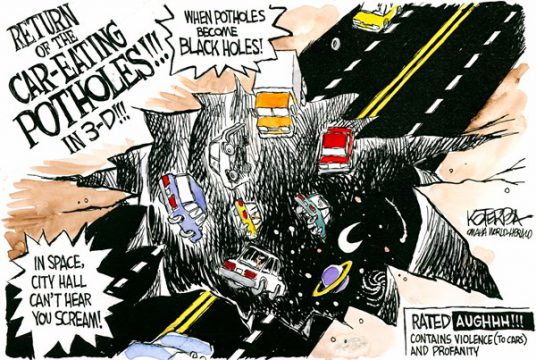 Springtime in Colorado isn't pretty. It's a reckoning.
It's that time of year when you realize that you haven't kept a single promise you made in January to yourself, your family and your friends.
You're just as fat, just as broke, just as flabby and just as behind in your reading as you were months ago, when you envisioned a whole new you for Memorial Day.
That's what springtime in Colorado is really about: reality and disappointment.
Everything you planted last weekend, because this is not your first Colorado rodeo and you thought you knew everything as you plugged tomatoes after Mother's Day?
Dead, dead, dead.
Of course it not only snows at the end of May in Colorado, it snows deep slush blankets to make sure anything that doesn't freeze in your yard is crushed.
Springtime isn't promise. It's reprisal.
It's too late to ski and too early to camp or hike. It's too late to eat the moldy winter squash in the basement and too early to eat the crappy Texas corn-on-the-cob from the store.
It's when potholes make you realize you need more and fresh profanity.
Springtime here is having to watch Denver mayoral candidates Michael Hancock and Jamie Giellis duke it out in a runoff election and realize that either Mitch McConnell or Nancy Pelosi could have cleaned up in that race.
Springtime in Colorado is having lived through the longest legislative session in state history, which lasted the same number of days as all the rest, only to have to wade through bill signings that apparently will carry on throughout the summer.
Springtime in Colorado is planning the first pool party of the season and having every expectation to be lounging in your puffy coat, sipping keoke coffees.
Springtime on the Front Range is having to run the swamp cooler in afternoon and then run the furnace all night.
It's discovering that fat, annoying squirrel — which dug up every tulip in the yard you had planted during a blizzard last October and then mysteriously disappeared in November — had apparently gone to your gas grill to die a messy bloated death right on top of Burner No. 3.
Spring is when the letter comes from your doctor, saying you're months overdue for letting him do things to you the Geneva Convention expressly forbade.
It's when the plant kingdom conspires to unleash its annual pollenpalooza to make clear that nature hates you.
May is when you drink the swill sitting on the bottom of your 6-bottle wine rack that you thought you'd unload when your minor friends dropped by around high-school reunion time at the end of the summer. It's the wine you open as your spouse thoughtfully catalogs all the indoor projects you didn't get to during the winter. It tastes like regret.
Springtime in Colorado is realizing that you're still resentful because, unlike all your friends who made wise career choices in education, you haven't had a summer off since you were 14, and you probably won't have one for the rest of your life.
Springtime is being seriously late again and having to wait for five geese to cross Parker Road at rush hour.
It's the time of year that you run out of excuses not to wash your car. It's when you realize President Trump really can get worse and that you're actually OK with that 8-year-old obscene tree stump in your back yard. It's when the markdown corner at King Soopers offers up only heavily discounted diesel tank cleaner, knock-off herbal male enhancement tablets and three-month old minted pretzel sticks.
Spring is what we in Colorado must suffer through until the unabating heat arrives to turn the Front Range into mile-high kiln that works to return the region back to the desert this really is, in about a week.
Then it's time for cherry pie, dreaming of making turns in Colorado's incomparable alpine snow and playing hide-and-seek with annoying squirrels and tulip bulbs.
Follow @EditorDavePerry on Twitter and Facebook or reach him at 303-750-7555 or [email protected]