AURORA | An effort to force two GOP legislative leaders to undergo sexual harassment training after a controversy erupted over inappropriate Facebook posts is being led by an Aurora lawmaker.
The request comes from Aurora Senate Democrat Rhonda Fields and a majority of Democrats in the General Assembly after GOP legislators shared, commented and liked a story making light of sexual assault allegations against U.S. Supreme Court nominee Brett Kavanaugh made by Dr. Christine Blasey Ford. Kavanaugh has denied those accusations, and some have come to his defense attempting to discredit the allegations.
Two Republicans in the Capitol think the emotional pain & psychological trauma victims of sexual assault experience is funny. Clearly they can't and shouldn't lead on sexual harassment and sexual assault issues in #coleg.That's why I spoke up. #copolitics https://t.co/kAU27fpL62

— Rhonda Fields (@SenRhondaFields) September 20, 2018
Last weekend, House Minority Leader Patrick Neville shared a Facebook post to an article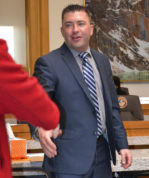 from a Christian news satire website called The Babylon Bee titled "Exclusive Report: Kavanaugh May Have Cheated While Playing 'The Floor Is Lava' As A Child" — along with the link Neville added a portion of the story, "At publishing time, new allegations had surfaced that Kavanaugh had utilized the Konami Code to beat Contra on the NES while in college."
Senate Majority Chris Holbert commented on Neville's post, "An anonymous source who may or may not have ever been associated with the Little League has allegedly stated that, at the age of nine, Kavanaugh's right foot did not touch the base when rounding second."
Fellow GOP state lawmakers Rep. Shane Sandridge, Rep. Kevin Van Winkle also liked the post.
Fields said in a letter Neville and Holbert should "participate in mandatory sexual harassment and workplace diversity training to address attitudes, biases, and behaviors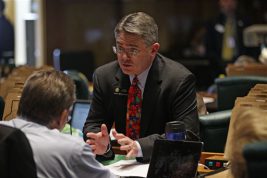 that cause offense to others, especially those who file complaints regarding these issues, prior to developing or implementing new sexual harassment and sexual assault policies for the General Assembly."
More than three dozen other Democrats in the state Legislature signed the letter.
"The behavior displayed by these elected officials shows blatant disregard for the emotional pain and psychological trauma that victims experience and further highlights the unnecessary harassment and potential retaliation they often endure," the letter said.
Aurora-area Sen. Nancy Todd, Daniel Kagan and Angela Williams along with Reps. Jovan Melton, Janet Buckner, Dominique Jackson and Mike Weissman also signed the letter.
There has so far been no word if the training will take place.
Colorado Public Radio first reported about the Facebook post — which Holbert called "misleading" in a statement, because the Facebook post did not mention "sex or sexual misconduct."
"I read the Babylon Bee parody Saturday morning," Holbert said in a statement released by the Colorado Senate GOP office. "It was satire, similar to The Onion, about seven-year-old Kavanaugh's foot touching the floor while playing a kid's game called 'The Floor is Lava.' I knew nothing about Dr. Ford or what she was alleging until Sunday. To claim that I was making light of those allegations before I knew about them is false."
Holbert said a reporter from CPR did reach out to him for comment on the Facebook post, but the story was published before he was available to provide a comment.
Critics have balked at explanations from Republicans who said they were uniformed about details of the allegations on Saturday since the story dominated news outlets beginning Thursday night.
This article was updated to include Aurora Sen. Daniel Kagan as a signer of the letter penned by Sen. Rhonda Fields.