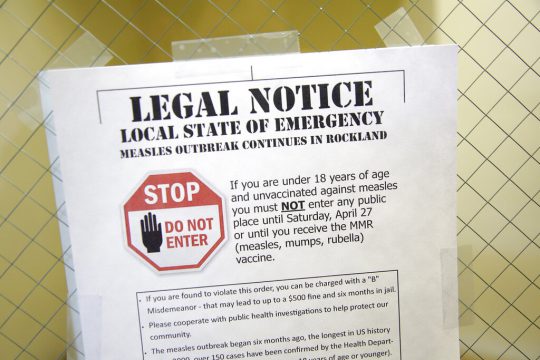 AURORA | Colorado Gov. Jared Polis' resistance to end state childhood immunization exemptions in Colorado could be resolved with local control. 
Polis told the Sentinel in an editorial board meeting last week he prefers an educational campaign to increase the state's vaccination rates, but that he would be open to legislation allowing local health departments to make their own decisions about vaccination requirements.
"If the counties wanted to mandate, then I wouldn't be opposed to that," he said. "We should have these discussions at the level of government that is closest to people."
There hasn't been a bill drafted in the state legislature to address immunization yet. Rep. Kyle Mullica, who didn't return calls as of this publishing, has been candid about his intention to author a bill that would eliminate the so-called personal exemption, but he hasn't submitted any legislation yet.
County control over vaccine exemptions could prompt urban counties to join in requiring vaccine compliance, effectively boosting the immunization rate for large, mobile populations most at risk. It's unknown whether county health officials would be more or less likely to require school-age vaccination.
Dr. Bernadette Albanese, an epidemiologist for Tri-County Health, said it's difficult to hypothesize what local control might look like, since there isn't any formal measure on the table right now. Immunization policies are centralized in Colorado and set by state board of health.
"That being said, at Tri-county we believe in immunization, we promote immunization, we encourage immunization," she said. "We believe in the safety and effectiveness of immunizations."
Colorado is one of 20 states that allows for a personal exemption for immunizations. Questions of what that means for potential outbreaks, such as measles outbreaks in Washington and New York, have been on-going around the state and around the country.
Dwindling vaccination rates have been blamed on parents falling for what every disease and child-medicine professional group say are bogus reports of hidden vaccine dangers. Reports and celebrity activists have been consistently denounced, but anti-vaccination groups persist.
Polis has consistently said he fears forcing vaccinations on parents who are already skeptical of government intervention would make an already volatile problem worse.
Last week, Rockland County in New York banned all unvaccinated children from public places for 30 days after declaring a state of emergency with 140 confirmed cases of measles.
It's unclear whether a vaccination-mandate bill would make it out of the Legislature, but Polis has signaled he might veto it.
"I'm skeptical to any effort that inserts the government…and I think that could be counterproductive if it's forcing parents doing something they don't want to do," Polis said.
Colorado is regularly at or on the bottom of the list of states regarding vaccination rates of school-age children, especially kindergarten-age children.
Nearly 93 percent of students in Colorado schools received immunizations for the 2017-18 school year. And 95 percent in child care received immunizations, according to state health department data. The Center for Disease Control and Prevention reported in October that 11 percent of kindergarten-aged children in Colorado aren't up-to-date on vaccinations.
The median immunization rate for kindergarten-aged children across the country, according to the CDC, is near 94 percent.
Even so, Polis highlights that most Colorado parents are choosing to vaccinate their children and that he believes an educational campaign could boost that rate.
Punting decisions about vaccinations to the local level could be a base for that educational piece, he said.
"It would at least foster the discussion at the local level," he said. "I think there are benefits to having these discussions statewide, but I think there are even more benefits if we get county health authorities thinking about how to increase the immunization rate."