AURORA | Following the shooting at a gay nightclub in Colorado Springs that killed five and injured dozens, Aurora's City Council voted to formally condemn hate crimes against the LGBTQ community and encourage other municipalities to follow suit.
"This is not the first shooting targeting safe spaces in the LGBTQIA community, but this one does hit close to home," council sponsor Crystal Murillo said. "That's a very fear-inducing and traumatizing event for anyone, but there's an increase in anti-LGBTQ rhetoric, and as a city, I think it is our job to help make people feel safe in our city."
Members voted unanimously to pass the resolution, after Councilmember Danielle Jurinsky said she would prefer to vote on a resolution that did not focus on the LGBTQ community but instead addressed hate crimes in general.
"It doesn't matter if it's a mosque that's attacked, if it's a synagogue that's attacked, if it's an LGBTQ nightclub attacked, it affects everyone," she said. "Hate is hate, and I guess my issue with this is that it talks about hate solely committed against one group, and … I guess I just wish and would like to see that we condemn hate and we condemn hate crimes against people, against people in the city of Aurora and everywhere."
Anderson Lee Aldrich has been charged with five counts of a bias-motivated crime causing injury as well as five counts of murder in connection with the Nov. 23 shooting at Club Q
While Aldrich's attorneys have described the suspect as nonbinary and asked that Aldrich be referred to using gender-neutral pronouns, national news outlets have quoted neighbors saying Aldrich commonly used homophobic slurs, and club patrons have said they believed Club Q's reputation as an inclusive space made it a target for violence.
Councilmember Alison Coombs, who is bisexual and married to a transgender woman, told Jurinsky that Murillo's resolution focused on hate crimes impacting LGBTQ people because that demographic was the target of a recent, high-profile incident of mass violence.
She also said she's personally witnessed "an increasing amount of hateful rhetoric, hateful acts (and) a resurgence of kinds of rhetoric that I haven't seen since I was a teenager."
"And it was specifically a safe space for LGBTQIA people. Gay bars and clubs are some of the only places where actually we do get to feel safe," Coombs said. "When I go to the grocery store with my spouse, I see people sneering and jeering. A lot of places that are safe for a lot of people are not safe in the same way for us."
Jurinsky said she "absolutely support(ed)" the resolution by Murillo and called the shooting "absolutely horrifying" but she said hate crimes were "becoming overwhelmingly accepted against multiple protected classes," including Jews. Jurinsky is Jewish.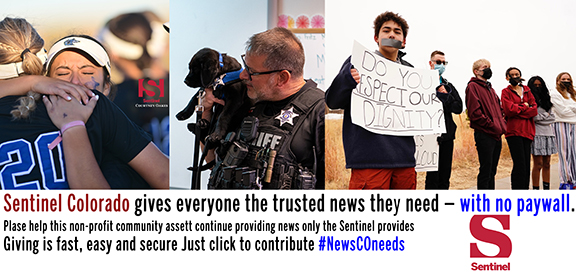 Last week, Mayor Mike Coffman began the council's study session with a moment of silence in honor of the victims of the Club Q shooting, which he said was "clearly an act of hate." He said Aurora police had also offered to aid the Colorado Springs Police Department, and that he and the council had sent a letter of support to the city.
Coffman and multiple other council members also offered condolences to Colorado Springs and the victims of the shooting on Monday.
"Although I've lived in Aurora for over 20 years, I grew up in Colorado Springs," Councilmember Angela Lawson said. "I wish nothing but healing for the families and to the city and the community."