AURORA | A recent hike in hospitalizations for COVID-19 over the past week is due to the continued spread of the delta variant, primarily among non-vaccinated residents,  Gov. Jared Polis said Monday during a news conference.
There are currently 358 people hospitalized statewide with the virus, an increase from around 280 last week.
According to the data, "we expect it to get worse before it gets better," Polis said. However, the state's hospital capacity is not in danger.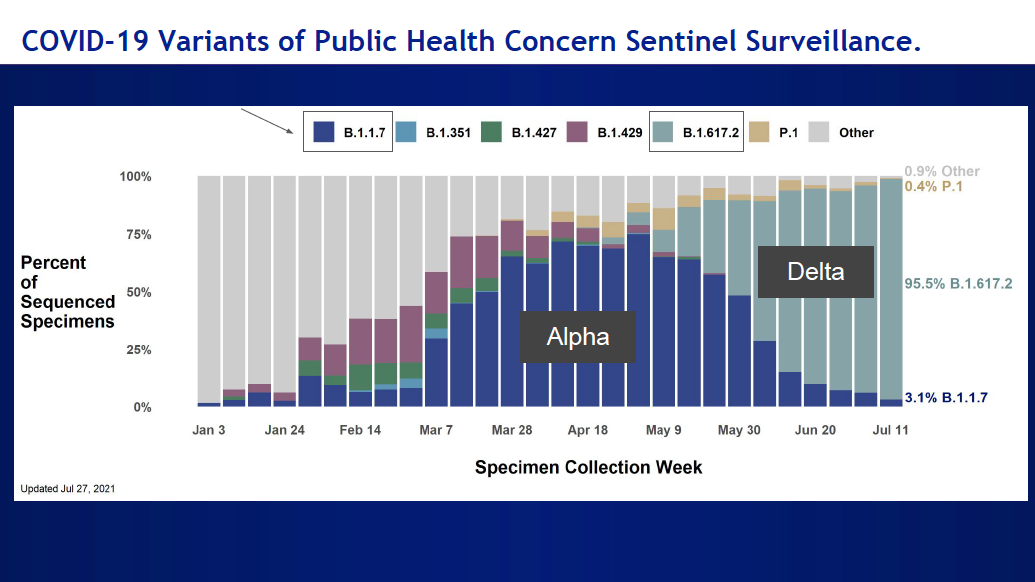 Polis encouraged those who are not already vaccinated to do so, saying that those who are unvaccinated are putting themselves at great risk from the delta variant. Places in Colorado with lower vaccination rates are seeing cases spike, he said.
"This is largely an epidemic of the unvaccinated," he said.
Colorado chief epidemiologist Dr. Rachel Herlihy said that unvaccinated people have about five to six times the infection rate of those who are vaccinated.
"Unvaccinated individuals are really driving transmission in the state right now," she said.
The unvaccinated are also much more likely to be hospitalized if they contract the virus. The state's data shows that the vaccine continues to be "highly effective," she said.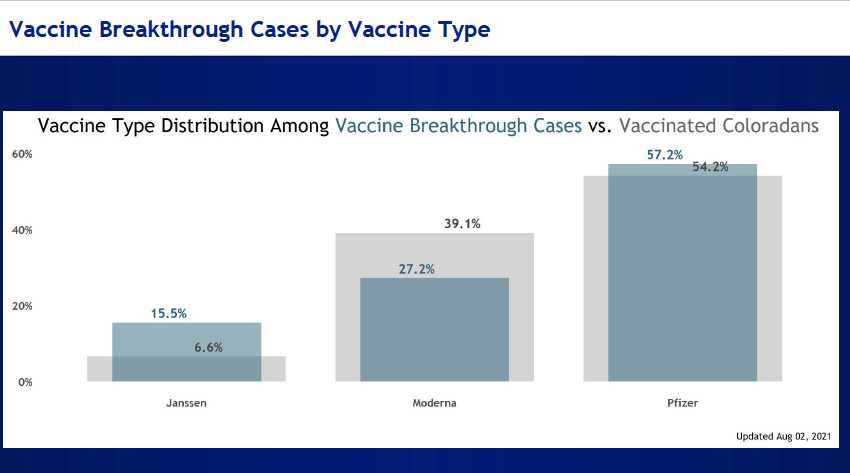 There are currently fewer vaccine breakthrough cases than expected in children ages 12 to 17, and more in older adults. There are more breakthrough cases with the Johnson & Johnson vaccine than the Pfizer and Moderna vaccines, Herlihy said. The overwhelming majority of cases, hospitalizations and death are still in unvaccinated people, she said.
Polis said that he applauded recent efforts by local governments and private businesses to require employees to get vaccinated, though he is only requiring state employees to be regularly tested if they are not vaccinated.
Amid the rise in coronavirus cases due to the delta variant, Polis said that he's monitoring Israel's decision to give COVID-19 booster shots to vaccinated people over 60 years old. The Democratic governor also said that he's urging the U.S. Food and Drug Administration to review the viability of Pfizer's third vaccine dose as a booster shot.
Polis said that some Colorado residents have already gotten third doses of the vaccine despite the lack of federal guidance or approval by using fake names to get around health providers who won't administer third shots to fully inoculated patients.
"Other than anecdotally, we don't have any information about that," Polis said. "But we certainly are aware that many Coloradans — particularly (the) most vulnerable Coloradans — are perhaps a little bit ahead of the (U.S. Food and Drug Administration) and want to get that booster shot immediately."
In response to a question from the Sentinel, he said that he does not plan to impose another mask mandate, and is focusing on getting more Coloradans vaccinated.
"We're not seeing that level of hospitalizations," Polis said. He added that the best protection for residents and others around them remains vaccination, and that returning to masks as the lead strategy for mitigating the virus might undermine a focused push for more vaccination.
"Please get vaccinated, that's the top thing, the most important thing," he said. "Wearing a mask around others is a great sign to show that you respect others and you care for others."
The chief judge in the 18th Judicial District, which handle the bulk of the city's criminal cases, reimposed a mask mandate for anyone inside the jurisdiction's probation offices and courthouses on Monday. The order does not impose social distancing guidelines or limitations on courtroom capacity.
Currently, 72% of adults and 70% of all eligible Coloradans are fully vaccinated. The state's next goal is getting 80% of all eligible residents vaccinated.