EDITOR'S NOTE: The following is part of a 2018 Sentinel Colorado story on what former governors considered important while voters were mulling over whom to elect later that year.  Also interviewed were former governors Roy Romer, Bill Owens, Bill Ritter and John Hickenlooper. Gov. Jared Polis won the election. One of former Gov. Dick Lamm's top recommendation was, fire up the "bullshit" detectors when listening to politicians. Lamm died July 29, 2021.  Read his obituary here.
DICK LAMM: Watch for 'bullshit'
Great politicians are great human beings. Former Gov. Dick Lamm wants voters to keep that in mind in deciding the next governor of Colorado. And really, any leader for that matter.
Through the campaign stops, the speeches, the ads, the social media and the politics of it all, it boils down to the person. Lamm, who served as governor longer than any of his successors — from 1975 through 1987 —  said he believes voters should have a sense of who candidates are as people and as politicians, and that can't necessarily be learned unless voters do their homework.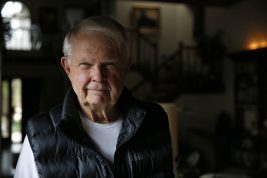 Perhaps it's too much to ask of voters to go out and meet candidates, he said. After all, the race so far has been wide open. Only after the precinct caucus this month was there any indication what a race will look like later down the road. And there's a lot to learn about the candidates themselves. From current office holders to businessmen and women, they each represent their party a little differently. Picking the right candidate to support, especially early on, is going to require some effort.
"Watch the debates, because that's when they're really under pressure. Try to find the interviews rather than the 30 second ads," Lamm said. "People have their lifetime of experience and most of them have bullshit detectors and they've see a lot of politicians' promises and I just think they get a feel for us."
If Lamm could do it over again, he said he'd maybe take a gentler approach to some battles. Though, he's still not taking "yes" for an answer on bringing the Olympics to Colorado. Earlier this month he took to the state Capitol to reassert his disapproval from when he was a state legislator. Lamm won that battle, and today Denver is still the only city to have been offered the winter Olympics and turn it down.
His big piece of advice to the next governor, at least in terms of policy, is that "the oil can is mightier than the sword." It was a line famous to Republican Everett Dirksen, a former U.S. Senate Minority Leader.
"He was a wise Republican back in the day when there were moderate Republicans," Lamm said.
To him, that line has a lot of meaning to a place like the Colorado legislature — especially as fights are increasingly partisan and drawn out.
"You can fight for your issues in a less dramatic way. That's where the oil can is mightier than the sword. Remember their wives' names, ask about their children," Lamm said of how the governor should connect with members of the state House and Senate. "They are human beings. I was a lawyer, an advocate, and in the leadership in the legislature. I was a fighter on issues, not a conciliator. It took me a while to learn that."
Lamm said with a laugh that he thinks the governors that followed him did a better job of that. And if he were to do it again, Lamm said he'd make more use out of the Governor's Mansion. He'd invite a couple of legislators to breakfast each week, just to get to know them and learn more about their views, and work and goals during the session.
"They're not going to vote with you because you had them for breakfast, but you get to know them and they get to know you. It soon becomes apparent you have the welfare of Colorado in mind," he said.
Aside from extending an olive branch, Lamm said it's OK to be selfish sometimes, too. The governor shouldn't accept every invitation that comes his or her way. It's easy to feel like they have to when so much has gone into winning an election.
"But there's only so much time and only so many days and you gotta keep your sanity," he said.
Even more, Lamm said a governor should make time for two events each day: a workout and time with the family. He penciled in dinner with his wife and children every day and ran five miles.
"The phones are ringing all the time and people are coming at you. You just gotta get away and get some exercise," he said, admitting, "It's not earthshaking advice," but it helps ward off the stress.
But above all, Lamm said the biggest piece of advice he can offer the next governor is that they keep their word.
"Sometimes you have to backup as you get more information, but you can always say I really screwed up," he said. "They know you're human. Don't be afraid to screw up because we are all human."