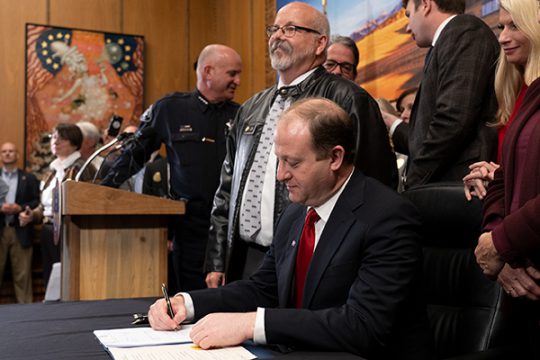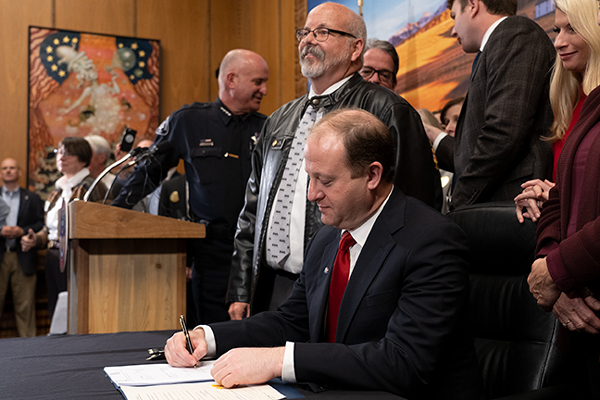 AURORA | Coloradans asked judges to remove certain people from their weapons under the state's new red flag an average of about twice a week last year, though the petitions were relatively rare in the Aurora region, data show.
A report issued by Attorney General Phil Weiser's office on Wednesday detailed the 111 temporary and extreme risk protection orders related to 99 unique cases sought across the state in 2020, lauding the new law's benefits but underscoring the meager adoption in its first year of implementation.
"The extreme risk protection orders outlined in the red flag law are a vital tool in Colorado's commitment to gun violence prevention," Weiser said in a statement. "Expanding our education, awareness, and training efforts on the protection order process can help save lives."
In 2020, judges issued a total of 66 temporary orders — barring someone deemed a threat to themselves or others from accessing their firearms for two weeks — and  49 extreme risk orders, which strip a person of their weapons for up to 364 days unless a court intervenes.
The numbers have marginally crept up in the first seven months of 2021, with an additional 27 temporary orders issued and 33 year-long edicts granted through July 15 of this year, according to data provided by the state Judicial Department via an open records request.
But adoption across the state has been sporadic, figures show, with fewer than half of the state's 64 counties boasting at least one granted temporary order, and only about a third of counties reporting an extreme order.
In the Aurora region, adoption has been equally slow, with only three temporary orders and four extreme orders granted in Arapahoe County, which covers the bulk of Aurora, between Jan. 1, 2020 and July 15 of this year, according to Judicial Department data. Adams County has recorded just one of each brand of order, and Douglas County — which touches a fraction of southeast Aurora — tabulated five temporary orders and eight long-term mandates.
Longtime Douglas County Sheriff Tony Spurlock was one of the few law enforcement officials who lobbied in support of the bill when it wove its way through a contentious legislative process in 2019.
Contrary to the rhetoric espoused under the state's gold dome when the bill, sponsored by Aurora and Centennial state Rep. Tom Sullivan, was debated, the law was seldom exploited, the AG's report shows, with four instances of impropriety reported. One woman was charged with perjury after lying about her familial relationship with a person she was seeking a petition against, and others were rejected for seeking to strip prison guards or entire police departments of their weapons, according to state attorneys.
A handful of additional petitions were denied due to procedural hiccups and vague allegations.
"Courts denied roughly a dozen red flag petitions either because the petition was filed in the wrong county or lacked firearm-specific allegations, or because another law or legal proceeding already prohibited the respondent from possessing firearms, thereby rendering the Order unnecessary," according to the report.
The vast majority of petitions filed in 2020 were initiated by law enforcement, with nearly all of the extreme orders stemming from requests lodged by police.
"Of the more than 30 petitions filed by family or household members, courts granted 364-day orders in only six instances," the report states.
Outside of police, only family members and certain household members are empowered with seeking petitions, a scope that Sullivan, a Democrat, would like to broaden in the future, he told The Sentinel in a recent interview.
"Right now we only have that very narrow grouping of immediate family members who can report this," he said. "Maybe that should be something we should look at."
Sullivan lamented that a red flag petition was not sought against an Aurora man who engaged in a lengthy shootout with police — and eventually prompted the response of the Arapahoe County bomb squad after investigators found a phony explosive device — outside of his condo in June.
Police and mental health responders interacted with the man, Jeffrey Moralez, some two dozen times in the weeks leading up to the hours-long standoff, though police said nothing — including reports of the man walking around his complex naked while holding a hammer — rose to the level of a protection order.
Weiser's office acknowledged that most Colorado residents either don't know about the law or are unable to sort through the sometimes thorny civil county court process involved with filing a petition.
"Many Coloradans are unaware that the red flag law exists, while others, especially individuals who are not members of law enforcement, know of the red flag law, but may struggle to understand and navigate the legal process required to obtain an order," the report reads.
The attorney general encouraged law enforcement agencies like Denver, where judges have granted 75 extreme and temporary protection orders in the past 18 months, to educate the public on how to initiate the process.
"Law enforcement agencies that effectively used the red flag law during 2020 may be well suited to share their best practices and lessons learned with other agencies," according to the report. "All agencies benefit from a greater understanding of the various tools and resources – of which the red flag law is only one – available for intervening when individuals credibly threaten to harm themselves or others, and for connecting those individuals with support and treatment services as appropriate."