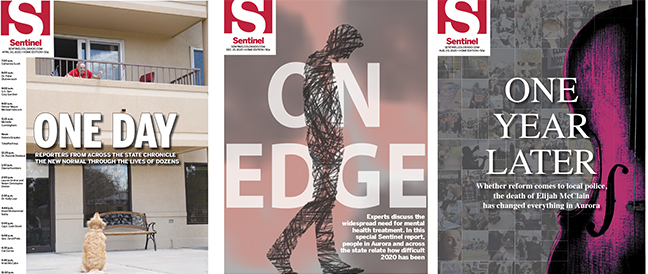 CLICK HERE TO BECOME A SENTINEL COLORADO MEMBER OR DONATE
We're still delivering for you, but we can't do it without your help.
Having been through the pandemic together the past 15 months, we don't have to tell you how challenging and disrupting this has all been.
I wanted to let you know that The Sentinel is not only still standing — we're not just standing still these days.
The Sentinel has diligently shed light on the unknown from the pandemic's darkest days and through the last few weeks as the news about the pandemic gets much better. We've made sure you knew all that was possible about controversies in the Aurora Police Department and in the city's council. Sports Editor Courtney Oakes hasn't missed a game. As the problem of homelessness in Aurora worsened, we brought you insight as to why the problem has become so pervasive.
Recently, The Sentinel was honored by the Colorado Press Association for those stories and many others. Going head-to-head with the largest newspapers in Colorado, The Sentinel came away with nine top honors for delivering some of the top news, features, photography and editorials in the state.
We're on a roll, but we need your help to continue.
Despite serious challenges to The Sentinel, just like almost every other newspaper in the nation, we've been able to keep you apprised, amused, engaged and sometimes enraged because of reader contributions.
Please take a moment to click the link here or below and contribute what you can to keep The Sentinel coming.
We listen closely to you and all our readers. We know The Sentinel makes a difference, and we depend on your contributions and subscriptions to make it happen.
Please join us in making a contribution to show your support. We can't do it without you.
It takes just a moment to fill out our easy and secure form for any amount of support you can help with. Just click here. Or mail your donation to Sentinel Colorado 3033 S. Parker Road Suite 208 Aurora, CO 80014.
Thanks from all of us.
Dave Perry
Editor and Publisher of Sentinel Colorado
[email protected]