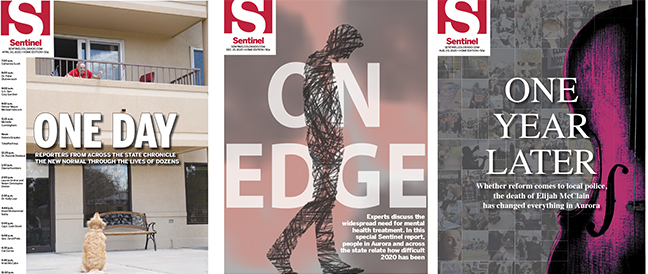 If you follow Sentinel Colorado online, in print or here in our Daily E-dition, I don't have to remind you how the news from the region during the past couple of weeks has been hard to keep up with.
Among the headlines we've delivered to you recently include:
News that city lawmakers likely held an illegal vote during a closed meeting that effectively ended a censure move against Councilmember Danielle Jurinsky — without public debate. Days later it became clear that  city conditions for reimbursing Jurninsky for her $16,0000 in legal expenses weren't met, also violating city codes.
The Sentinel this week took a long look at how a far-reaching and comprehensive plan to remake the entire Aurora Public Schools District fell apart at the 11th hour. The unexpected end of the APS BluePrint plan unraveled when parents at one school successfully persuaded the school board to spike the plan to prevent closure of Sable Elementary school.
The Sentinel this week also offered extensive context and detail to stories about how a homeless camping ban became law in Aurora.
Sentinel reporters brought you insight into how the imminent demise of Tri-County Health could impact everyone in the Aurora region.
Sentinel sports reporting pros brought you hundreds of photos, names and stories about amazing student athlete victories and stinging losses.
During the past two weeks, The Sentinel has offered readers more than 200 local stories, including dozens of photos and 180,000 words. In addition to all that, The Sentinel has provided thousands of more stories and photos from the Associated Press and other collaborating Colorado newspapers.
And the required cost to you and anyone, anywhere who wants or needs access to those stories? Nothing.
#NoPaywallHere
There are no paywalls for our content or newsletters. While we charge a nominal fee for home-delivery of the printed Sentinel each Thursday, the paper is available for free at hundreds of locations across the Aurora region.
The only way we're able to provide all this is with your support and contributions. Those who can and do provide contributions make all of this happen for those who can't.
If you're a paid supporter of The Sentinel and its mission, thank you. Our appreciation comes to you every day. If you can increase your contribution, thank you in advance for the welcome and needed boost.
If you haven't contributed to support The Sentinel, it's pretty clear why the cause is worthy. It's fast and easy to click here or below to our support portal. Within moments, you're done, knowing your contribution goes directly to letting us bring you every day what matters more than anything: the news that affects you most.
From the entire Sentinel Team, thanks for your support and contributions.
Please click here to begin or add to your contribution.
Dave Perry
Editor and Publisher of Sentinel Colorado
[email protected]