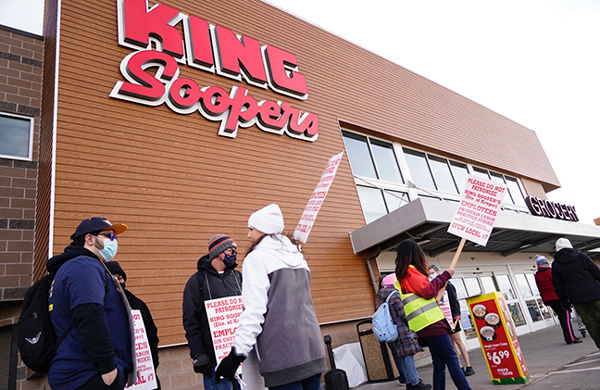 AURORA | An end to the strike affecting dozens of King Soopers locations near Aurora could be in sight, as the union representing grocery workers announced Friday morning that it had reached a tentative agreement with the company.
"This would not have been possible without the support of our allies throughout Colorado and across the country," president Kim Cordova of UFCW Local No. 7 said in a press release. "We didn't ask for this fight, but the Company chose to put profits over people for so long and failed to listen to the workers who made its success possible.
"To those who supported our members by honoring the picket line and showing up in solidarity, we thank you from the bottom of our hearts."
On Jan. 12, workers at nearly 80 stores in the Aurora-Denver metro area went on strike, accusing the company of engaging in unfair labor practices and holding out on living wages and other benefits.
King Soopers has also accused the union of unfair labor practices.
Negotiations stalled, and at one point the company filed for a temporary restraining order against the strikers, limiting the size and location of picket lines.
Friday's announcement said the strike would end "immediately" now that an agreement has been tentatively reached, and that strikers could go back to work "as soon as today."
King Soopers also acknowledged the agreement in a statement, and president Joe Kelley said the store "look(ed) forward to welcoming back our associates and customers."
"We are pleased that this agreement allows us to put more money in our associates' paychecks and secures healthcare and pension plans," he said.
Andres Becerril, a front-end supervisor at the King Soopers on Mississippi Avenue in Aurora, said he started receiving notifications on his cellphone about an agreement being reached early Friday morning.
While he said the general membership of the local has not yet seen the agreement, which was reached by a board made up of around two dozen members representing their coworkers, he was grateful and optimistic about the outcome of their nine-day strike.
"I want to say thank you to the community for not crossing the picket line," he said. "And I plan to pay it forward and not cross any picket lines in the future."
Another employee, Barbara Prekorn, estimated that the King Soopers on Peoria Street had seen one-third of the typical volume of cars in the parking lot since the strike began.
She described how workers had been scrambling to fill the gaps left by staffing shortages leading up to the strike and struggling to make ends meet on wages that have not kept pace with inflation.
At each of the three stores that Preskorn has worked at in her six-plus years with the company, she noted small food pantries had been set up specifically for employees, stocked with ramen and other items.
"There shouldn't be employees who are depending on that to have something to eat," she said. "Inflation has gone up so quickly, and there's been no reflective response."
"I think the public, they're identified with King Soopers (employees), because we're the ones who help them in the store," she added. "At my store, the spirits stayed high, people were encouraging to one another, and I think it brought the people on strike a lot closer together. And I felt good about that."
Members will vote on whether to finalize the proposed three-year contract on Monday.