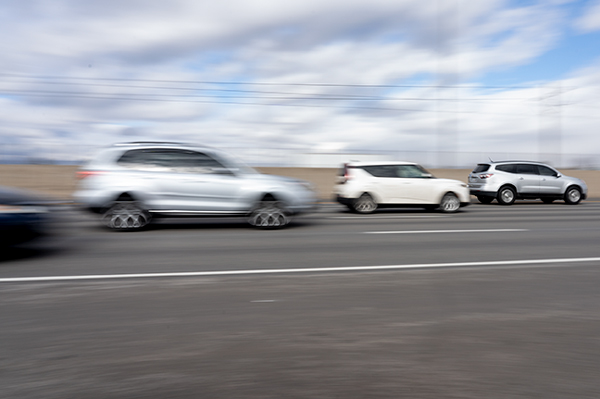 On May 3, 2020, five men in their 20s bought some liquor and marijuana in preparation for a friend's 22nd birthday party.
The group stopped at Solo Liquor on East Yale Avenue and proceeded west, grabbing legal bud at Colorado Harvest Company shortly before 6 p.m. Police say that about 15 minutes later, the driver of the group, then-26-year-old Joseph Benson, made a u-turn and collided his white BMW SUV with the driver's side of Patrick McDonald's gray Kia sedan. Estimated to be traveling nearly 100 miles per hour in the wrong lane of traffic, investigators said Benson attempted to speed around McDonald, who was attempting to turn left onto Vaughn Way. 
McDonald, 36, was pronounced dead at the scene, and paramedics later had to cut him out of his wrecked car. 
Police spent nearly two weeks interviewing witnesses and wading through security camera footage in an effort to pinpoint Benson as the driver of the packed BMW.  Investigators eventually accused Benson of driving the car, which was registered with a temporary tag to his mother, after pinpointing a purchase he made at Colorado Harvest using his loyalty membership. He was then seen in security camera footage captured in the pot shop's parking lot booting another member of his crew out of the cockpit and entering the driver's seat two minutes before the crash.
Detectives were unable to determine if any alcohol had been opened and consumed prior to the collision, and the marijuana was found still in its packaging in a white bag among the wreckage on a nearby sidewalk. But as officers were patting down the occupants of the vehicle after the crash, they found one man with what was believed to be black tar heroin in his front left pocket, and the would-be birthday celebrant, Ronya Crockett, with a Glock pistol in his waistband. Crockett did not have a concealed handgun permit.
Though police conducted extensive interviews with Crockett and the other passengers of the BMW, Benson left the scene and avoided authorities for a month. For several weeks, the only trace investigators had of Benson was a copy of his Colorado driver's license he had apparently ditched on the ground moments after the crash. 
Benson, who has used the aliases Rabbit, Lil Youngin, Jojo and Eli, was on the lam until June 3 despite a judge signing a warrant for his arrest May 14. He managed to evade Aurora SWAT team members during a lengthy raid in a local apartment complex on East Harvard Avenue May 19.
He posted a $100,000 bond shortly after he was arrested and has been out of custody since June. He's set to formally enter a plea to the quintet of charges currently filed against him, including vehicular homicide, in Arapahoe County District Court on Jan. 25.
Benson's defense attorney did not respond to a request for comment on his client's case by press deadline. 
The fatal crash between Benson and McDonald in May was one of the grisliest in the city last year, according to Aurora traffic investigators. It was hardly the only one.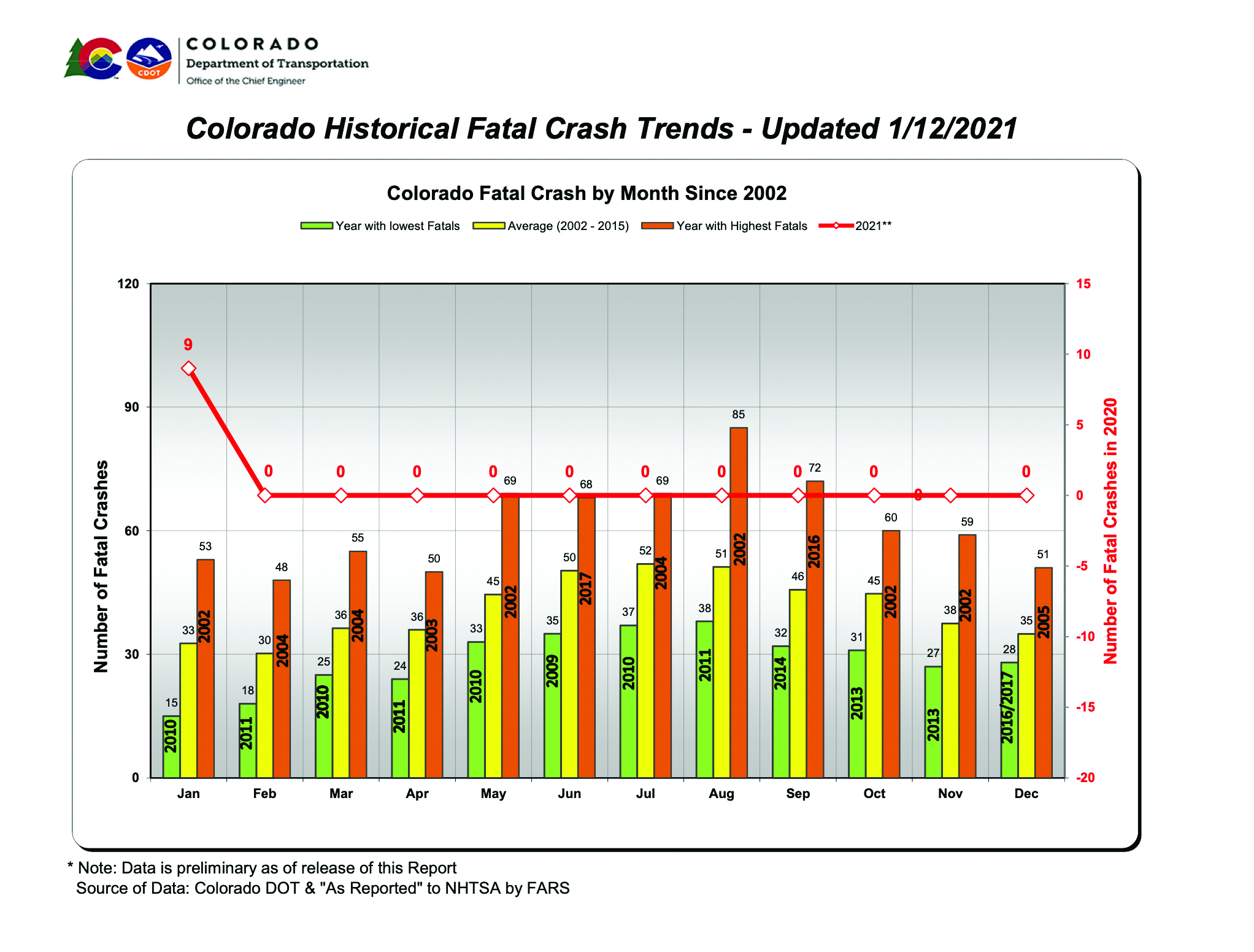 "The one that sticks out to me was around Yale and (interstate) 225 where … the lead car slows to make a left hand turn and the car following — speeding — tries to accelerate into the oncoming lane and t-bones and kills him," said Aurora Police Sgt. Chris Carleton. "Just horrendous driving and not caring about your impact on others." 
McDonald's death was one of 36 on Aurora roadways in 2020, making the year the deadliest in terms of traffic fatalities in the city in modern history, according to Aurora Police Department data. That's more than triple the annual total of people killed on Aurora roads a decade ago.
Several of the deaths on Aurora arterials in 2020 came with an additional wallop of tribulation for local communities, such as the 25-year-old off-duty Aurora police officer who died in a motorcycle collision on East Arapahoe Road in September, or the 71-year-old Heather Gardens resident who died after being struck while legally jogging through a crosswalk on East Yale Avenue in August.
Speed remains the primary culprit for many fatal crashes in the city and across the state, according to local and regional traffic investigators. 
"There was an increase in speed-related crashes — not street racing — but just people driving faster," Carleton said. "We had 35 total crashes with 36 fatalities and probably nine or 10 of those were crashes where people were just driving excessively fast." 
Aurora's totals still sit below the 50 people killed on Colorado Springs roads last year, and the 48 who died on Denver roadways, according to Colorado Department of Transportation data. 
Authorities pointed to the pandemic as a reason for increased speeds earlier this spring as roads emptied out while residents tried to wait out the virus from their homes instead of their offices. 
"One thing I think is clear is that when roads were cleared out of a lot of drivers, those who were driving were traveling faster," said Jack Todd, communications director for the statewide non-profit organization Bicycle Colorado. "And there's a direct correlation between speed and crash severity, and speed and whether a crash is fatal or not."
One cyclist died in Aurora last year, according to police department figures. Preliminary data compiled by Outside Magazine suggest bicycle crashes were down by more than 15% across the country last year with nearly 700 cyclist deaths reported.
But traffic volumes largely rebounded in the second half of the year, with even more drivers traveling on several of the days before and after this year's Christmas and Thanksgiving holidays than in 2019, per CDOT statistics. There were seven fatal crashes over the Christmas holiday in the state this year compared to just three in both 2019 and 2018. 
Statewide, traffic fatalities were up slightly in 2020 over the year prior, with a total of 602 deaths on the state's asphalt ribbons. About a third of the fatal crashes that occurred within a Colorado municipality involved an impaired driver, per CDOT data. 
Last year's bump comes several years after a historical lull in deaths in the early 2010s when fewer than 500 people were dying in traffic collisions in the state each year, but far below the upper limit of 743 deaths recorded when the agency first started tracking data in 2002. And that's despite Colorado drivers covering 100 million more miles a year than they were 20 years ago, data show. 
Across the country, fatal crashes were up nearly 5% in the first three quarters of the year despite the pervasive pandemic closures. 
The National Highway Traffic Safety Administration estimated that 28,190 people died in traffic crashes from January through September of last year, up from 26,941 in the same period of 2019, The Associated Press reported this month. Final statistics for the full year won't come out until fall.
Like in Colorado, federal officials said that the drivers who stuck to the streets despite the pandemic engaged in more lethal behavior. 
"Preliminary data tells us that during the national health emergency, fewer Americans drove, but those who did took more risks and had more fatal crashes," the highway safety agency said in a letter addressed to the nation's drivers.
Aurora police have readily stated that the pandemic hampered some police operations this spring, with local officers electing not to pursue minor traffic infractions in an effort to reduce community spread of the virus. But officers were still ticketing egregious speeders, according to Carleton.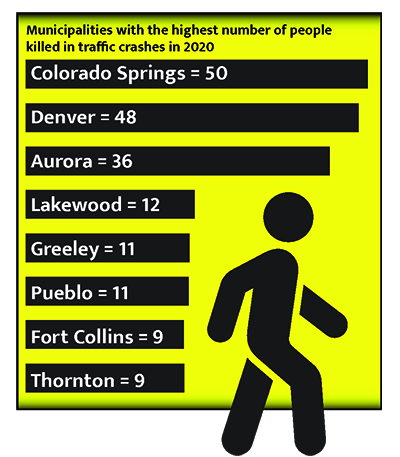 The epicenters of speeding and other traffic issues in the city remain tethered to the area surrounding Del Mar Park near East Sixth Avenue and Peoria Street and the East Colfax corridor, Carleton said. 
Colfax and its adjacent north Aurora neighborhoods remain hot spots for pedestrian fatalities in particular. Aurora documented 11 such deaths last year, all but two of which were the fault of the pedestrian, investigators determined. 
"The bulk of them happen on Colfax and there's no good excuse for that because there's a light every other block and crosswalks," Carleton said. "It's people crossing the middle of the street and not waiting for lights … probably 30 percent of pedestrian collisions are people hopping off of bus stops and crossing the road right there to make another bus and crossing the street without going to the crosswalk."
To combat those potentially fatal habits, police for years have relied on education campaigns in problem areas. 
"It's mostly education — you can't really add anything," Carleton said. "Things are in place to help it be safe, pedestrians just choose to ignore them."
The city's now disbanded bicycle patrol unit would regularly talk to people standing in medians or visibly jaywalking, according to Sgt. Marc Sears, who was previously assigned to the unit. That work is still unfolding, but by different, targeted means, police said. 
The bicycle cohort of the neighborhood policing unit was split up so cops could backfill patrol positions that have been left vacant by officers who left the force in 2020, according to Sears. 
"They all have good reasons," he said of the local exodus from law enforcement. "Some are people that I've known for the past 15 years and they're completely getting out of law enforcement and starting completely different careers. It's just unprecedented, and it's really gut-wrenching."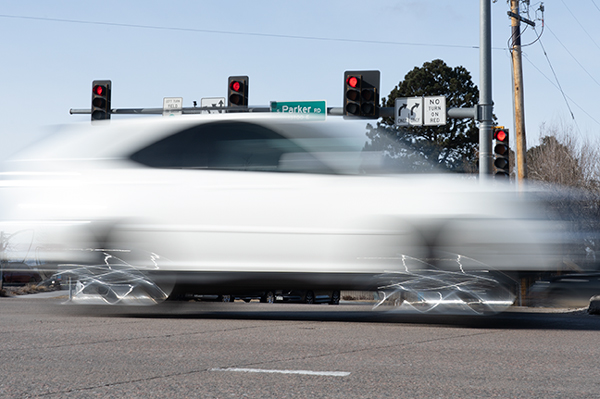 Officers are now conducting targeted speed traps in certain problem areas across the city, such as along East Quincy Avenue and East Alameda Avenue, according to Officer Matt Longshore. Earlier this month, officers wrote some 180 traffic tickets in one day along Alameda, and another 115 shortly thereafter on Quincy. 
"And usually those are 15 (mph) and over where they're pulling people over," Longshore said. 
The city's planning department, too, is slowly rolling out enhanced bicycle and pedestrian infrastructure across the historically motor-friendly burg.
"As soon as you get outside of Denver-proper, roads typically get wider and faster, and that's just because of the suburban build from the '50s," said Todd with Bicycle Colorado. "Basically when it was really car-centric. And Aurora is a good example of that."
Last year, city planners wrapped up a years-long expansion project of several 10-foot-wide, bi-directional bike lanes in central Aurora along East Florida Avenue, East Mexico Avenue and Potomac Street. They're the first of their kind in the city. 
"It connects the neighborhoods east and west of (Interstate) 225, which I think is a real plus," said Tom Tobiassen, the founder and president of Bicycle Aurora who facilitated the creation of the new lanes through his prior work with the Regional Transportation District and the Denver Regional Council of Governments.
Todd also lauded the recent improvements, which were largely financed by a $17 million grant from DRCOG.
"The City of Aurora is really trying to make an effort to be more welcoming to people outside of cars," he said.
Jill Locantore, executive director of The Denver Streets Partnership, an advocacy arm of Todd's organization, did not respond to requests for comment by press deadline.