DENVER | Prosecutors in the Colorado movie theater mass shooting trial will attempt to convince a judge Thursday that investigators should have access to the suspect's notebook, which they think contains descriptions of a violent attack.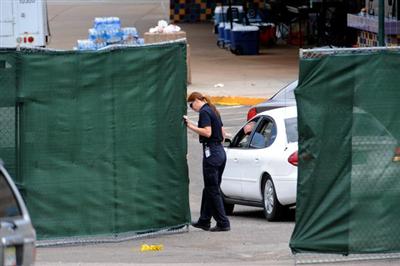 Defense attorneys for James Holmes, charged in the July shootings that killed 12 people and wounded 58 others at a midnight screening of the latest Batman movie, say the notes should be off-limits.
Holmes' attorneys say their client sent the journal to a psychiatrist he was seeing at the University of Colorado, Denver, where he was a studying neuroscience. They say the notebook is inadmissible because it's protected by doctor-patient privacy laws.
Prosecutors argue they should be allowed to review the notes as part of their investigation. Legal experts say district attorneys could offer several arguments, including an attempt to prove Holmes already mentioned the notebook, either during questioning or to professors or other students in emails, voiding any legal privacy protections.
Judge William B. Sylvester seems inclined to listen to their point of view, ruling Monday that issues regarding "a serious threat of imminent physical violence" are not protected by privilege.
Holmes is charged with multiple counts of first degree murder. He is not required to enter a plea until after a November hearing. Holmes' attorneys could argue he is not mentally competent to stand trial or that he's not guilty by reason of insanity.
Prosecutors and defense attorneys are under a gag order and cannot discuss details of the case.
Holmes was expected in court Thursday, and the psychiatrist, Lynne Fenton, could be called to testify. Calls to Fenton's attorneys, who were hired by the university, were not returned.
Another argument to open the notes to investigators, experts say, is a challenge to whether Fenton was treating Holmes at the time he sent the notebook.
Holmes left the school without explanation weeks before the mass shooting in which he is accused. Fenton sent Holmes' case to the school's Behavioral Evaluation and Threat Assessment Team, but the unit didn't take action because he already had taken steps to withdraw from the university, KMGH-TV reported on Aug. 1, citing unnamed sources.
School officials have refused comment, citing the judge's gag order.
The hearing could provide more insight to a possible defense strategy for Holmes based on his mental health. Defense attorney Daniel King told the court on Aug. 9 that Holmes is mentally ill and requested information held by prosecutors to determine "the nature and depth of Mr. Holmes' mental illness."
The judge's order regarding imminent violence was one of a few key developments in the case this week, including prosecutors gaining access to some of Holmes' educational records.
Chief Deputy District Attorney Karen Pearson said the records show planning and motive. In court documents, Pearson said that Holmes made a threat to a student in March, failed a key exam in June and was denied access to the school after threatening a professor.
Pearson said Holmes' educational records help show "dissatisfaction with what occurred in his life" and his failing academic career before the shootings as a possible motive.
Defense attorneys are seeking sanctions for prosecutors for "reckless disregard for the truth," though it's unclear whether Pearson's statements regarding threats or a possible motive are the basis for the request.
A hearing on the matter will be scheduled later.