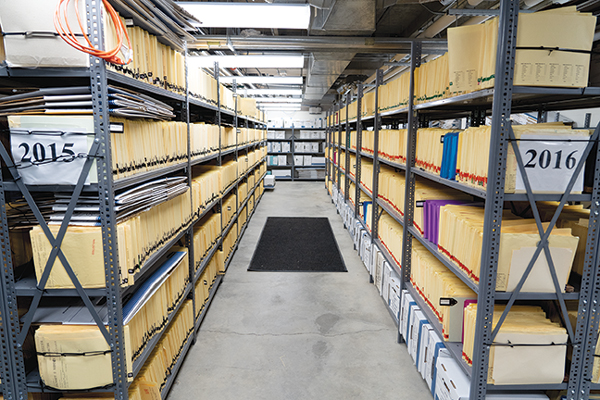 Aurora's municipal public defender's office was the recipient of ample accolades last month, though the courthouse haunt for the city's legal safety net would likely make many local firefighters shudder. 
"I've got boxes of friggin' files stacked up in the hallways," said Doug Wilson, the chief public defender for the city. "I'm guessing that if the fire marshall came over here they'd go: 'What the hell are you doing?'" 
Wilson's office within the bowels of the Aurora Municipal Complex is regularly teeming with the boxes of filings, CDs and reports that make the city's legal system whir.
On a recent Friday afternoon, a string of stuffed filing cabinets and dozens of white, oblong parcels, all crammed with juristic miscellany, lined the hallways of Wilson's second-floor lair.
It's a reality that the state's former top public defender, accompanied by his contemporaries in the court administration division, the city attorney's office and the municipal judge's chambers, is intent on dragging into the modern age of cloud-based information sharing. 
Nudges to move the court away from manila envelopes took a stride forward earlier this month when Aurora's legal leaders met to discuss how and when the city could accommodate hosting electronic discovery for municipal cases. 
"It would be a lot of time saved for everybody in the city," said interim Court Administrator Mike Ridder, who took the reins from the division's longtime head, Zelda DeBoyes, following her retirement earlier this year. "Plus, paperless is just a great process — period. Anything that involves paper is burdensome and limits our storage abilities … It would save everybody just time and money."
Currently, the preparation of discovery is incumbent on municipal prosecutors, who in turn are reliant on two-wheeled dollys and shoe leather to move CDs of body-worn camera footage, 911 dispatch files and crime scene photographs from police records systems to their office. All of that, as well as stacks of paper, must then be shared with defense teams.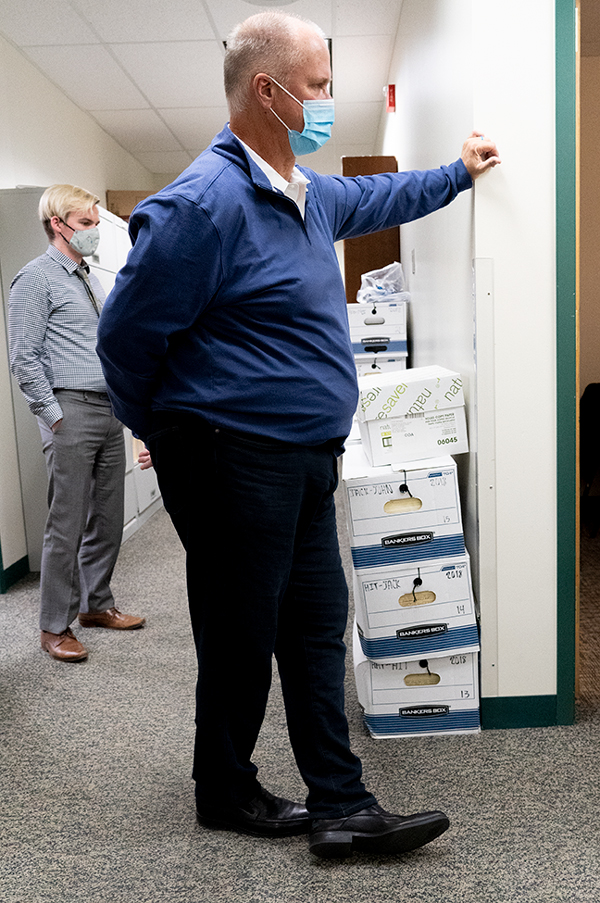 That translates to a never-ending carousel of folios that move between attorneys' desks and the hulking storage complex in the courthouse basement where files are crammed away for years on end. 
Oftentimes, there's only one physical file for each case in Deputy City Attorney Julie Heckman's office, which means her administrators and attorneys only get a limited amount of time with the materials before the municipal speedy-trial deadline of about three months — half the time allocated to state prosecutors — clocks out. 
"You have to take your turn when it goes from one person to another to another," Heckman said of the office-based round robin.
The retention schedule for files tethered to closed cases is technically a bit more than seven years from the time of disposition, according to Ridder, who previously worked as the court's longtime tech czar. But it's indefinite for the slew of cases that are never technically resolved because a defendant fails to appear. Occasionally they're dragged before a judge more than a decade after the original charges were filed, and that corresponding box of goods has to be unearthed from the depths. 
"If they don't come back for five, or seven, or 10 years, we still need that file," Heckman said.
And that adds up. The municipal court has handled between 30,000 and 40,000 filings a year since 2016, though the majority of those have been related to traffic, parking and photo red light violations. 
Wilson's case load is far more ambiguous due to a historical lack of data tracking, according to a recent report on his office. 
The city's 10 designated public defenders have typically been expected to carry 125 active cases at any given time. There were about 2,000 cases for which a public defender was assigned in 2019 and 2020, though the correlation between charge count and caseload can be misleading, according to officials with the National Legal Aid and Defense Association. 
A new case management system for Wilson's office is now clocking figures, another part of the ongoing push to update the court's dated recordkeeping models. 
Outside of just Wilson's world, the efforts have proven to be a point of unity between legal entities that were constitutionally designed to oppose one another. 
"It's something that really all the stakeholders want, and we know it'll have a huge, positive impact in all the departments in our court system," Heckman said. "… It would help our day-to-day work as well as the entire efficiency of the system, and I think lead to less frustration, frankly."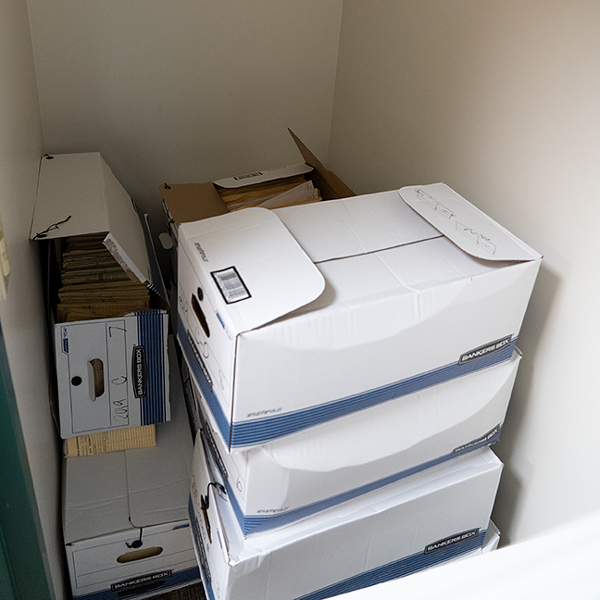 Attorneys in Aurora's largest judicial district have been able to handle electronic discovery for more than half a decade, according to a spokesperson for the 18th Judicial District Attorney's Office. That jurisdiction, which covers Arapahoe, Douglas, Elbert and Lincoln Counties, was the first in the state to institute e-discovery in August 2016. 
Across all three counties that touch Aurora, local detectives — who work not a legal pad's toss from their peers in municipal court — are able to send files to district court workers in Centennial, Brighton and Castle Rock with the click of a mouse.
"The irony of it is that I'm looking out my window right now at the police department," Wilson said. "It's connected to this building. That police department can push a button right now and send their reports to Adams County, Arapahoe County, Douglas County — anywhere in the state — and we have to wheel it around in a box."
Across Yosemite Street in Denver, municipal prosecutors are also able to digitally share discovery materials with defendants, according to Bradley Whitfield, assistant section director with the Denver City Attorney's Office, Prosecution and Code Enforcement Division. 
"It's a simple process that allows us to discover witness statements, 911 audios, body-cam, photographs and more with ease," he wrote in an email. "We're also able to track and determine whether a person has downloaded and accessed their discovery, which is a useful tool. 
And while there isn't a designated e-filing system for municipal cases in the state's largest city yet, attorneys have been able to file motions and pleadings via email since the COVID-19 pandemic jolted the justice system last spring.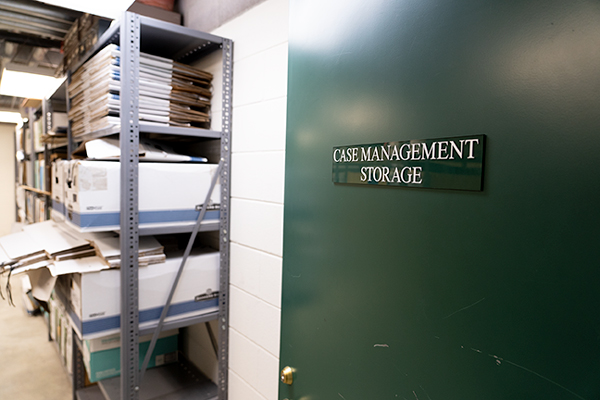 Drawing comparisons among filing systems in municipal courts like Aurora's can be thorny, as there are fewer than half a dozen city courts in the country with designated public defense branches, according to estimates from the National Legal Aid and Defense Fund. Colorado accounts for two such offices on the short list with Denver and Aurora. 
"Municipal court systems typically tend to have fewer resources than even the state or county systems, but certainly jurisdictions are doing their best to move away from all-paper filing systems," said Marea Beeman, director of research initiatives for the defender legal services team at NLADA. " … Photocopying is not the highest level of resources for any agency — public defenders, city attorneys or the court. Photocopying and scanning could just go away. That's not the way information moves anymore."
Earlier this year, Wilson used a Department of Justice grant to have Beeman's group analyze the ins and outs of his 16-person staff, from how they handle cases in court, to how they fit into the machinations of city politics. 
For years, the organ that was established in an era when municipal public defense was largely unheard of has operated nearly unnoticed, even among some of the city's most tied-in wonks.
"Part of the problem we have is people don't understand what a public defender is or what they do," said Tom Tobiassen, head of the seven-person commission that oversees Wilson's office. 
Municipal Public defenders are technically available to represent any defendant facing the threat of jail time who qualifies as indigent, defined as 150% of the federal poverty level. That's about $19,000 of annual income for an individual, or just under $40,000 in yearly earnings for a household of four people, according to federal standards. 
In Aurora, such clients have been receiving legal defense for more than 30 years, which Beeman noted was exceptionally rare and laudatory. 
"Aurora's public defender's system stands head and shoulders above many other jurisdictions across the country – not just at the municipal level, but at the state and county level, too," she said.
Despite the high marks, the NLADA team noted the need for an updated filing system for Wilson and his fellow municipal court workers. 
"A unifying thread throughout the … team's interviews with public defenders, prosecutors, and court administration was bemoaning of the Aurora Municipal Court's paper-only filing system," the recent NLADA report reads. "The paper-only system is inefficient and obsolete."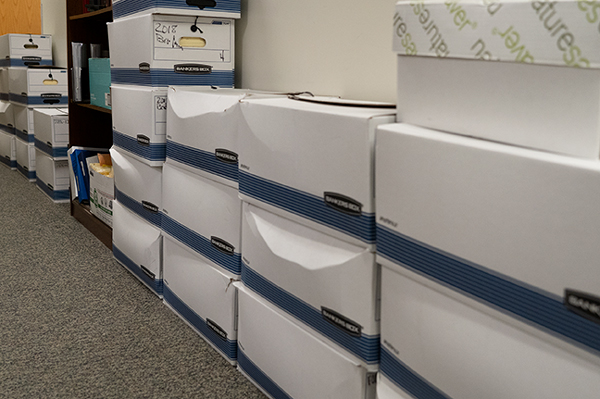 Ridder with the court IT team vowed a solution is already in the works. He said the court IT staff of four is preparing a bespoke e-discovery system that will only cost the city money in terms of staff time and should be available to local attorneys by spring of next year. A separate filing system — which would allow any attorney practicing in the court to file motions, responses or other filings electronically — is also in the hopper. 
The system could face one more political hurdle, however, at the city's upcoming public safety committee meeting in November. That's when city legal workers are expected to brief staffers on the status of the e-discovery system, but the chairman of the committee, outgoing at-large council member Dave Gruber, has urged workers to seek a bid in the open market to procure a digital system, which could halt Ridder's efforts and add more than a year to the process.
"I was surprised by that comment myself," Ridder said of Gruber's recommendation. "Going to the open market, that would be quite a lengthy process."
Ridder noted that implementation has already been delayed by the massive lift it took to get the court ready for virtual appearances at the onset of the pandemic last year. A wave of new state legislation that has mandated additional transparency and data-tracking for courts around the state has also prolonged his efforts, he said.
Gruber, a retired U.S. Air Force colonel, said he was familiar with the problem of office's growing to rely on in-house solutions during his time in the military: A tech-savvy worker would design a personalized software system that would work well until they moved on or retired, at which point a new team of possibly less adept workers would be left with a system that may have only worked well with one person's brain. 
He also questioned Ridder's request for two additional staffers to help implement the new discovery tool.
"That's $90,000 to $100,000 in salary, and with benefits that's a quarter-of-a-million dollars a year to develop something that may not be as good as something we can buy off the street," he said.
But the next meeting will likely be Gruber's last as the head of the public safety committee as he'll be out of his post following the upcoming elections. After that, a new political amalgam will be charged with steering when and how a digital court in Aurora could come to be. 
The new committee members will be allowed to review the minutes from Gruber's last meeting, but they can follow any recommendations therein at their own discretion. 
For now, Wilson's office will remain full of well-inked kindling. 
"It's a s*** show," he said of the current system. "This city has got to get away from paper."