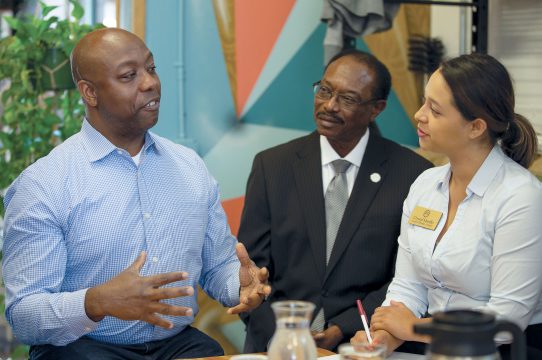 The narrative of an up-and-coming northeastern Aurora, close to East Colfax Avenue, is one the city has envisioned for some time, and it may be finally closer to happening. The historically low-income area is now also home to a medical campus, some new apartments and a few fast casual eateries and coffee spots.
There could be more where the city has been trying to lure development since the closure of Fitzsimmons.
Opportunity Zones, the capital gains tax incentive program included in the Trump administration's new tax plan, could mean more jobs, housing and services in three designated areas of the city.
The zones, in Aurora, Colorado and across the country, will offer a development tool the federal government believes will help jump start economic recovery in places that have seen little of it since recovery of the 2008 downturn. The zones, chosen by the state, are based on census data showing higher rates of poverty and lower-than-average income.
"In deciding these Opportunity Zones, the Office of Economic Development and International Trade's goal was to identify tracts where investment would be catalytic. We are working with communities and investors to attract positive investment and there has been a lot of interest," said Jill McGranahan, a spokeswoman for the state agency, in an email to the Sentinel.
There are three opportunity zones in Aurora. One runs between I-225 and S. Chambers Road, from East Mississippi Avenue up to East Alameda Avenue. Another along East Colfax Avenue that includes areas from Quebec Street to I-225, including Fitzsimons. The final zone starts at Tower Road on East Colfax Avenue and stretches to Watkins.
Andrea Amonick, the City of Aurora development services manager, said the city sees the opportunity zones as another tool for the city to use in achieving what they've been planning, especially around East Colfax.
The zones work by offering incentives to businesses that want to make long term investments in the designated areas. Through the tax law investors will be able to make Opportunity Funds for start development. That will allow them to defer or partially reduce capital gains taxes. Rules are still being established for the funds and zones by the U.S. Treasury.
"Our plan has always been a balance to community with housing, jobs and services for all sectors of the community," Amonick said. "We already have the plans in place, so we see this as a great additional tool to make sure our existing plans can be implemented."
But the opportunity zones in Aurora highlight a complex issue for the city: There's no golden ticket for growth and it's even tougher to make it work for everybody. That's evident as the city maneuvers how to address a closing mobile home park near East Colfax Avenue and I-225 and a proposed condominium project that would force out families living in units considered affordable for the metro Denver region.
A major hurdle with development in northeastern Aurora, whether it be housing or in retail, Amonick said is the cost of land and investors getting a good return. With the opportunity zones, she said the city is hopeful there will be more interest from developers. That will hopefully keep housing affordable and entice companies with jobs for all skill sets to move in.
"The selection of the south side of East Colfax was very thoughtful to help stimulate more investment to the area so that developments of all kinds can occur and provide jobs, serves and housing for across the board," Amonick said.
The zones have been receiving a fair amount of attention, too.
U.S. Department of Housing and Urban Development Secretary Ben Carson visited the city in July. He said opportunity zones would be major for places like northeastern Aurora, "I think that's going to make a tremendous effort by allowing unrealized capital gains to be invested in some of the distressed properties around. You combine that with the public activity bonds, the private sector and the non-profits and these are the things that will make a difference and are making a difference already."
South Carolina Sen. Tim Scott, who helped write the opportunity zones into the tax law, stopped in Aurora earlier this summer too as a part of an opportunity zone tour.
Over a cup of coffee at trendy Jubilee Roasters on East Colfax Avenue he sat with local small business owners and a few city government leaders and answered questions about what these opportunity zones could mean for the surrounding area — where newer, successful developments such as the Stanley Marketplace and University of Colorado medical school meet gritty motels and some of the poorest neighborhoods in the city.
Aurora City Council member Crystal Murillo, who represents that region of the city, told Scott she worries about the adverse impacts opportunity zones might have there, namely inviting in business that could push out people who call the East Colfax corridor home because it's amongst the most affordable in the metro Denver region.
Scott said there are measures in place to make sure gentrification doesn't become the storyline in northern Aurora — that's namely in the form of zoning to make sure there isn't "encroachment on neighborhoods from main arteries," Scott said.
Aurora has focused heavily on zoning and development within the last few years in drafting the Aurora Places plan, which identifies key focus areas in the city.
The state is still in the process of identifying Opportunity Funds, so it's unknown what the potential impact of the zones will be.
"While we cannot predict how these opportunities will develop, we are optimistic based on the amount of interest shown," McGranahan said.