Kiyoko "Margie" Tsuru Grant
February 21, 1932 – April 6, 2019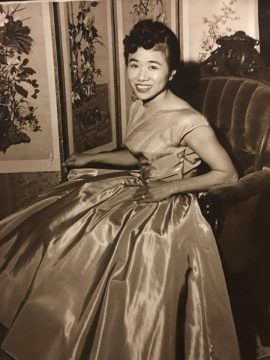 Kiyoko "Margie" Grant of Aurora, CO passed away on April 6, 2019 at the age of 87.  Born on February 21, 1932 in Kojo Gun, Chuseinando, Korea, she was the daughter of Jintaro Tsuru and Koto Naito.  Kiyoko immigrated to the United States in 1959 to marry Wallace "Chuck" Grant.  Together they had three children: Carl, Ken and Patti. She also had fourteen grandchildren and seven great-grandchildren.
She worked diligently in the restaurant industry for most of her years. She also worked at Costco handing out samples for many years. One of her greatest joys, other than her grandchildren, was talking to so many different people from all areas of life.
A memorial service will be held at 1:00 pm on May 29 at Fort Logan Cemetery in Denver, CO.  The address is 4400 W Kenyon Ave, Denver, CO 80236.  There will be a memorial reception at the Molly Brown Summer House immediately afterwards.  This is only a few minutes from the cemetery and the family would enjoy your company for hors d'oeuvres and stories.  The address is 7595 W Yale Ave, Denver, CO 80227.
Please send any photos you would like to share to [email protected] so we can share them at the Memorial service.