Gene Richards Shanley
September 28, 1925 – May 2, 2019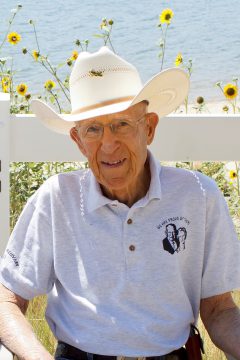 Gene Richards Shanley, 93, died May 2, 2019 in Aurora, Colo.  He was born September 28, 1925, at Fort Robinson (NE), is a WWII Veteran and worked for United Airlines for over 34 years.
Gene and his wife, Jewell, married 68 years, have lived in Aurora for 65 years and raised seven children (Sharon, Jan, Terry, Len, Drew, Kris & Brian) and one grandchild (Steven) in the Aurora Schools.
A celebration of Gene's life will be Saturday, May 11, 2019 from 1:00-3:00 at the Central Rec Center: 18150 E. Vassar Pl., Aurora, CO. Gene's inurnment will be at a later date at Fort Logan National Cemetery: 4400 W. Kenyon Ave., Denver, CO.
In lieu of flowers, memorials can be sent to the Aurora Police Dept., Power Up Youth Program: 15151 E. Alameda Pkwy., Aurora, CO 80012 or to the donor's choice.
Please see full obituary & photos and leave condolences for the family at:  https://tributes.com/GeneShanley.