Emily Jean Corey
July 22, 1931 – July 21, 2018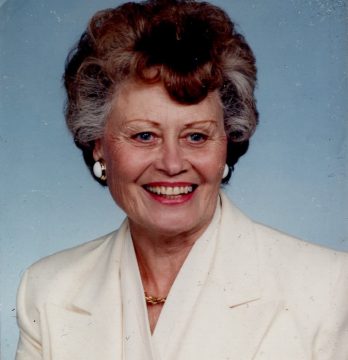 Emily Jean Corey (née Mundell), passed peacefully on July 21, 2018, under the care of Mt. Evans Hospice. She was surrounded by her husband, Charles Corey, and many loving family members. 
Emily was born on 7/22/1931 in Tucumcari, N.M. She met Charles on a blind date in 1951 and married him one month later on January 19, 1952. They raised their three sons in Aurora.
They enjoyed traveling, able to fly all over the world as Charles was a United Airlines pilot.  A beloved Evergreen community member since 1976, she joined P.E.O. Chapter FR, and Church of the Hills Presbyterian U.S.A. She served as President of Evergreen Christian Outreach, and as a Titus Woman for MOPS. 
Emily's greatest accomplishment was her family. She was a true lady who shared her kindness and grace with all who crossed her path. She leaves behind a legacy of making everyone feel special.  She is survived by her husband of sixty-six years, Charles, her three sons Craig (Carol), Richard, and Mark; seven grandchildren, Lisa, Chris, Tiffany, Bryan, Melissa, Colten, and Carsyn and three great grandchildren Samantha, Maxwell, and Elizabeth Jean. 
A memorial service will be held at Church of the Hills in Evergreen, Colorado on September 15, 2018 at 10 a.m. In-lieu of flowers please consider a donation to Mt. Evans Hospice, Church of the Hills, or Evergreen Christian Outreach.
Visit www.EvergreenMemorialPark.com for more information or to write a condolence to the family.  Arrangements with Evergreen Mortuary.