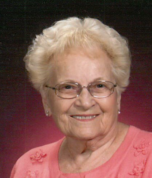 Lois Jean Collings Canady King
June 17, 1925 – January 16, 2017
Lois Jean Collings was born to Fred Eugene Collings and Lola Estel Evans on June 17, 1925 in Princeton, Missouri. She died January 16, 2017 at the Denver Hospice at Lowry.
She is survived by her two sons Danny and Charlene Canady, Douglas Canady and Victoria Kwasinski; ve grandchildren, Christian Canady, Rachelle Canady, Jesiah Canady, Hannah Canady-Dangel, and Luke Canady; and 10 great-grandchildren.
A Celebration of Jean's life will take place on Wednesday, January 25 at 1 pm at Olinger Hampden Mortuary. Visitation will begin at 12:00.
In lieu of owers the family has asked that donations be made to the Denver Hospice at Lowry. You can donate online at www.denverhospice. org or by mail at: The Denver Hospice, 501 S. Cherry Street, Suite 700 Denver, CO 80246.
See the full obituary at www.olingerhampdenmortuary.com.