Georgette Sanford, 74, was reunited with her husband in heaven on December 28, 2018 at 4:40 PM. She was surrounded by her loved ones in her final days.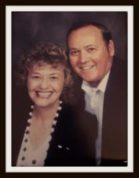 Georgette lived in Aurora and was married to her best friend and love of her life, Ronnie for 56 years. After retiring from being a cosmetologist, her and Ronnie enjoyed regular trips to Central City. Georgette loved spending time with her loved ones. Her and Ronnie got a pug puppy in 2009 and some would say they loved that sweet little girl more than their own children.
She is survived by her loving son Chad, his wife Amy and their son Cade. She is also survived by her son Chris, his wife Katie and her son Oliver, her sister Gay Devanney, caring friend Hector and his family, and her loyal dog Elizabeth. She is preceded in death by her parents, George and Betty Swallow, her Brother Craig Swallow, and her husband Ronnie.