Irene Rose (Jakubowski) O'Donoghue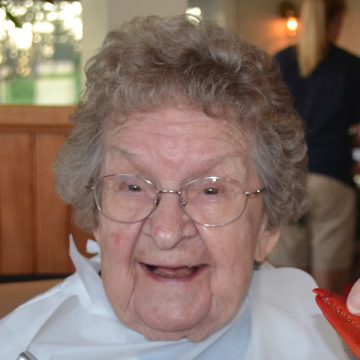 June 20, 1921 – April 17, 2017
Irene Rose O'Donoghue died April 17, 2017. She was 95.
Irene Rose (Jakubowski) O'Donoghue was born on June 20, 1921 to Walerian and Bernice (Bronisława Wrobłewska) Jakubowski in Worcester, Mass. She grew up on "the farm" in Northboro, Mass, graduating from high school in 1939.  She met Edward John O'Donoghue while working at Reed-Prentice in Worcester and they married in Riverside, Calif., on Sept. 5, 1944 before he left with the Army Air Corps.
Mom gave birth to Kate, Peggy and John in Worcester as Ed got his degree.  In 1949, they moved to Los Alamos, New Mexico where Gerry and Pat were born.  In 1953, they moved to Aurora.  Aileen was born in Denver.  Irene volunteered as a Gray Lady at Fitzsimmons Army Hospital helping wounded soldiers with personal tasks and her cheerfulness.   She also volunteered for the church and schools.
An avid knitter, Irene also crocheted lace, made ceramics and took a woodworking class.  She contributed much time and effort to the Hoffman Heights Neighborhood Association and the City of Aurora.  For years, she was a familiar face and a force to be reckoned with in the city offices.
Mom's home was always crammed with things she loved, projects she was going to do "someday" and many stuffed animals delighting her sense of whimsy.  After having moved into 1202 Peoria St. on June 14, 1953, she moved out to Garden Plaza on Dec. 8, 2013.  She missed her home, but with her durably chipper, down-to-Earth personality, she adjusted to assisted living well.  On the evening of Feb. 15, 2017 she had a stroke that robbed her of her mobility and, eventually, her speech and was moved to Cherry Creek Nursing Center where she died peacefully in her sleep with Pat and her nurse by her side.
She is survived by her brothers Ed Jason of Burlington, WA and Paul Jay of Mt. Vernon WA, children Katherine (Mark Gardiner, Salt Lake City), John (Edith Wisner, Las Vegas, NV), Gerald (Claudia Morse, Wellsville, NY), Patrick (Betty Goshorn, Aurora), who died in August of 2017, Aileen (Potsdam, NY), 11 grandchildren, 13 great-grandchildren and numerous nieces and nephews.  She was predeceased by her husband, daughter Peggy (Neil Thomsen, Albany, OR), sisters Helen Goodness and Van Hardaker, and brother Anthony Jakubowski.