WASHINGTON | President Barack Obama dashed to Colorado on Sunday to meet with families of those gunned down in a movie theater and to hear from state and local officials about the shooting that left 12 people dead and dozens more injured.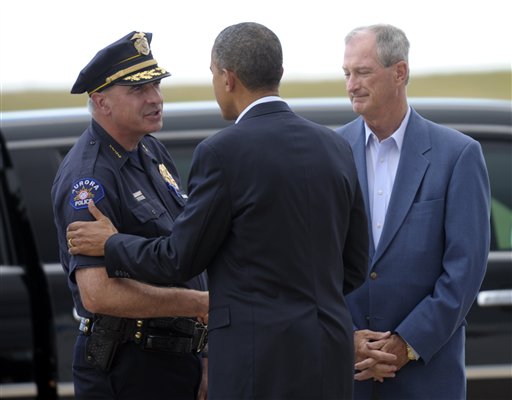 Air Force One touched down at Buckley Air Force Base in Aurora late Sunday afternoon for the president's hastily arranged 2½-hour visit, which includes a private meeting with the victims' loved ones and perhaps a public comment about the shooting early Friday morning at a busy multiplex.
Colorado Gov. John Hickenlooper, Aurora Mayor Steve Hogan and Aurora Police Chief Dan Oates were among those who greeted Obama at Buckley.
For Obama, it was another unhappy occasion for him to serve as national consoler in chief, a role that has become a crucial facet of the presidency. National tragedies can present an opportunity for presidents to show leadership and rise above partisan politics, as with President Bill Clinton and the Oklahoma City bombing and President George W. Bush and the Sept. 11 attacks.
But in moments of sorrow, presidents can risk looking detached and out of touch. Bush's handling of Hurricane Katrina is an often-cited example.
Sunday's trip was Obama's second time to Colorado in less than a month to comfort residents in a state that's critical to the November election. He made a quick visit in late June to Colorado Springs, where hundreds of homes were destroyed in the most devastating wildfire in the state's history.
"These families need that kind of contact by our elected leader," Oates told CBS' "Face the Nation." "It will be very powerful and it will help them. As awful as what they've been through and what they're going through has been, having the president here is very, very powerful."
"I think the president coming in is a wonderful gesture," Hogan said on ABC's "This Week." "He's coming in, really, to have private conversations with the families. I think that's totally appropriate."
Obama already had been a frequent election-year visitor to Colorado, which he won by more than 8 percentage points over Republican John McCain four years ago. But neither Obama's nor GOP challenger Mitt Romney's camp expects that big a margin this time. Recent polls place Obama's lead inside the margin of error.
The shock of the mass shooting brought the presidential campaign to a standstill for the weekend. Obama cut short a political trip to Florida to return to Washington and Romney canceled interviews. Both campaigns pulled ads off the air in Colorado out of respect for the victims.
"This weekend I hope everyone takes some time for prayer and reflection," Obama said Saturday in his weekly radio and Internet address, "for the victims of this terrible tragedy, for the people who knew them and loved them, for those who are still struggling to recover."
Obama campaign spokeswoman Jen Psaki said Sunday during a briefing on Air Force One that the Obama campaign will keep its television ads off the air in Colorado through at least Monday.
Psaki said the campaign canceled a grassroots event scheduled for Portland, Ore., Tuesday in part because resources had to be diverted to Colorado for the president's trip. She said it was appropriate to cancel the grassroots rally because of the tone of that type of campaign event.
But some election activities were to resume Monday.
From Colorado, Obama was to fly to San Francisco to start a previously scheduled three-day campaign trip that includes a speech to the Veterans of Foreign Wars in Reno, Nev., fundraisers in California, Oregon and Washington state, and a speech to the National Urban League convention in New Orleans.
Romney is scheduled to address the VFW Tuesday.
The task of articulating sorrow and loss has become a familiar one for Obama.
In November 2009, he led mourners at a service for victims of the mass shooting at Texas' Fort Hood. In January 2011, he spoke at a memorial for the six victims killed in Tucson, Ariz., when a gunman attacked Rep. Gabrielle Giffords as she met with constituents.
The following April, when some 300 people were killed in a multistate series of tornadoes, Obama flew to Tuscaloosa, Ala., to commiserate with residents whose homes were in ruins. A month later, Obama went to Joplin, Mo., after a monster twister claimed 161 lives. This year, he came back on the storm's anniversary to give a commencement speech at Joplin High School.
___
Associated Press writers Mark Smith in Washington contributed to this report.