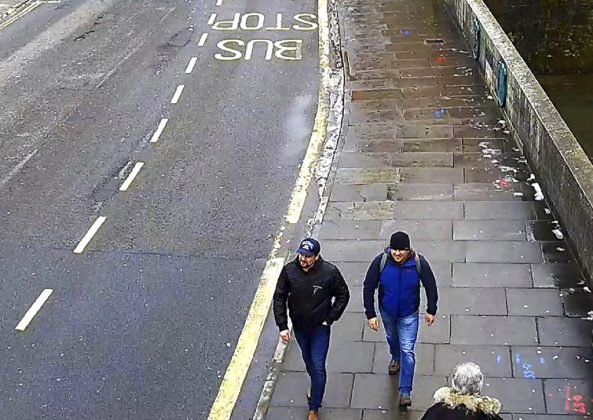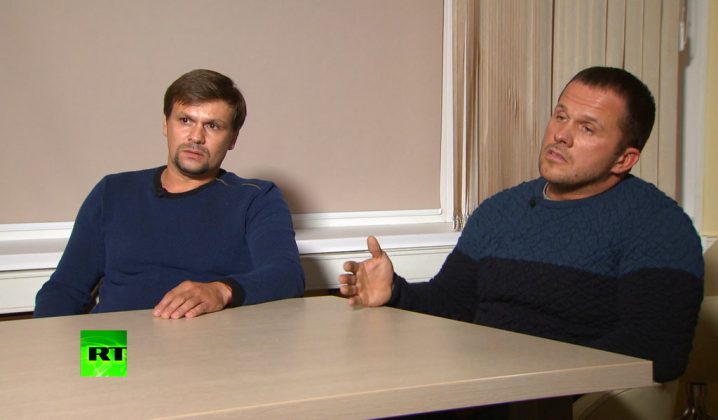 MOSCOW  |  The two Russian men charged in Britain with poisoning a former Russian spy with a deadly nerve agent appeared on Kremlin-funded television on Thursday, denying their involvement in the attack and saying that their appearance in the English city of Salisbury was merely an "incredible, fatal coincidence."
Ruslan Boshirov and Alexander Petrov made their first public appearance in an interview with the RT channel, saying that they had visited Salisbury as tourists to see its famous cathedral.
"Our friends have been suggesting for a long time that we visit this wonderful town," Petrov said, while Boshirov added that they specifically wanted to see the cathedral's famous spire and clock.
Britain last week charged Boshirov and Petrov in absentia, alleging they were agents of Russia's military intelligence agency known as the GRU who were dispatched to Salisbury, about 2 hours' drive southwest of London, to poison former Russian agent Sergei Skripal and his daughter Yulia with the nerve agent Novichok.
British police have released CCTV footage and photographs showing the two men walking in Skripal's neighborhood on March 4, the day of the attack. They were also pictured visiting the city a day earlier. Britain said the attack was almost certainly approved "at a senior level of the Russian state," an allegation that Moscow has vehemently denied.
Both men on Thursday denied that they are GRU agents or that they were in possession of the Soviet-made Novichok nerve agent.
"The whole situation is an incredible, fatal coincidence, and that's that," Petrov said. "What is our fault?"
They claimed they did not know who Skripal was or where he lived.
Both men looked composed during the interview, and confidently recited details about Salisbury's tourist attractions, including the height of the cathedral's spire.
The two men, who appeared to be around 40, said they worked in the nutrient supplements business. They denied that they carried a bottle of women's perfume where British authorities found traces of Novichok.
"The customs are checking everything," Boshirov said. "They would have questions as to why men have women's perfume in their luggage. We didn't have it."
The British government on Thursday issued a statement after the interview was released, reiterating their claim that Russian authorities were lying about the case.
"The government is clear these men are officers of the Russian military intelligence service — the GRU — who used a devastatingly toxic, illegal chemical weapon on the streets of our country," the statement said. "We have repeatedly asked Russia to account for what happened in Salisbury in March. Today — just as we have seen throughout — they have responded with obfuscation and lies."
Replying to the interviewer's question why the pair went to Salisbury for two days in a row, Boshirov said that when they first got to the town it was snowy and they got wet "up to the knee" so they decided to take the train back the following day.
When asked to reveal personal details about themselves or explain why they were sharing a hotel room or taking trips together, Boshirov said: "Let's not pry into our private lives."
Boshirov did not react to the interviewer's request to show the pictures they took on that trip, only saying that he found Salisbury Cathedral "very beautiful."
Petrov and Boshirov spoke at length at how depressed and scared they have been after they found themselves in the spotlight, saying that the publicity has made their lives "a nightmare."
"If the real perpetrations are found, I hope at least they (the British) will apologize to us," Petrov said.
The men's surprise public appearance Thursday came a day after Russian President Vladimir Putin said that Russian authorities know the identities of the two men, but insisted that they are civilians and there is "nothing criminal" about them. He called on them to contact the media.
Petrov said he heard Putin's statement on the radio and decided to contact RT's editor-in-chief.
__
Jill Lawless contributed to this report from London.