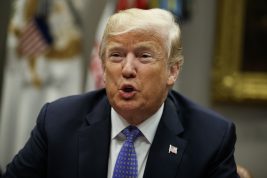 JOHANNESBURG | By now, many Africans cringe whenever "Trump" and their continent are mentioned together.
It's happened again. In a tweet containing inaccuratecomments, President Donald Trump said he had instructed his secretary of state to "closely study" alleged land seizures from white farmers in South Africa. The issue is racially divisive almost a quarter-century after the end of apartheid, the system of white minority rule.
Trump rarely turns his attention to Africa — the tweet was his first since he became president to mention the continent by name — but when he does it often backfires.
The most shocking example came earlier this year when Trump reportedly used vulgar language to compare African nations to a filthy toilet. Outraged countries swiftly summoned U.S. ambassadors to explain the comment — much as South Africa on Thursday was reaching out to the U.S. Embassy to clarify the latest remarks.
Many South Africans were stunned. "A racist bigot," the morning host of one of the country's most popular talk radio stations, Eusebius McKaiser, told listeners before opening the airwaves to lively debate about Trump's comments.
Trump's tweet appeared just days after first lady Melania Trump took a very different approach to Africa, announcing she would be visiting several countries on the continent in October in her first big solo international trip. She said she looked forward to learning about the issues children face and appreciating Africa's history and culture.
It was the latest hint that the first lady might be subtly separating herself from her husband and his controversial views.
The last time Trump referred to Africa on Twitter was in early 2015, before his presidential ambitions were taken seriously by much of the public.
Again, it was about South Africa. He made clear he was no fan of the country's security situation, tweeting: "As I have long been saying, South Africa is a total – and very dangerous – mess." It echoed a tweet from 2013: "I really like Nelson Mandela but South Africa is a crime ridden mess that is just waiting to explode-not a good situation for the people!"
Since becoming president, Trump has largely left Africa to drift, meeting only a handful of African heads of state and leaving key diplomatic positions — the ambassador to South Africa, for one — unfilled. It took a year and a half to name the top Africa diplomat in the State Department.
Trump also fired his previous secretary of state, Rex Tillerson, hours after Tillerson ended a multi-country Africa visit earlier this year in an effort to mend badly frayed ties.
Now some observers say Trump is using his latest Africa comments to try to deflect attention from his sprawling legal troubles at home.
"The President of the U.S. needs political distractions to turn our gaze away from his criminal cabal, and so he's attacking South Africa with the disproven racial myth of 'large scale killings of farmers,'" Patrick Gaspard, a former U.S. ambassador to South Africa, tweeted on Thursday. "This man … has no discernible Africa policy."
On Monday, Trump faces another chance to address the continent when he welcomes just the second African head of state to a White House meeting, Kenyan President Uhuru Kenyatta.