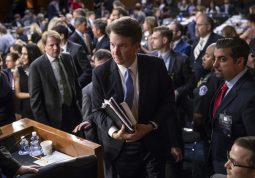 WASHINGTON | Supreme Court nominee Brett Kavanaugh's confirmation was dominated Thursday by arguing over whether or not vital documents were being withheld from the public record.
Sen. Cory Booker released confidential material, risking disciplinary action. At the heart of the controversy is Kavanaugh's previous statements about whether Roe v. Wade was settled law.
Senators could be expelled from office for violating confidentiality rules, Rep. John Cornyn said.
"Bring it on," Booker said.
In an email obtained by The Associated Press, Kavanaugh wrote,  "I am not sure that all legal scholars refer to Roe as the settled law of the land at the Supreme Court level since Court can always overrule its precedent, and three current Justices on the Court would do so," referring to the Supreme Court justices at the time.
Booker called the confirmation hearing process "a bit of a sham." GOP colleagues have criticized Booker for discussing a confidential document regarding Kavanaugh's views on race.
Chairman Chuck Grassley, R-Iowa, also released documents Thursday — including those Booker wanted made public — and stood by his handling of Kavanaugh's paper trail.
"My process was fair," Grassley said as he opened the session.
President Donald Trump said he is content with Kavanaugh's performance, and Republicans are united behind him.