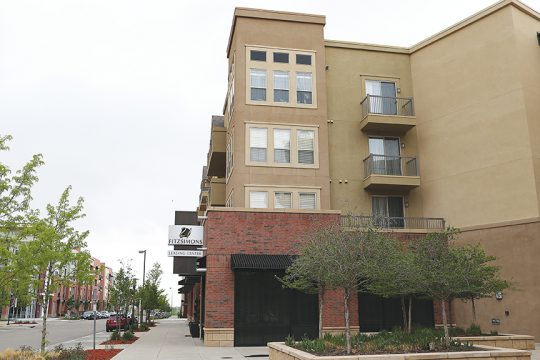 AURORA | While the COVID-19 crisis has wrecked economic havoc across Colorado, the Colorado Apartment Association estimates a vast majority of Colorado residents were able to make rent this month. 
Only about 16 percent of renters made late payments as of April 6, according to the organization. The 80 percent of renters who made payments on time is an overall increase from January and February, according to the association's data. 
"We applaud all Colorado renters who paid April rent. These payments allow housing providers to cover mortgage costs, pay employees, compensate vendors, and maintain rental properties. Every resident's contribution makes a difference and allows our resources to be used for the people in our communities who truly need help," said Mark Williams, executive vice president of the Colorado Apartment Association, in a statement.
Since the beginning of the pandemic, as many businesses have been temporarily closed to prevent the spread of COVID-19, Colorado has seen record numbers of unemployment applications, at times thousands per day.
Nationwide, it's estimated that 1 in 4 people didn't pay their full rent or make their full mortgage payment, according to a survey by Apartment List. 
"Needless to say, these rates are far outside the norm. Data from the most recent American Housing Survey collected in 2017 show that in an average month, 3.9 percent of renters will fail to pay full rent. In April 2020, we saw this delinquency rate skyrocket 550 percent, as over one-quarter of renters failed to pay their entire rent on time," the report says. "Typical delinquency rates among mortgaged homeowners are even lower, and this month over 23 percent did not make a full payment on time."
Williams said he found it "encouraging to learn that over 80 percent of Colorado residents who rent took personal responsibility to pay their monthly rent in the midst of the COVID-19 crises."
So far, Colorado Gov. Jared Polis hasn't called for a rent freeze, but local municipalities have largely halted evictions. 
Courts in the 17th and 18th Judicial Districts are not currently holding eviction hearings. Jon Sarché, Deputy Public Information Officer for the Colorado Judicial Department, said the 17th Judicial District has halted those hearings until May 1 and the 18th is doing the same until April 20.
Spokespersons for the sheriff's offices in Adams and Arapahoe counties previously told the Sentinel both departments will not remove evicted residents from their homes. 
"We are not enforcing any of them during the pandemic," said Deborah Sherman, a spokeswoman for the Arapahoe County Sheriff's Office, said of the eviction orders. "That is not a priority for us."
Denver Mayor Michael Hancock suspended evictions in Denver County in March. 
The Aurora City Council has also urged  banks, mortgage companies, rental businesses and land lords to "consider the financial impact and the threat of the spread of the COVID-19 virus is having on the citizens of the city" in a resolution passed March 23. 
The resolution, while not legally binding, asks those companies "to provide reasonable accommodations and leniency and consider delaying rents, mortgages, foreclosures, evictions and utility shut-offs to everyone affected by the crisis."