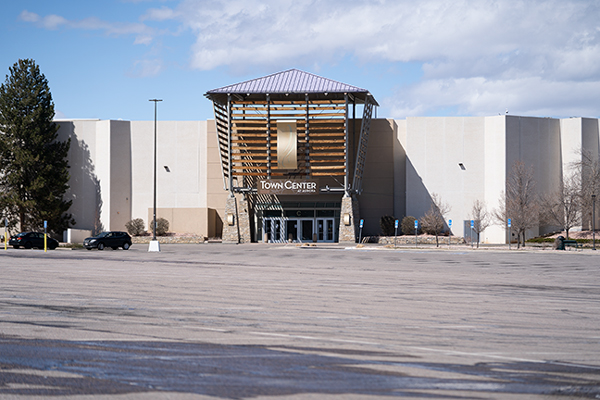 AURORA | As Aurora residents are ordered to stay at home, some of Aurora's biggest shopping centers are shuttered, while others still remain open with limited hours.
The Town Center at Aurora – formerly dubbed the Aurora Mall – is "temporarily closed" as of Tuesday, said Kimberly Green, a spokeswoman for mall manager Washington Prime Group. Shoppers will have to wait indefinitely to peruse the 130 stores, kiosks and restaurants as part of nationwide efforts to "flatten the curve" of novel coronavirus cases.
Until this week, the indoor mall let individual stores follow orders from corporate leadership about staying open with limited hours or closing altogether.
That's the approach of Southlands, the southeast Aurora outdoor shopping center boasting near 150 businesses, almost all with separate, outside entrances.
General Manager Martin Liles said Wednesday morning some Southlands businesses remain open with tweaked operating hours, including restaurants. Folks can still order takeout and delivery from Bar Louie, Legends Coffee, Pho 90 and more.
In the Wednesday morning stay-at-home order from the Tri-County Health Department, Executive Director John Douglas said shopping for groceries and picking up food are still allowed.
"Some of our tenants serve as essential businesses for the community, and many Southlands restaurants are providing take-out and delivery services while following all guidelines regarding social distancing," Liles said. "We want to encourage the community to support these local restaurants and essential businesses while following the mandates of Tri-County Health Department."
As of 11 a.m. Wednesday, Southlands kept an updated list of businesses' hours and openings.
For the status of more restaurants outside of the Southlands mall, see the Sentinel's list of local restaurants still offering takeout or delivery services.
Although shopping and dining at the Town Center is put on hold, the mall parking lot is now the site of free food distribution for Aurora Public Schools. Anyone 18 years old and under can grab a free breakfast or lunch during certain times. See information about picking up food there on the APS website.