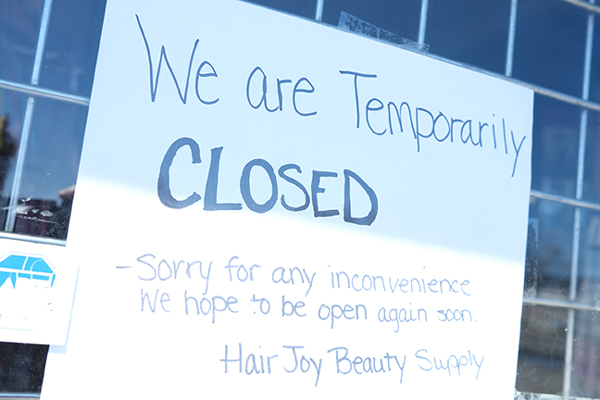 AURORA | The Tri-County Health Department, in conjunction with Jefferson and Boulder counties, issued a three-week stay-at-home order on Wednesday to help combat the spread of the novel coronavirus across the metro region.
"It's not shelter in place, it's not lock down, it's stay at home. That's really the message," said Tri-County Health Executive Director Dr. John Douglas. 
The Tri-County Health order — for Arapahoe, Adams and Douglas counties — begins Thursday at 8 a.m. and is in effect until April 17, a week past Denver's order, which started on Tuesday. 
Douglas said his order timeline will be best for preventing spread of the virus and provide enough time to measure the impact of the virus, but it could be lifted sooner if it seems community spread lessens and the healthcare system can handle the volume of COVID-19 patients.
Otherwise, the order is very similar to Denver's stay-at-home order. Liquor and recreational cannabis stores may stay open if they practice extreme social distancing, restaurants will still be able to offer curbside meals and essential workers will be able to commute to and from their jobs. 
Licensed gun and ammunition retailers and hardware stores are considered essential businesses under the order and will remain open. A full list is included in the order.
Douglas said some of those essential businesses included in the Tri-County Health order that aren't included in the Denver order were based on feedback from rural communities across the region.
People can still shop for groceries, which is considered an "essential activity", but they may not congregate elsewhere and must stay six feet away from others when they leave home for exercise, which is still allowed.
Essential businesses are asked to remain open, but all others are required to "cease all activities…except minimum basic operations," like ensuring security, sanitation and processing payroll and employee benefits. Working remotely from residences is allowed.
There won't be any significant police department enforcement of the measure, according to city staff. Vanessa Wilson, Aurora's interim police chief, said in a call with city leaders on Tuesday that her officers are being reserved for emergency calls, and that they will only become involved in enforcing a health order if it is dangerous for others, like code enforcement and business licensing, to do so. 
"It's not going to be us patrolling and look for those things," she said during the call. "My officers know that's not their role."
Arapahoe County Sheriff Tyler Brown said his department is relying on peer pressure and "people saying this is the right thing to do."
"We're going to try and educate," he said.
Stay-at-home orders have largely been left to counties and local health departments. Gov. Jared Polis declined to mandate an order across the state or region over the weekend. Instead, he ordered that non-essential businesses move 50 percent of workers to telecommuting or implement strict social-distancing rules.
Aurora Mayor Mike Coffman said in a city leader call this week that he expressed concern over a "patchwork" of orders across the metro region to Polis in a meeting. Still, the state's approach has been to allow local governments to make those decisions. 
"The governor has been clear with the Coloradans about taking personal responsibility to protect our most vulnerable and our communities and urges people to stay home, practice social distancing and to be smart during this pandemic," a spokesman for Polis said in an email this week. "The governor thanks local leaders making strong moves to reduce the spread of the virus in communities across our state."
Douglas told media in a news conference on Wednesday that there is still an advantage to a statewide order. "We think the more constancy there is…. the better it would be," he said.
Boulder County and Jefferson County also announced stay-at-home orders on Wednesday. The City of Boulder issued an earlier order, but in Aurora Coffman told the Sentinel last week, when Denver announced its order, he planned to leave the decision up to Tri-County Health because of the structure of government. 
"Since Denver is both a city and a county government they have the public health responsibilities that are a part of county government. Aurora is a municipal government only and not a county," he said. "The public health responsibilities for the City of Aurora are conducted by the Tri-County Health Department, which provides all public health related functions for Adams, Arapahoe and Douglas counties."
The City and County of Broomfield will issue an order that "strongly encourages" people in its limits to stay at home as much as possible Thursday, the Broomfield Enterprise reported. The order, in effect until at least April 17, says residents can still leave their homes and maintain proper social distancing but encourages limited trips outside.
Parks and open space trails will stay open, but golf courses and all athletic courts will close. Retail stores will also have to comply with social distancing requirements including maintaining a six-foot distance between employees and customers.