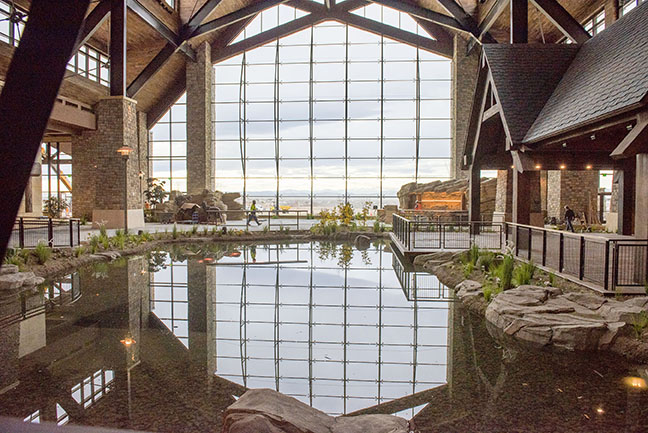 AURORA | Mass layoffs reportedly racked the Gaylord Rockies hotel last week – the state's largest – as the pandemic forced the area hospitality industry into dire straits.
Aurora City Councilmember Dave Gruber said Friday in a city policy meeting that Gaylord management laid off about 800 employees the day before. A former employee told the Sentinel she was laid off amid mass cancellations of conventions and individual room reservations before the 1,500-room hotel temporarily closed.
Deanne French, the hotel's marketing director, would not say whether staff had been laid off.
"As travel restrictions and social distancing efforts around the world become more widespread, we are experiencing significant drops in demand with an uncertain duration," French said in an email. "We are adjusting operations accordingly."
The economic woes are a dark turn for the Gaylord, long celebrated as a grandiose achievement of economic development.
Partial owner Ryman Hospitality Properties announced just last month the hotel would add more than 300 rooms after just more than a year of operations. It's unclear if that plan will go forward. When opening in December 2018, the hotel triumphed over heated lawsuits and investment challenges to secure about $300 million in tax incentives from the City of Aurora and more than $80 million in tax rebates from the state.
But now, measures to contain the novel coronavirus outbreak have reduced travel to a trickle.
Leaving the house is now limited in Colorado to "essential" purposes such as buying food. As hotels close, local Aurora officials are now considering whether to contract with a local hotel to house homeless people requiring self-quarantine.
It's unclear how many employees now staff the Gaylord's sprawl of restaurants, spas and pool, retail stores, desks, convention spaces and rooms.
Kevin Abels, a spokesperson for the Unite Here Local 23 union, said Gaylord employees are not unionized.
One former Gaylord employee told the Sentinel she was recently laid off. She did not want her name and position publicized because she was worried it would bar her from getting her job back, she said.
"We're all being laid off… and I had a strong feeling that it was coming," she said. She wasn't sure how many were laid off.
The employee said conventions started canceling their reservations because of the pandemic, which then also hurt the hotel restaurants and a slew of other services for guests.
But management was firm in their hope to bring all of the employees back, the former employee said. She hoped she could return to her well-paying job, which she loves.
"I know this is the last thing they wanted to do as a brand," she said of Gaylord management.
That feeling rings true for Bruce Dalton, president and Chief Executive Officer of Visit Aurora.  The group promotes tourism to Aurora and its hotels.
Dalton would not speak specifically about the Gaylord's predicament. But he said many hotel owners think "we haven't seen the full severity of the impact yet."
"…Hotels and businesses in the hospitality and tourism sector will face extremely difficult decisions about their business operations and personnel very soon," Dalton said.
Arne Sorenson, President and CEO of Gaylord manager Marriott International, said in a statement the pandemic's hit to the travel industry has been "unprecedented" and coping measures would include reducing staff.
Aurora City Councilwoman Crystal Murillo said she did not know how many Gaylord employees live in Aurora. But she said she was "disappointed to hear of massive layoffs" in light of the hundreds of millions of dollars in tax incentives the city poured into the project.
"Aurora, like other cities, offered incentives to attract the Gaylord to our community and in this time of crisis it's critical to support the people behind the business so that they can pull through this," she said. "Layoffs are not (the) right move, especially when you compare what other companies are doing to ramp up temporary pay and improve paid sick leave policies."
French said it's hard to predict how the Gaylord will be impacted by the pandemic but said "we remain confident in our long-term prospects."