AURORA | Aurora Police Chief Dan Oates is leaving to take a job in Miami Beach, Fla., after eight years of being the city's top cop.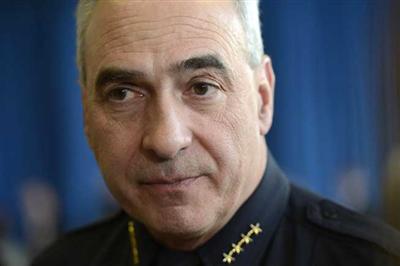 Aurora officials confirmed Wednesday that Oates indicated he is leaving.
Mayor Steve Hogan said he wished Oates well in his new position.
"It's a loss to the city, but I think it's a step forward for him," he said.
Since Oates took over the department in 2005, crime has dropped steadily. Overall, major crime was down 25 percent from 2005 to 2013.
The crime reduction came at a time when crime was falling around the country, but from year-to-year Aurora's reductions tended to outpace national averages.
Hogan said it wouldn't be appropriate to lay all of the credit for the drop in crime at Oates' feet, but he said the chief played a role.
"Certainly having a professional of his caliber in charge helps to reinforce with the department things we are going to do, things we aren't going to do," he said.
Among some of Oates' policy decisions were an increased focus on non-fatal shootings not long after he took over, assigning homicide detectives to investigate those crimes with the same resources as fatal shootings.
During Oates' tenure, the department also launched a summer crime crackdown that saw more officers on the streets during summer evenings, when crime tends to spike and initiatives aimed at burglary.
Through a department spokesman, Oates declined to comment Wednesday.
"The chief has advised me that he feels it is inappropriate for him to comment on this matter until there is formal action by the Miami Beach City Commission, which may occur next Wednesday," Aurora police spokesman Sgt. Chris Amsler said. 
As for Oates' replacement, Hogan said the city will consider some current members of the department, but will also undergo a national search. The last search for a police chief in 2005 lasted several months, with Deputy Chief Terry Jones assuming the role of interim chief for nine months before Oates' appointment.
During his time in Aurora, Oates has occasionally butted heads with the city's Civil Service Commission, particularly over their decision to overturn the chief's discipline of officers. Early in his tenure, Oates backed a handful of ballot measures aimed at limiting the commission's role in police hiring and firing, but voters  rejected the most far-reaching measures.
Oates also butted heads at times with the police officers' union, particularly in his early days in Aurora. The spats included issues as minor as shoulder patches on police uniforms — Oates mandated the patches despite a poll of officers that showed overwhelming opposition. He later said he regretted his handling of the issue.
The two sides also feuded about Oates' desire to have more of a say in hiring and promoting officers, as opposed to the Civil Service Commission playing a major role in those decisions.
Retired Aurora police Detective Don James was the president of Aurora Police for 10 years before he retired in 2011. During that stretch, the union and chief quarreled regularly, particularly when it came to issues surrounding hiring and promotions.
James said many of the issues between the chief and the union in Oates' early days were the product of typical rifts between management and labor, though the issues often seemed more contentious because the two sides were particularly opinionated. Over time, as the two sides got to know each other better, James said the relationship improved.
"We were able to come to a better place," he said.
James, who wished Oates well in his new post, said the chief was always adept at networking and politicking, and that he brought a level of sophistication to the chief's office that wasn't there before.
Oates garnered national attention after the July 2012 Aurora theater shooting.
"It was a searing event for the police department as well as the whole community," Oates said after a solemn remembrance service on the anniversary of the shootings.
Oates was highly visible in the first few days after the shootings and showed a flash of anger when investigators found potentially deadly booby traps in Holmes' apartment.
"You think we're angry? We sure as hell are angry," Oates said.
Holmes pleaded not guilty by reason of insanity to multiple charges of murder and attempted murder, and prosecutors are seeking the death penalty. His trial is scheduled to start in October.
Miami Beach City Manager Jimmy Morales told the Miami Herald he plans to appoint Oates to the job. Oates told the Aurora Sentinel Wednesday morning he had no comment on the reports. Miami Beach Mayor Philip Levine told KUSA-TV in Denver that Oates was the only candidate for the job and that the City Commission would vote on the appointment next week.
Oates previously spent 21 years with the New York City Police Department, eventually serving as chief of intelligence and a deputy chief overseeing 3,000 patrol officers in Brooklyn.
Between the New York and Aurora jobs, he was chief of the police and fire departments in Ann Arbor, Mich.
The Associated Press contributed to this report. 
Here's a look at a handful of names that could pop up during the search for a new chief

Rob McGregor

McGregor grew up in Aurora and has been with APD since 1995. He has climbed steadily through the ranks and last year was appointed division chief overseeing 249 officers in the investigative division.

Roy Minter

Minter spent 15 years with Aurora police before becoming police chief in Denton, Texas, in 2007. He is currently police chief in Peoria, Ariz. During his time in Aurora, Minter became the department's first black commander in 2006.

Fran Gomez

Gomez started with APD in 1990 and became the department's first female commander in 2012. Last year, she took a job as deputy police chief in Commerce City.

Terry Jones

The department's deputy chief, Jones has been with APD since 1979. He served as interim chief for nine months in 2005 before Oates was hired.