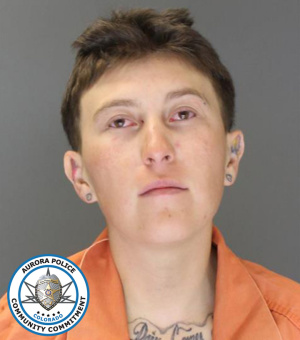 Pictured: Yesenia Griego. Credit: Aurora Police Department.
AURORA | A 25-year-old woman who police say sneaked into an Aurora fire station and caused thousands of dollars worth of damage in October waived her right to a preliminary hearing in Arapahoe County District Court Wednesday afternoon.
Yesenia Griego was originally arrested the evening of Oct. 29 after officials say she pillaged Aurora Fire Rescue Station 15 off of East Jewell Avenue in the city's Murphy Creek neighborhood. 
Griego was originally charged with second-degree felony burglary, felony criminal mischief and criminal tampering, according to an arrest affidavit filed against her. Prosecutors have since tacked on three additional charges, according to Colorado Bureau of Investigation records.
As originally reported by CBS Denver, investigators say Griego sneaked into the fire station on South Flat Rock Trail — one of the city's newest fire outposts — after firefighters left on a call.
Police initially responded to the fire station after receiving an alert someone had pulled a fire alarm in the building, although no one was supposed to be on the premises as the crew was out responding to an unrelated emergency call.
Officials determined Griego, who was 24 when she was arrested, sneaked into the station's garage after the engines left to respond to the call, but before the garage doors closed again.
Upon arriving at the station, police found Griego standing outside the building with one shoe on her foot. Investigators later found the matching shoe in the facility and determined it belonged to an Aurora firefighter.
Officials say that while in the building, Griego turned on a fire hose, discharged a fire extinguisher and scattered gear from the laundry room throughout the facility, according to the affidavit. 
Officials also found a John Deer riding lawnmower with a key in the ignition that had been driven out of the garage and ditched about 50 feet away.
A decapitated bird and a pair of private vehicles that had apparently been damaged by rocks were also found on the premises. Officials estimated the rocks caused about $10,000 in damage to the vehicles. 
Once in custody, Griego told officers and firefighters that "they stole her land and that her father lives in the fire house," according to the affidavit.
She also told officials she uses marijuana and bath salts. 
Griego, who has also used the name Samantha Gonzalez, was arrested and charged with crimes twice in 2017, once in Westminster and once in Lakewood, according to CBI records. In July of 2017, she was found guilty of misdemeanor DUI and misdemeanor reckless endangerment charges, and sentenced to one year of probation.
In the Aurora case, Griego's bond had previously been set at $25,000.
In the courtroom Wednesday, Griego stood beside her public defender Jonathan Greenlee while shackled at the wrists and ankles. She was wearing jail-issued scrubs and sandals and walked with a noticeable limp. 
Griego is scheduled to be arraigned at 8:30 a.m. Dec. 10.