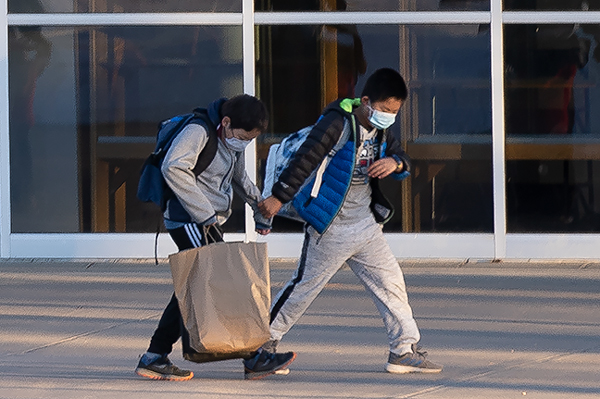 AURORA | Representatives from Aurora Public Schools and the Cherry Creek School District say that vaccine distribution to their employees is going well, but that they are not currently tracking exact numbers or identities of who has and hasn't received a vaccine.
Colorado made K-12 school employees eligible to receive the vaccine beginning Feb. 8 after several changes to where they would be placed in the priority list. The state officials have said they expect to be able to complete vaccinating all teachers in about three weeks, freeing up more categories of essential workers to vaccinate in March.
Each school district is responsible for working with local healthcare providers to give their employees access to the vaccine. APS is partnering with Kaiser Permanente, UCHealth, Centura Health and Salud Family Health Centers. CCSD is partnering with UCHealth, Centura, Kaiser Permanente and Stride Community Health.
In his COVID-19 update to the school board at its Tuesday meeting, APS superintendent Rico Munn said more than 4,000 vaccine invitations have been sent out to employees and more than half of those have received their first shot. Roughly 5,000 people work for the district, according to the district's website.
"So we believe we are well on the way, we may even be at the place where close to everyone who wanted to get vaccinated within the system has gotten that first dose," Munn said.
That means that by spring break, everyone in the district who wants to be should be fully vaccinated, he said.
Abbe Smith, a spokesperson for CCSD, said that the district does not track employees who choose to get vaccinated or decline, so the district does not know the actual number of staff who have been vaccinated. However, she said that its health partners have sent out thousands of invitations to employees to schedule an appointment and many have already received a first shot. The district has about 9,000 total employees.
Currently, neither APS or CCSD are mandating employees get the vaccine. However, new quarantine guidelines based on vaccination status may require districts to know which employees are and aren't vaccinated.
According to the Tri-County Health Department, once teachers have received both vaccine doses and at least 14 days have passed since their second shot, they no longer need to quarantine after being exposed to someone who has tested positive for COVID-19.  
Because the quarantine guidelines are different for those who have been vaccinated, Smith said that CCSD is going to ask employees to consider filling out a survey to let the district know if they have received their vaccinations.
APS is considering its options as well. At the meeting Munn said that the district is not seriously considering requiring staff to be vaccinated, but due to quarantine guidelines will probably need to know who is not vaccinated.
"If you have staff members who have for whatever reasons chosen not to get vaccinated, however, they then would need to be quarantined and that could cause some real imbalance in a building," Munn said. "And so at the very least we may need to go to a process where we at least know where the staff are who are not vaccinated."