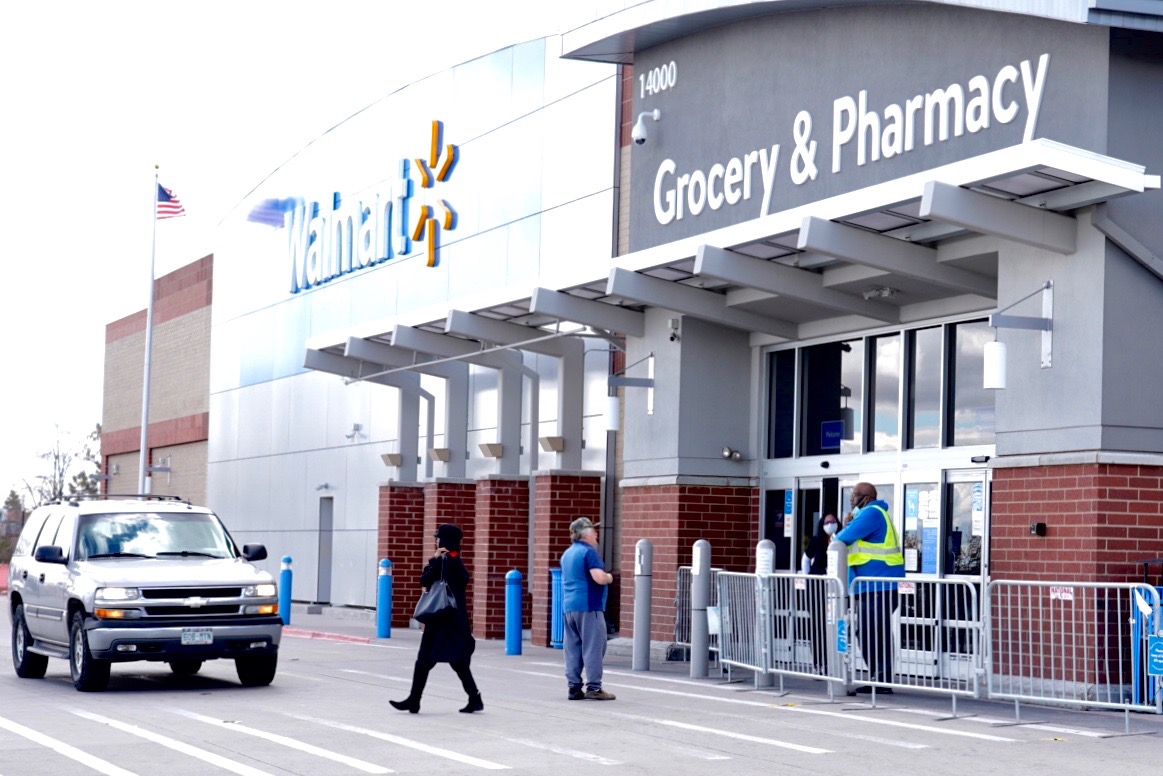 AURORA | The county health department that oversees Aurora has given a green-light for an Aurora Walmart Supercenter to reopen Sunday after multiple employees contracted the novel coronavirus, and three people affiliated with the store died.  
Authorities with the Tri-County Health Department on Thursday announced that a 72-year-old employee of the Walmart at 14000 E. Exposition Ave. and her 63-year-old husband both died after contracting COVID-19. The man in his 60s did not work at the store with his wife. 
Another man in his late 60s who worked as a security guard at the Walmart also died as a result of the disease, health officials said. 
As many as 11 other Walmart workers have contracted the disease. Tri-County officials said Sunday that "the majority" of infected employees have not been at work for more than a week.
The Walmart was allowed to re-open after a contractor disinfected the store, officials said.
"The store's management and staff have taken this very seriously and have good safety and health measures in place," said John M. Douglas, Jr., MD, executive director of Tri-County Health Department.
Those measures include metering the number of shoppers allowed in the store, applying floor decals to encourage social distancing and testing employees for illness, Tri-County Health officials said.
The edict to close came "following a series of complaints received from employees and shoppers regarding the lack of social distancing, too many people in the store at one time, and employees not wearing masks or face coverings," according to a news release.
A spokesperson for Walmart said the store was already limiting the number of customers allowed inside at any given time, requiring employees to wear masks, performing temperatures at the beginning of shifts and installing floor decals to delineate social distance guidelines.
But a longtime worker at the store, 66-year-old Jessie Metcalf of Aurora, said the company didn't do enough to warn employees of the scope of the contagion among staffers.
"They didn't care about our lives, they only cared about the work," she said. "When somebody dies, you would think they would buckle down and tell us, 'Hey, there's an outbreak here," but they didn't." 
Metcalf, an Aurora resident who's worked as a cashier at the store for five years, said she's leery of returning to work and potentially infecting her daughter or teenage grandson, who both live with her. She said she's also nervous she may have been infected by one of the staffers who died as a result of the virus, 72-year-old Sandra Kunz. The two were regularly eating lunch together in between their shifts up until a couple of weeks ago.
Though she doesn't currently have any symptoms of the virus, Metcalf said she wants to make sure she's virus-free, but doesn't know where or if she could get tested.
"When you think of COIVD-19, you think of death, and it seems like you die fast," said Metcalf, who's also a member of the non-profit advocacy group United For Respect. "I'll be worried until I take the test. Hopefully it's negative and it'll be a load off my mind."
The Aurora Walmart closure came just as Gov. Jared Polis was releasing details about ending Colorado's stay-home orders and allowing more businesses to begin re-opening.
"These deaths underscore the severity of the highly-contagious coronavirus, and the need for diligent safety precautions to prevent any further spread, including the wearing of masks," said Dr. Douglas.
There have been at least 130 confirmed outbreaks of the new coronavirus at various facilities across the state, which are defined as two or more cases of the virus among workers or residents in a single two-week period, according to the state health department. 
As of Sunday morning, there have been 12,968 confirmed cases in Colorado, and 2,410 of those people have been hospitalized. More than 672 people have died.